Zodiac Futura Commando FC470 and FC530
The Zodiac Futura Commandos are durable, lightweight inflatable craft capable of multiple roles within the New Zealand Defence Force.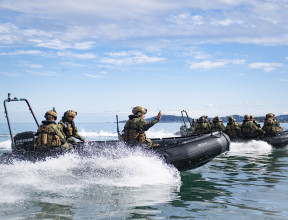 They are designed for military use, where speed of deployment and infiltration are essential, primarily for high-speed water reconnaissance on inland or coastal waters.
The boats are self-contained and when used with the C02 inflation system, will deploy its hull and floorboard and self-inflate within three minutes.
They can be dropped by parachute during airborne operations and be deployed in the water or on the ground with rigid floorboards (deck), stringers or braces.
Best speed with two crew is 25 knots, or 12-18 knots fully laden. They can operate in Sea State 4 / Rough.
The Zodiacs use a Mercury 40hp Outboard Engine or a Evinrude 55hp multi-fuel engine. The latter can run on petrol, kerosene/aviation fuel, or even diesel in extreme situations.
Both the New Zealand Army, particularly the Royal New Zealand Engineers, and the Royal New Zealand Navy utilise Zodiac craft.
Specifications
| | | |
| --- | --- | --- |
| Craft | FC470 | FC530 |
| Length | 4.7m | 5.3m |
| beam | 1.9m | 2.14m |
| CAPACITY | 10 pers | 12 pers |
| PAYload | 1,250kg | 1,750kg |
| Weight | 146kg | 160kg |