Rigid-Hulled Inflatable Boat (RHIB)
Our Juliet 3 (J3) RHIBs are carried as embarked seaboats on all Navy vessels (usually two to a vessel), and utilised within a land-based boat squadron at Devonport Naval Base.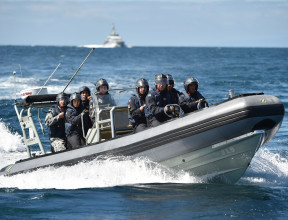 They are designed as a high-speed and high-buoyancy craft, with a glass reinforced plastic deck and superstructure and a mono-hull rigid inflatable hull. Each RHIB is powered by a Yanmar 310hp marine diesel engine driving through a Hamilton HJ274 water jet. They are launched and recovered using a davit system.
RHIBs can take six passengers and two crew, with the forward seats being removable. They have a self-righting mechanism and a navigation system comprising of GPS, radar and VHF radio. In emergency situations it can embark 20 personnel and crew.
The 7.24m RHIB is capable of high speed operation in open seas with a load of 2 crew and 6 passengers and their boarding equipment up to sea state 4.
The J3's capabilities include but are not limited to; 'fast rescue boat' (FRB) for man overboard incidents; crash boat during flying operations; sea boat for transferring personnel and/or stores ashore or to other ships; inserting boarding parties onto other ships and fishing vessels; littoral operations, including support to the embarked force; and for force protection of ships alongside or underway. Some of these tasks may require the Seaboat to operate at an extended range and duration away from the parent ship.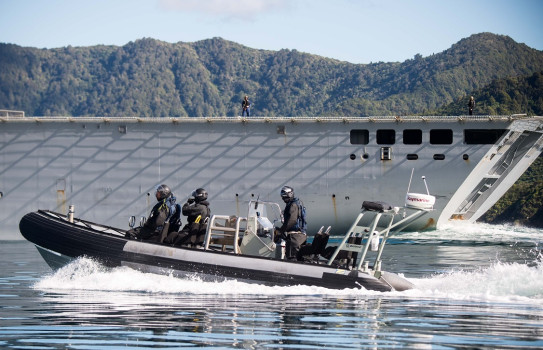 Specifications
| | |
| --- | --- |
| Length | 7.24m |
| beam | 2.74m |
| Range | Five hours endurance at 15 knots |
| SPEED | 40 knots |
| Max payload | 750kg |