Social Media Hub
New Zealand Defence Force social media channels inform, engage and educate audiences by demonstrating the efficiency and excellence of our people, training and equipment.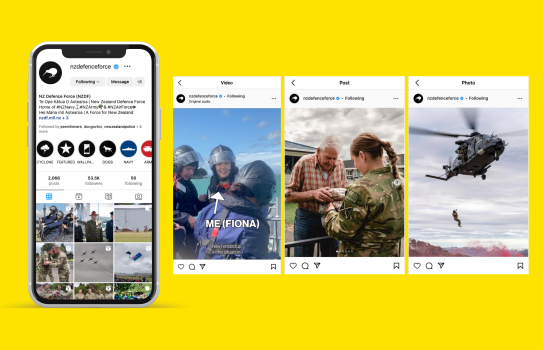 Social media community guidelines
We encourage contributions and wish to ensure that comments and feedback are expressed in an appropriate manner, with respect for the rights, dignity and property of others. These community guidelines are in place to help create a safe environment on official New Zealand Defence Force social media channels.
Be Kind and Courteous

We encourage open discussions and debates. Please use common courtesy and do not make comments that contain offensive, profane, defamatory, threatening language or which are otherwise inappropriate in a public forum. These comments will be removed in accordance with the Harmful Digital Communications Act 2015.
We reserve the right to:
determine what constitutes inappropriate content,

hide or remove inappropriate content, and

ban users from our social media communities.
Stay on topic
Comments and feedback should be relevant to the topic being discussed. We may remove off-topic posts or those that do not provide substantive purpose or relevance from any of the social media sites we manage.
Protect your privacy
Do not post personal information that you do not want made public. We may remove posts that contain personal, identifying or confidential information such as account details, addresses, phone numbers, emails and passwords.

Breach of guidelines

We reserve the right to remove any comments or content that doesn't adhere to these guidelines or with any other applicable terms and conditions, rules, or laws. We reserve the right to hide or delete comments made on our channels, as well as ban users who do not follow these guidelines. We also reserve the right to send any comments to law enforcement authorities for investigation as we feel necessary or is required by law.
Opinions

The opinions expressed by users and guest authors on NZDF managed social media channels are theirs alone, and not those of NZDF.
Third-party websites

We are not responsible for and do not endorse third-party websites or content that may be linked to from our social networking websites.

Official Information Act

If we cannot answer your question you still have the ability to make a request for official information from the NZDF under the Official Information Act 1982. Any New Zealand citizen or permanent resident, or anyone who is in New Zealand, can submit a request for official information.
To request official information, contact the Ministerial Services team.
Requests should be specific about the information that you want.
Disclaimer

The content published on NZDF social media channels is for information purposes only. We do not accept liability for loss or damage suffered (either direct or indirect) as a result of information published on these accounts or platforms. These terms of use may also be updated at any time without notice.