HMNZS Canterbury
HMNZS Canterbury is our Protector-fleet amphibious and military sealift vessel. Canterbury provides the New Zealand Defence Force with the ability to transport and deploy personnel, vehicles, and supplies around Aotearoa New Zealand's 15,000-kilometre coast and overseas.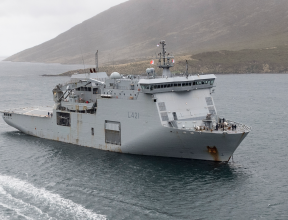 Canterbury is a multi-role vessel (MRV) and her primary mission is to deploy personnel, vehicles and cargo using conventional port infrastructure or directly ship-to-shore using Landing Craft, boats or helicopter airlift.
Conceived as part of Project Protector, the ship was built in the Netherlands by Merewede Shipyards and fitted out by Tenix Shipbuilding (now BAE Systems Australia) in Williamstown.
Canterbury was delivered to the Ministry of Defence and commissioned into our Royal New Zealand Navy on 12 June 2007. Canterbury is the second ship of this name to serve in the Royal New Zealand Navy.
Canterbury has facilities for accommodating up to 365 personnel and can transport and deploy supporting military vehicles and equipment by landing craft, helicopter or ramps. The ship regularly exercises with units of the New Zealand Army and Air Force, and with forces from Australia and other friendly nations. Among her capabilities are:
The ability to deploy personnel, vehicles and cargo using conventional port infrastructure or directly ship-to-shore using landing craft, boats or helicopter airlift
The ability to provide medical support to military or civilian operations from a self-contained hospital with surgical capability
The ability to manage military or civilian operations from an onboard command and control facility
Canterbury is regularly deployed to the Pacific where she has provided sealift support for military exercises and operations including humanitarian aid and disaster relief. She is also a regular visitor to the sub-Antarctic islands where she assists government agencies such as the Department of Conservation, MetService and GNS Science to conduct important scientific and research work.
Homeport: Lyttelton
Ship Sponsor: Rt Hon Helen Clark
Commanding Officer
Commander Bronwyn Heslop, RNZN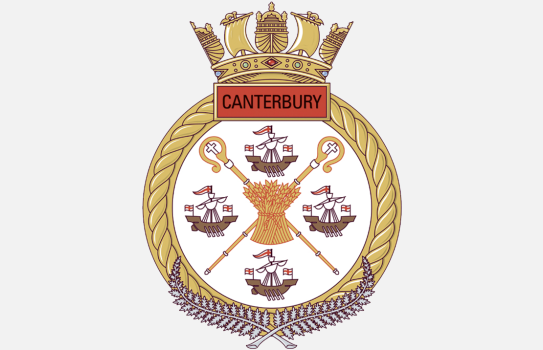 Iain Cameron, a 14 year old student from Papanui High School, won a Canterbury schools competition in 1969 to design the badge for the new Leander-class frigate HMNZS Canterbury (F421). Iain's design featured two crossed bishop's crosiers (staffs) to represent the status of Christchurch as a cathedral city, and four ships which represented the historic first four ships of European settlers who sailed into Lyttelton in December 1850.
The frigate Canterbury was decommissioned in 2005 but the name and the badge were transferred to the new amphibious and military sealift vessel, HMNZS Canterbury (L421) in 2007.
One significant departure from the standard Royal New Zealand Navy badge where the ship's name is shown in black letters on a white background, Canterbury's name is shown in black letters on a red background representing the province's sporting colours.
The badge is surmounted by the Admiralty Crown and surrounded by a right hand laid rope with two New Zealand silver fern leaves at the base.
Our Royal New Zealand Navy and the Canterbury region share a bond, with many people from the region serving our Navy in times of peace and in times of conflict. Canterbury is named to honour our connection to the Canterbury region and her homeport Lyttelton.
Canterbury was named by the Ship Sponsor, The Right Honourable Helen Clark and is affiliated to the Lyttelton (Canterbury) region.
Operations
Embark military forces or civilian personnel over long-distances

Search and Rescue

Humanitarian Aid and Disaster Relief

Support for other government agencies, including the Ministry of Foreign Affairs and Trade, Ministry of Primary Industries, New Zealand Customs and Department of Conservation

Helicopter operations

Sea training for our Navy
Specifications
| | |
| --- | --- |
| PENNANT # | L421 |
| Displacement | 9,000 tonnes |
| Beam | 23.4 metres |
| Draught | 5.4 metres |
| Length | 131 metres |
| Speed | 20 knots |
| Range | 6,000+ nautical miles at 18 knots |
| Complement | 78 (core crew), 10 (flight personnel), 4 (Govt. agencies), 7 (Army ship's staff), 24 (trainees), 243 (embarked force) Total 366 |
| AMPHIBIOUS CAPABILITY | Two medium landing craft (23 metres/60 tonnes) + RHIBs |
| Propulsion | 2 x Combined Diesel and Diesel Electric Engines |
Armament
| | |
| --- | --- |
| Main Gun | 25mm Bushmaster naval gun |
| Helicopter | Two helicopter spots and hangar storage for four helicopters |
| Small Arms | Numerous small arms ranging from .50-calibre machine guns to 9mm pistols |