HMNZS Wellington
HMNZS Wellington is one of our Navy's two Offshore Patrol Vessels (OPV). The ships are designed for maritime surveillance, supply and support and patrol missions around New Zealand's 15,000-kilometre coast, the Southern Ocean and into the Pacific.
Wellington operates throughout New Zealand's 200 mile Exclusive Economic Zone (EEZ), the Southern Ocean and the Pacific. It undertakes a range of roles including maritime patrol and surveillance, search and rescue, humanitarian assistance, disaster relief, support to peacekeeping operations and sea training for the Navy.
Wellington was the second OPV to be built for New Zealand, and was commissioned into the Royal New Zealand Navy on 6 May 2010. Wellington is the second ship of this name to serve in the Royal New Zealand Navy.
The OPV's are designed to undertake patrols and resupply missions in the Southern Ocean. While the ships cannot enter ice fields, they have the range and cold-climate capability to undertake operations around our sub-Antarctic islands including the Auckland and Campbell Islands.
The OPV's conduct maritime patrols in conjunction with the Royal New Zealand Air Force P-3K2 Orion maritime patrol aircraft in the New Zealand EEZ, Southern Ocean and South Pacific. The surveillance tasks are primarily non-military in support of civilian agencies and involve specialist staff from government agencies such as Foreign Affairs, Customs and Fisheries.
The OPV's have a complement of 42 naval personnel and also have the capacity to host 36 additional personnel onboard for general naval training or other duties, including government agency officers.
The OPV's are capable of many roles including maritime patrol, surveillance and response. They have the ability to conduct helicopter operations using a Super Seasprite SH-2G(I) helicopter, boarding operations using the ships Rigid Hulled Inflatable Boats, or military support operations with embarked forces.
The two ships regularly work with government agencies such as Primary Industries (fisheries), Customs, Police and the Department of Conservation and are frequent visitors to ports throughout the country and the Pacific. The OPV's regularly support the operations of other government agencies.
| | |
| --- | --- |
| Homeport | Wellington |
| Ship Sponsor | Rt Hon Dame Sian Elias |
| Commanding officer | Lieutenant Commander Philip Davies |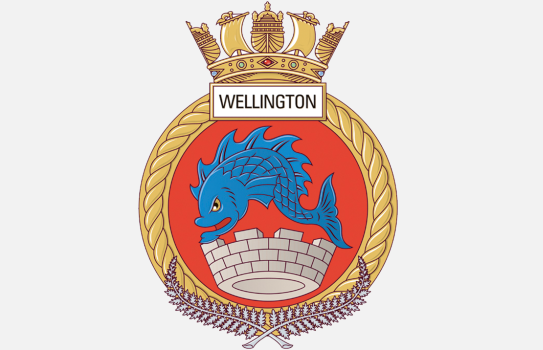 Motto: Suprema ut olim (Supreme as ever)
HMNZS Wellington's badge is based on the capital city's coat of arms and features a dolphin over a mural crown.
The Ship's badge is the same as the decommissioned Leander class frigate HMNZS Wellington and was originally designed for HMS Wellington, a Grimsby Class sloop, which was named after the capital city and was based in New Zealand during the 1930's.
HMS Wellington earned battle honours for the Battle of the Atlantic 1939 - 1945.
Operations
Long range patrols
Surveillance and reconnaissance
Counter-terrorism
Search and Rescue
Interception and boarding
Apprehension and escort of vessels
Humanitarian Aid and Disaster Relief
Support for other government agencies, including Police, Primary Industries, Customs and Department of Conservation
Helicopter operations
Pollution patrol
Sea training for the Navy
VIP Transport
Defence diplomacy and representational activities in NZ and foreign ports
Specifications
| | |
| --- | --- |
| PENNANT # | P55 |
| Displacement | 1,900 tonnes |
| Beam | 14 metres |
| Draught | 3.6 metres |
| Length | 85 metres |
| Speed | 22 knots |
| Range | 6,000 nautical miles |
| Complement | 42 (core crew), 12 (flight personnel), plus (additional personnel, including government agencies) Total 80 |
| Propulsion | 2 x MAN B&W 12RK280 Diesel Engines |
Armament
| | |
| --- | --- |
| Main Gun | 25mm Rafael Typhoon stabilised Naval Gun |
| Helicopter | One Kaman Super Seasprite SH-2G(I) |
| Small Arms | Numerous small arms ranging from .50-calibre machine guns to 9mm pistols |