HMNZS Te Kaha
HMNZS Te Kaha is our Royal New Zealand Navy's first Anzac Class frigate. Te Kaha is a purpose-built warship constructed to the German MEKO 200 design.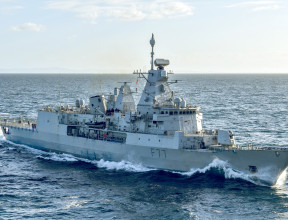 Te Kaha is designed to fight and evade her enemies and take battle damage. Her primary mission is to ensure the security and prosperity of New Zealand by undertaking maritime security patrols and surveillance operations to protect our sea lines of communication or trade routes.
Te Kaha is crewed by up to 178 sailors from the vast majority of branches and trades in the Navy, trained to operate the ship in environments from the cold of the Southern Ocean to the heat of the Arabian Sea, in peacetime and in combat situations. Frequently, Te Kaha will also embark RNZAF personnel to support Helicopter operations.
Te Kaha was delivered to the Ministry of Defence and commissioned into our Royal New Zealand Navy on 22 July 1997. Te Kaha is the first ship of this name to serve in our Royal New Zealand Navy.
The two Anzac class frigates, HMNZS Te Kaha and HMNZS Te Mana are the main combat-capable ships of our Navy and play a vital role in protecting New Zealand, its exports, maritime resources and those of our allies. Frigates are the smallest type of warship capable of prolonged independent and sustained operations, including:
Working with our allies in regional and global security
Conducting patrols in the Southern Ocean for illegal fishing
Participating in joint training exercises with other navies
Participating in UN peacekeeping missions
Search and rescue missions
Anzac frigates can combat simultaneous threats from the air, surface and sub-surface. This makes these ships a vital component in maintaining regional security.
The Anzac frigates have a complement of 178 naval personnel.
Te Kaha is part of New Zealand's national security system, and works with other agencies to protect and advance New Zealand's national security interests.
| | |
| --- | --- |
| Homeport | Napier |
| Ship Sponsor | Lady Mrs June Bolger |
| Commanding officer | Commander Fiona Jameson |
Upgrades
The Frigate Systems Upgrade (FSU) project was identified in the 2010 Defence White Paper as necessary to maintain the frigates' combat capability until the end of their service life. In 2020, HMNZS Te Kaha's surveillance, combat and self-defence capabilities were upgraded to match current and potential future threats. The upgrade included a new combat management system, new radars, electronic detection and other above water sensors, the self-defence missile system, decoys against missiles and torpedoes, and an upgrade to the hull-mounted sonar.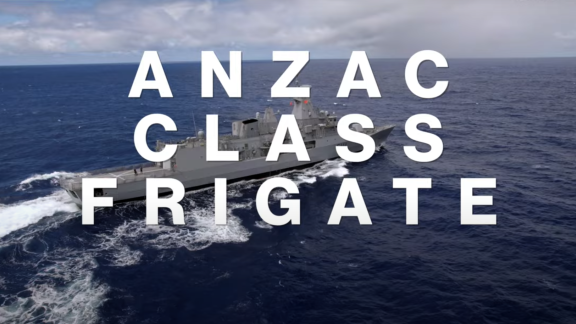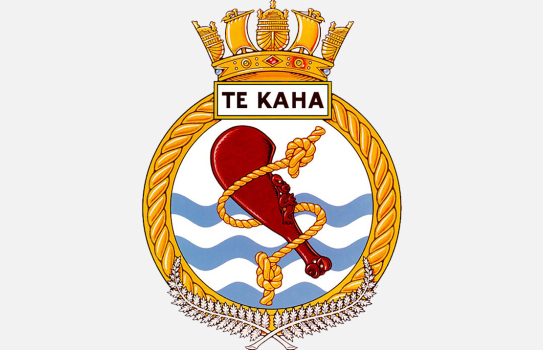 Motto: He Pononga Kaha (Service with Strength).
In 1995, the Royal New Zealand Navy launched a competition to find a ship's badge design for the frigate Te Kaha that was under construction.
The competition was open to design students at the 25 polytechnics throughout Aotearoa New Zealand.
The winning design would win a 2D moulded reproduction of the badge, an invitation to the commissioning of Te Kaha and a day at sea in the ship. In addition, the designer's polytechnic would receive a $1,000 book voucher.
The winning design was submitted by Jason Povey of the Northland Polytechnic, featuring a mere (Māori hand weapon) entwined with rope. With a little modification, the mere was changed to a wahaika (another type of Māori hand weapon) and wavy lines were added to represent the sea. Jason used the weapon as a symbol of protecting one's self or one's family and the rope as a nautical element common to both Māori and European. The knots at the ends of the rope represent and reinforce the idea of skill, strength and protection. Mr Roger Barnes, a heraldic artist of Auckland, produced the final drawing.
Specifications
pennant #

F77

Displacement

3,660 tonnes

Beam

14.8 metres

Draught

6.2 metres

Length

118 metres

Speed

27+ knots

Range

6,000 nautical miles at 18 knots

Complement

178 crew (25 officers, 153 ratings), plus 10 flight personnel

Propulsion

Combined Diesel or Gas Turbine (CODOG)

One GE LM 2500 Gas Turbine (30,000 hp)

Two MTU 12V 1193 Diesels (6,000 hp each)

Twin Shaft Controllable Pitch Propellers
Armament
| | |
| --- | --- |
| Main gun | 5-inch 54mm calibre fully automatic lightweight gun |
| Missiles | Sea Ceptor, which houses the Common Anti-Air Modular Missile |
| CIWS | PHALANX Close In Weapons System |
| Torpedos | Mk46 Mod 5 Anti-Submarine Torpedos |
| Helicopter | One Kaman Super Seasprite SH-2G(I) with a combination of torpedos, depth charges, Penguin air-to-ship missiles and M60 machine gun |
| Small arms | Numerous small arms, ranging from .50-calibre machine guns and mini-Typhoon automatic weapons to 9mm pistols |