HMNZS Aotearoa
HMNZS Aotearoa is our Polar-class sustainment vessel built by Hyundai Heavy Industries. Aotearoa is a purpose-built, technologically enhanced asset that adds real value to our combat operations, humanitarian relief functions and operational and training support.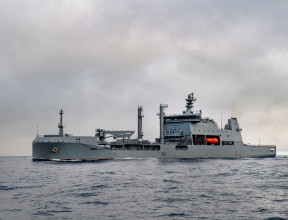 HMNZS Aotearoa's primary mission is to provide global sustainment to New Zealand and coalition maritime, land and air units, and United Nations security operations through resupply of ship and aviation fuel, dry goods, water, spare parts and ammunition.
In 2020, our Royal New Zealand Navy formally commissioned Aotearoa. The 26,000 tonne tanker and replenishment ship is the largest our Navy has ever operated.
Her many capabilities include the ability to carry up to 22 twenty-foot shipping containers, high capacity fresh water generation plants (enough to produce 100,000 litres per day), self-defence systems, aviation and marine fuel cargo tanks, dual all-electric replenishment at sea rigs, a SH-2G(I) Seasprite Helicopter or NH90 helicopter, integrated communications and bridge systems, an integrated platform management system and winterisation features such as some upper deck trace heating and an ice-strengthened hull and underwater fittings.
Aotearoa utilises a world-first naval "Environship" leadge bow design. This design incorporates a new wave-piercing bow which reduces resistance and lowers fuel burn, while its Combined Diesel Electric and Diesel propulsion plant has lower fuel emissions than older vessels. Her Selective Catalytic Reducers reduce harmful NOx exhaust emissions, and she has been built to adhere to Polar Code safety regulations and is ice strengthened to Polar Class level 6 for Southern Ocean monitoring and Antarctic operations including the resupply of McMurdo Station and Scott Base.
Homeport: New Plymouth, Taranaki
Ship Sponsor: Dame Patsy Reddy GNZM, QSO, DStJ
Commanding Officer
Commander Dave Barr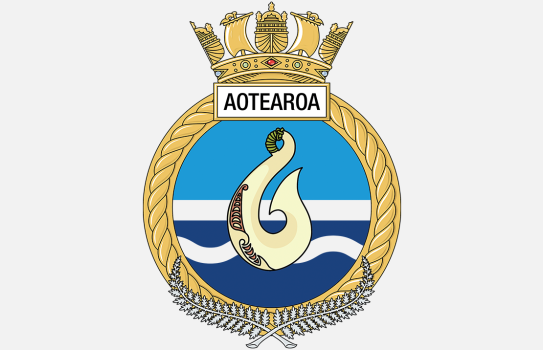 Chief Petty Officer Electronic Technician (CPOET) Steven Knight was one of 10 finalists announced in 2018 among over 250 entries submitted for the Aotearoa Badge competition, offered by the Chief of Navy to all New Zealanders as a chance to see their badge design mounted on the Navy's replenishment tanker and affixed to the uniforms of her crew.
In CPOET Knight's competition entry he described how his design, a fishing hook, represented the origin story of Maui fishing up New Zealand. "It reflects both strength and dominance over the ocean as well as replenishment and providing for its people," he said.
The fishing line, made of flax, was tied with a naval bowline. Dividing the sea and the sky is a white band that represents both a long white cloud and an ice shelf – very appropriate given the importance of the Southern Ocean and Antarctica to New Zealand.
HMNZS Aotearoa at work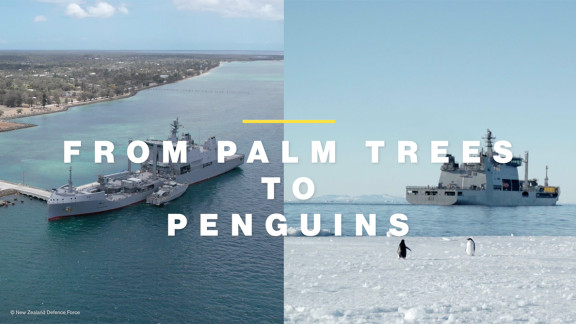 Specifications
| | |
| --- | --- |
| PENNANT | A11 |
| Total liquid cargo capacity | 9,500 tonnes |
| Typical dry goods cargo capacity | up to 22 twenty-foot equivalent units |
| Core Crew | 64 |
| Bunks | 100 |
| Launched | April 2019 |
| Named | October 2019 |
| Commissioned | July 2020 |
| Builder | Hyundai Heavy Industries, Ulsan, Republic of Korea |
| Length | 173.2m |
| Beam | 24.5m |
| Displacement | 26,000t |
| Maximum Speed | 20kts |