New Zealand Light Operational Vehicle (NZLOV)
The Pinzgauer is an off-the-shelf light military vehicle that is used to carry out transport, command and control, liaison, replenishment, and administrative tasks.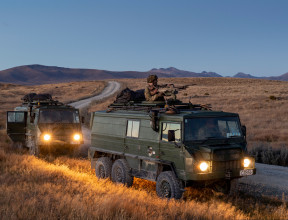 326 Pinzgauers (also known as LOVs - Light Operational Vehicles) were introduced into service between 2004 and 2006.
There are currently 11 variants of the vehicle, of which the majority are General Service (GS) or Command and Control (C2). There are also a number of Ambulance and Shelter vehicles in the fleet. Two variants of the Armoured Pinzgauer were bought to provide increased protection should the situation require it.