MAN Truck and Rapidly Emplaced Bridging System (REBS)
The Rapidly Emplaced Bridge System (REBS) capability provides a rapid tactical bridging capability to support a Light Armoured Vehicle (NZLAV) motorised force. It enhances mobility of NZLAV, by supporting gap crossing operations. It can be employed to cross wet gaps (streams, rivers) and dry gaps (anti-vehicle ditches).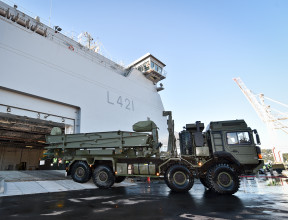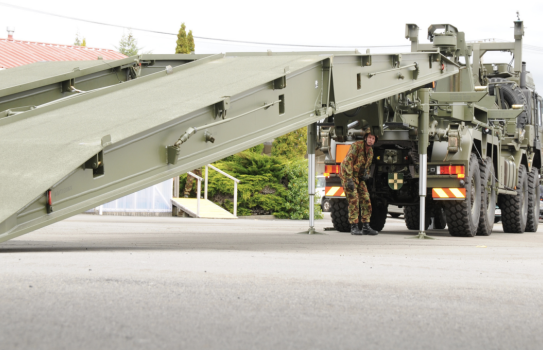 The Rapidly Emplaced Bridge System (REBS) is an aluminium welded structure consisting of two halves coupled together at the centre. It is lightweight, corrosion resistant, torsionally flexible and strong enough to support MLC 40 wheeled and tracked vehicles under normal crossing conditions. It can also support up to MLC 50 wheeled vehicles under a caution crossing. The launch pallet contains components making up the launcher, a hydraulic system, an electrical control system, a diesel engine power unit and four tool boxes for stowage of CES equipment.
The bridge has an anchoring system to secure the bridge in place once deployed. Anchorage installation and removal time is in addition to launch and retrieval times and may vary depending on soil composition. The bridge requires the use of the pallet and the carrier vehicle for launch and retrieval operations. Launch or retrieval operations require two personnel and can be completed in 10 minutes or less (under good conditions).
The System is mounted on a flat-rack pallet and transported on a MAN support vehicle with Enhanced Palletized Load System (EPLS). It provides a rapidly deployed system for crossing unprepared gaps of up to 12 m (39.4 ft).