L119, 105mm Light Gun
The 105mm Light Gun provides direct and indirect fire support to our Army's combat troops, and can be employed in either offensive, or defensive operations.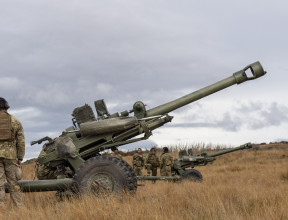 The L119 Light Gun is a light weight gun/howitzer capable of providing either direct fire support at armoured vehicles or buildings or indirect fire in support of the combat arms at ranges in excess of 10 km.
While primarily towed into position by a suitable vehicle, it can also be carried as a sling load underneath a helicopter for more rapid deployment, or emplacement into difficult to access areas where a vehicle may not be able to travel.
| | |
| --- | --- |
| Calibre | 105 mm M1 Howitzer |
| Length | 6500 mm |
| Width | 1800 mm |
| Weight | 1900 kg |
One of the more commonly seen uses of the L119 Light Gun are artillery salutes for state and ceremonial occasions.
Depending on mission requirements the Light Gun can fire the following types of bombs: high explosive, smoke, illumination, and blank.