Designated Marksman Weapon (DMW)
The DMW is provided to specially trained soldiers within our Army to provide target detection, recognition, identification and neutralisation in the field.

Combined with a trained operator, the DMW provides the ability for precise long range suppression and neutralization.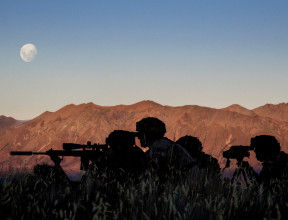 The DMW is an ambidextrous, select fire, precision rifle that is mated with a telescopic sight that allows a trained operator to shoot effectively at ranges in excess of 800m.
| | |
| --- | --- |
| Calibre | 7.62x51mm NATO |
| Length | 1000-1100mm |
| Weight | 6kg |
| Rate of Fire | 600 rounds per minute (in automatic) |
To meet mission requirements it can be fitted with a range of ancillaries such as: bipod, suppressors, night vision equipment, blank firing device, and CQB transition sights.