Glock G17 Gen 4
The Glock G17 is used by all three Services as a personal protection weapon in situations where a full sized rifle is not appropriate, or as a secondary weapon to provide a backup to the user's primary weapon.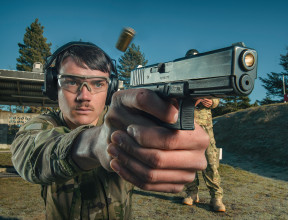 The Glock G17 is an ambidextrous pistol and used at short ranges of up to 25m.
A variety of holsters can be used to allow secure carriage of the pistol on the body so as to not obstruct normal activities. To aid in correctly fitting the pistol to the user a variety of different sized backstraps are available. Auxiliary aiming and lighting devices can also be fitted to the integral rail to enhance usability.
| | |
| --- | --- |
| Calibre | 9x19mm NATO |
| Length | 200mm |
| Weight | 900g |