Students reflect on Navy's School to Seas camp
Empowering young women with confidence and curiosity about Science, Technology, Engineering and Mathematics (STEM) careers in the marine industry is what the Navy's School to Seas camp is all about.
20 April, 2023
Thaeya Hoyle, Southland
Southland Girls' High School student Thaeya Hoyle said it couldn't get any better than spending her 17th birthday on camp with the Navy.
"When I was a kid doing Sea Scouts we got to tour the Navy ships. Ever since then I've thought the Navy is completely up my alley. I also really want to be an engineer and I study physics, engineering and maths, so the camp was just awesome for me," says Thaeya.
A highlight for Thaeya was the flood chamber at the Sea Safety Training Squadron's Damage Control school. The students had to work to plug leaks in a simulated ship's compartment as it filled up with water.
"That was a favourite. Also taking part in the navigation exercise was quite cool."
She said being away from home was challenging but everyone became close to each other, with students sharing bunk rooms aboard HMNZS CANTERBURY and having meals together.
"I would 100 per cent recommend this, especially if someone is looking at going into the Defence Force. It's more real, it's a real eye-opener into what it's really like, and shows you what actually goes on."
Along with a passion for the Navy and STEM, Thaeya also strives to give back to her local community.
"I'm the youngest member of my local fire brigade and one of the only females. My dad is the Deputy Chief, so I really hope to continue on the family tradition. It's another fun and cool way to be of service and give back to my community, just like the Navy does," says Thaeya.
Join Fiona, a School to Seas participant for her experience on base.
Shirleane Leuty, Papakura
Every weekday 16-year-old Shirleane Leuty travels for six hours from her Franklin home near Papakura to attend Vanguard Military School in Auckland's North Shore, so she can realise her dream of joining the Royal New Zealand Navy, and now she's one step closer.
"When I was in Year 10 I decided I wanted to join the Navy so I started at Vanguard Military School. I really like the idea of becoming a Seaman Combat Specialist.
"It's been a really cool experience for me," says Shirleane.
"The camp has really shown me what life is like in the Navy and see what my future could look like."
She says the water activities, especially the rides in the Navy's sea boats, were among the best activities. Her favourite was the 'flood room', a compartment at the Sea Safety Training Squadron's Damage Control school that can be slowly flooded with water, forcing the students to use techniques and equipment to try and halt the flooding. "That was so much fun."
Shirleane studies engineering and says she has an equal passion for developing the physical side needed for life in the Navy.
"At school we learn marching, discipline and do physical training three days a week. One of my favourite things is doing the mud run in Matakana. The mud stinks and you get completely covered in it, but it's one of the most fun experiences I've had," she says.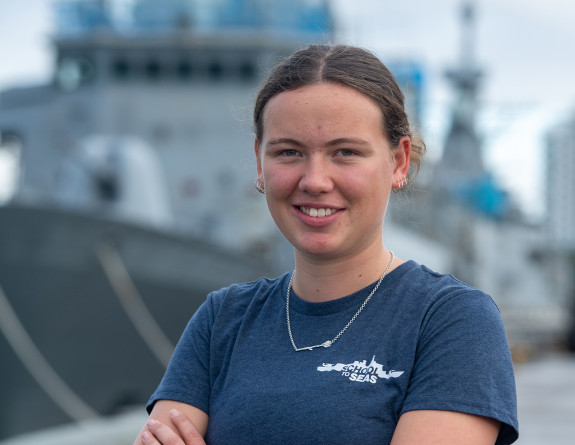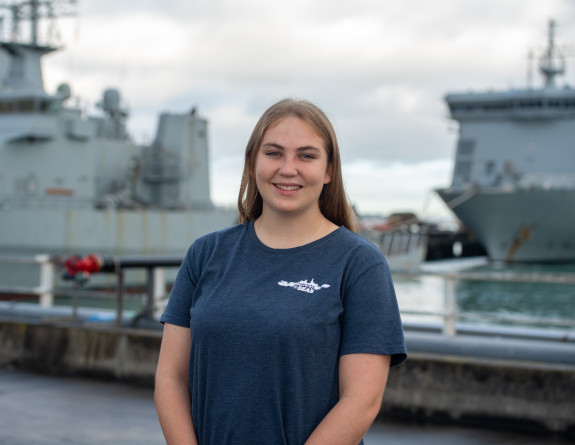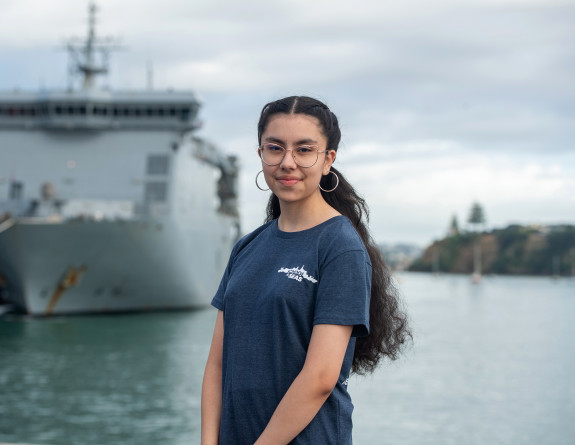 Maria La Parra, Hamilton
Rototuna High School student, Maria La Parra was inspired by a teacher to come on the programme.
"I was in my chemistry class and my teacher had experienced the School to Seas programme as a teacher. He thought it would be great as it's for girls who love science and STEM subjects. I think it's an amazing opportunity to part of a programme that focuses on STEM that's for girls,' says Maria.
Maria says when her family emigrated from Columbia when she was six years old, She didn't speak and word of English, but now a career in science is on the horizon.
"My family came to New Zealand so my brother and I could have more career opportunities and a better life. I came to a place where nobody understood me and I was the different one. It was all the pressure that was put on me by classmates, which motivated me even more to learn English," says Maria. "Now I'm really interested in science engineering or science research and development."
Maria says the week was really amazing.
"It was wonderful all the different opportunities given to us. I really enjoyed learning about the different trades in the Navy, and getting to participate in all of them."
Her favourite part was helping build a Remotely Operated Vehicle (ROV) that could work underwater. "That was something new to me, and it made us work on our problem-solving."
She says it felt like they had become a family. "It was really said to see each other go at the end of the week."