Carpenter takes the wheel in Antarctica with NZ Army Reserve Force
The first Royal New Zealand Air Force (RNZAF) flights of the Antarctic season headed south in recent days, transporting personnel and supplies, and Sergeant Justin Dark knows what's in store after his own last-minute deployment to the ice.
29 September, 2023
Born in Invercargill, the Christchurch-based carpenter joined the New Zealand Army Reserve Force in 1998, attracted by its offer to pay for his heavy vehicle licence.
Last summer, he went on his first overseas deployment - to the harshest continent on Earth.
Sergeant Dark is a combat driver with 3rd Active Reserves Company, attached to 3rd Combat Service Support Battalion - the logistics battalion based at Burnham Military Camp.
He'd put his name in the hat in 2020 to deploy on one of the New Zealand Defence Force's (NZDF) most enduring missions, Operation Antarctica, but the Covid-19 pandemic scuppered his plans.
When Sergeant Dark received a call from the NZ Army in January 2023, he leapt at the chance to deploy to the ice - with only a week to prepare.
"My boss at Armitage Williams Construction was great about the sudden change of plans as they knew it was something I was really keen on doing."
The NZDF has been providing support to Antarctica programmes since 1955.
As well as being one of its largest deployments, the mission is significant because changes in the Antarctic environment have implications for the rest of the planet.
The work which the NZDF supports there, allows people to better understand those changes and their impact.
NZDF support to Antarctica programmes includes air transport by RNZAF Hercules and Boeing aircraft, contributing to the New Zealand Antarctic Programme, and deploying personnel for the New Zealand/United States Joint Logistics Pool.
Personnel fill a variety of roles both on and off the ice - such as Scott Base support staff, communications personnel to connect up with research teams in the field, cargo handlers, plant operators, aviation refuellers, air movements specialists and more.
Sergeant Dark spent five and a half weeks working as a combat driver between McMurdo Station and Scott Base.
He was part of a platoon of around 20 soldiers and one officer tasked with transporting stores from three cargo vessels that docked in McMurdo Sound. The cargo included food, building materials, hygiene products and research items for scientists based in the Ross Dependency region.
The NZDF works closely with its partners at Antarctica NZ, providing Defence capabilities and subject matter experts, and supporting vital scientific and environmental programmes.
For Sergeant Dark, this meant being part of a 24/7 operation, working 12-hour shifts from 6pm to 6am until the vessel berthed at that time was empty.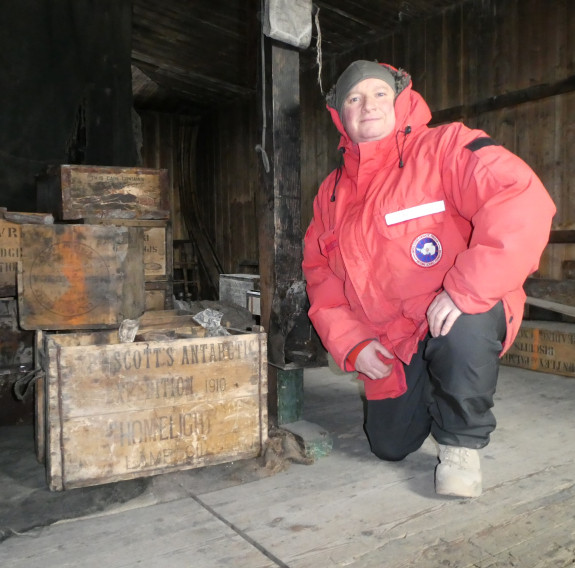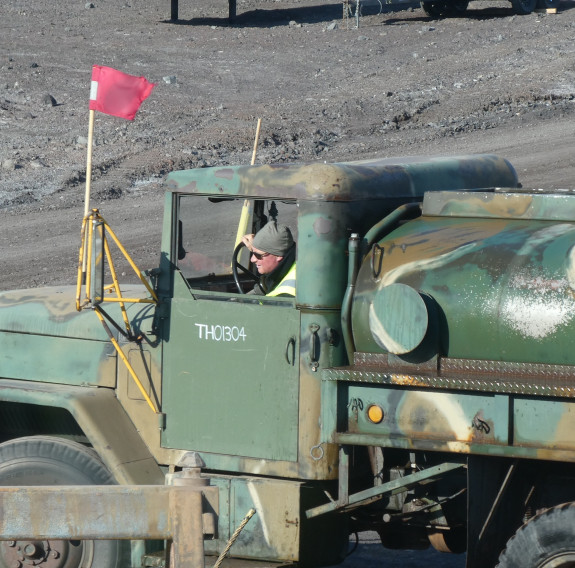 In his down time, Sergeant Dark enjoyed going out walking in the snowy terrain with colleagues.
He said it took around an hour to walk from McMurdo Station to Scott Base, and while sometimes it was warm, on other days he had icicles on his eyelashes.
Sergeant Dark said one of the biggest challenges was the wind chill factor.
"There was one walk I went on, my lower half I wore just my long johns and then shorts. It was fine down in McMurdo where we were working, but when I went for the walk we went up onto the hills and that was where the wind caught us. That was very cold on the legs, it was painful so you just had to keep walking."
A highlight of his time in Antarctica was the wildlife, including sightings of orcas, seals, and Adélie and Emperor penguins.
"They're quite amazing creatures. I didn't get to see the Emperors up close, but the Adelie penguins, at the time we were there it was the time they were changing their feathers. They'd come up and be around you, you just had to make sure you avoided them, give them the space to do their thing."
He said there was a good sense of camaraderie on the ice, with everybody pitching in together.
"You do have to make sure you have a great attitude to be there because you're eating, sleeping and working with the same people in close proximity.
"I enjoyed the work, I enjoyed the experience of some of the walks, just the place in general really, knowing that there's not many people that get the chance to go there."