RNZAF Successfully Drops In On South Island During Exercise
The Royal New Zealand Air Force (RNZAF) has successfully completed a nearly two-week exercise of tactical flying around the top of the South Island, practising dropping loads of equipment and supplies in remote locations.
22 May, 2023
No. 40 Squadron, normally based in Auckland, and support units, including those from the NZ Army, have been based at RNZAF Base Woodbourne near Blenheim since last week.
"The annual training activity is designed to maintain currency in low-level flying, tactical flying and airdrop capability," said pilot, Flight Lieutenant Michal-louise Paget.
"These skills are crucial when responding to a range of challenging situations such as resupply, humanitarian aid and disaster relief or search and rescue operations," she said.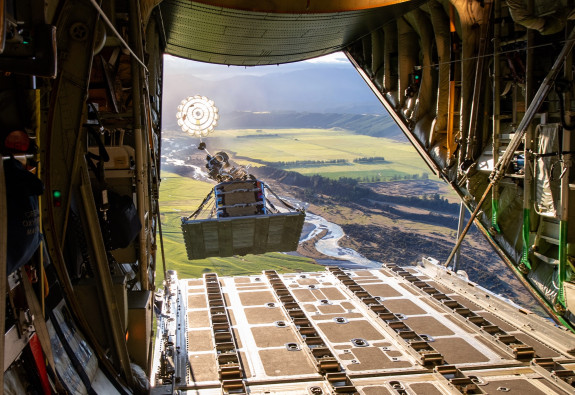 It helps prepare No. 40 Squadron for deployments to the likes of Antarctica, the Middle East, Asia and the Pacific.
"The nature of military operations and the environments in which they are conducted means high-quality training activities are essential for our personnel," Flight Lieutenant Paget said.
The Hercules flew as far south as Canterbury and as far north as Manawatū, with the crew coordinating pallet drops of heavy equipment and container delivery bundles to drop zones at RNZAF Base Ohakea and around Marlborough.
The exercise provided crews with a range of demanding flying and navigating conditions, including over unfamiliar, mountainous and challenging terrain in a variety of weather conditions.
Support on the ground also came from RNZAF No.3 Squadron and New Zealand Army units from 1 (New Zealand) Brigade, 2nd Combat Service Support Battalion, including 5 Movements Company and 3rd Combat Service Support Battalion.
Flight Lieutenant Paget said the exercise had proved successful in achieving a number of training goals.