Summer season gets under way for NZDF's Operation Antarctica
The New Zealand Defence Force's (NZDF) long-running support to Antarctica New Zealand and science and research programmes is under way for the summer season as the first flights to the ice have begun.
28 September, 2023
The NZDF is an integral part of Antarctica New Zealand's operations and has been providing support to Antarctica programmes every year since the 1950s.
Under its annual commitment, named Operation Antarctica, the NZDF contributes airlift and logistics support to Antarctica NZ for New Zealand's Antarctic programme, and other nations' programmes that use Christchurch as their Antarctic gateway.
At Harewood Terminal, a team of around 27 personnel facilitate all flights in and out of Christchurch.
Flights occur in winter although most take place over the summer months. Even then, an aircraft may "boomerang" back to Christchurch, if the weather window starts to close while en route.
Air Component Commander, Air Commodore Andy Scott, himself a former-130 Hercules pilot, said that while the first Hercules flew to Antarctica last week, weather then interfered with several subsequent attempts.
"Our crews are highly trained to analyse the weather conditions and decide whether they can proceed," he said.
"With no divert airfields in McMurdo Sound and inability to get there and back without refuelling, the team carefully analyses the weather patterns en route to confirm it is safe to proceed.
"The changing weather conditions do result in several attempts being aborted throughout the season where the aircraft then has to turn back to Christchurch.
"If weather affects one attempt, we'll re-schedule to the next available window to get the people who support this important work in Antarctica there safely."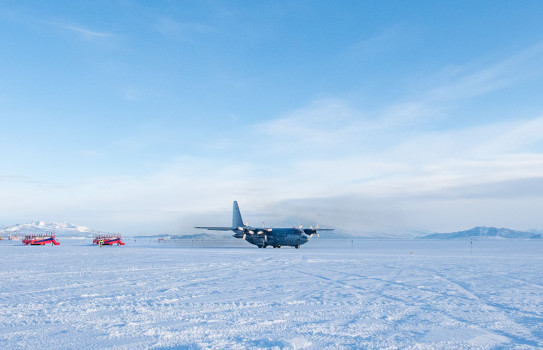 The Royal New Zealand Air Force has scheduled 16 flights to Antarctica between September and March, taking passengers and cargo to the ice.
They are part of New Zealand's commitment to the Joint Logistics Pool it shares with the United States, where the NZDF also deploys personnel in specialist roles.
This enables Antarctica New Zealand to leverage United States' capabilities in support of the New Zealand science programme each year.
NZDF personnel work at both Antarctica New Zealand's Scott Base and the United States' McMurdo Station.
At the height of the summer season, approximately 70 NZDF personnel will be on the ice, including the Scott Base Support Team of two logistics personnel, two plant operators, four communications personnel and a chef.
The logistics personnel support cargo processing, fixed-wing and helicopter operations and ship on- and off-load processes, while those in communications maintain a watch-keeping function, including checking in with teams out in the field.
Aviation refuellers, firefighters, drivers, carpenters and electricians are also deployed.
The NZDF has a Senior National Officer who oversees NZDF activities in Antarctica, and supports Antarctica NZ and the United States' National Science Foundation with long-term planning for operations on the continent.
Major Lucy Wright said deploying to Antarctica was a unique experience for everyone involved.
"It's a complex operation as it involves moving personnel in and out of Antarctica at different times.
"Some personnel will be there for the summer season while others go for a set period, such as the ship offload teams which unload re-supply ships when they get alongside McMurdo Station during the height of summer.
"Everyone who goes gets to experience an incredible environment and work with a great bunch of people ultimately contributing to internationally important science and research work."
Over the 2023/24 summer season, up to 200 NZDF personnel will be involved in supporting operations in Antarctica.