Base Ohakea
RNZAF Base Ohakea is one of three military air bases in New Zealand. Located in the central North Island, Ohakea is 22km north-west of Palmerston North and 17km west of Feilding in the Manawatū region.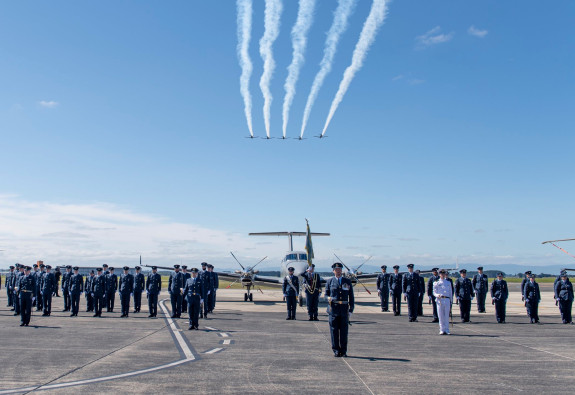 Base Ohakea was built between 1937-1939 and covers an area of 320 hectares. The base has around 1000 personnel, both military and civilian, and several squadrons call Ohakea home.


| | |
| --- | --- |
| No 3 Squadron | Comprising Rotary Wing Transport Forces including eight NH90 Medium Utility Helicopters and five A109 Training/Light Utility Helicopters. The Squadron is responsible for helicopter conversion training for graduated pilots and helicopter crewmen, Search and Rescue activities, medical evacuation, NZ police support and assistance to other government agencies. |
| No 14 Squadron | Comprising 11 Beechcraft T-6C Texan II pilot training aircraft. Graduated pilots then go on to further training either with No 3 Squadron or No 42 Squadron. Central Flying School, which shares the T-6C Texan II fleet, is responsible for all NZDF aircrew instructor training. |
| No 42 Squadron | Conducts basic training for Air Warfare Officers and multi-engine conversion training of pilots using four Beech KA350 King Air. The unit also provides a limited light transport capability. |
| No 5 Squadron | Ohakea will also soon be home to No 5 Squadron, which will provide airborne surveillance and maritime patrol using four P8 Poseidon aircraft and approximately 230 personnel. |
Facilities and amenities
Airfield and Hangars

The airfield and associated aircraft hangars on base are home to our A109 & NH90 helicopters (No.3 Squadron), our Texan aircraft (No.14 Squadron), and our King Air aircraft (No.42 Squadron). Our main runway is the third-largest in New Zealand, at 2437 metres long.

This area provides a flight line for our aircraft to operate, while the hangars house the aircraft, and serve as an office for our Squadrons who work on the mechanics, avionics, and more.

Te Tūrangawaewae o Te Tauaarangi o Aotearoa

Te Tūrangawaewae o Te Tauaarangi o Aotearoa was opened in Oct 2016 to give our people a place where the integrity of the Māori culture can be preserved, taught and embraced. It is a place where we may honour our past, celebrate or lament the present and look to the future.

As a tūrangawaewae or cultural standing place, it belongs to all our personnel and their whānau. Unity is strengthened through a sense of belonging. It is a meeting place, a rallying point, a learning area, a place of rest and spiritual reflection. It is where we may celebrate, grieve, welcome and farewell. It is a memorial to our forebears and a beacon for those yet to come. It is the physical heart of our small tribe – the spiritual and social gathering place of Te Tauaarangi o Aotearoa, the Royal New Zealand Air Force.

We need our tūrangawaewae:

That we may rise tall in oratory
That we may weep for our dead
That we may pray to God
That we may have our feasts
That we may house our guests
That we may have our meetings
That we may have our weddings
That we may have our reunions
That we may sing
That we may dance
And then know the richness of life
And the proud heritage that is truly ours.

Find out more about how the NZDF embraces Te Ao Māori here

James Ward VC Mess

In the heart of Base Ohakea is the James Ward VC Mess - a new way of military dining. The mess provides freshly prepared cook to order options and is a major step up from the standard institutional style of food service which is typical across many bases.

This mess provides our people with a wide range of choices and creates a dynamic food court that offers more varieties of cuisine. Inviting surroundings with a range of seating is the final touch on this communal dining area.

Gym and Pool

Our personnel must maintain a high level of fitness in order to deploy and so the gym is a key facility at Ohakea. Our Physical Training Instructors conduct a variety of group fitness programmes and classes on a weekly basis. Our personnel can also access the gym out of hours for their own personal training.

The swimming pool is a 33m lane pool with a toddlers pool on the side and is a fantastic asset for our personnel's fitness training or to bring their family to on a hot summer day.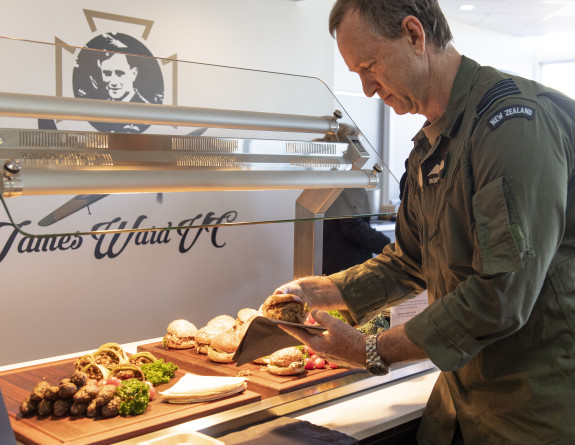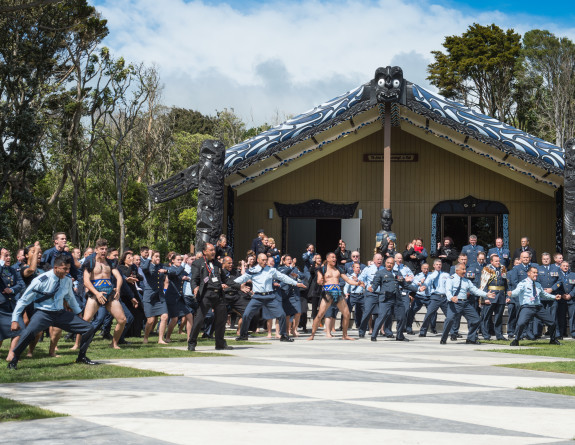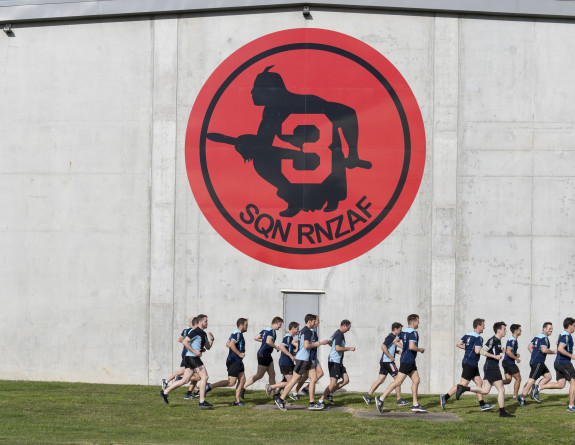 History
Built in 1938, RNZAF Station Ohakea was a major base during WWII. Originally intended as a bomber base, its first role was to train observers, air gunners and new recruits. Retitled RNZAF Base Ohakea in 1965, it was the home of the RNZAF strike wing which consisted of the Canberra bombers of No.75 Squadron.
From 1941, with the creation of the Women's Auxiliary Air Force (WAAF) women increased in number on RNZAF stations performing a variety of trade roles.
Fast forward to 2012, NH90 and A109 helicopters arriving on base resulted in the completion of a new multi-purpose hangar. This hangar was purpose-built to house our No. 3 Squadron helicopter fleet. Not long after in 2015, our No. 14 Squadron reformed to assume the position of the initial pilot training role with our T-6C Texan II aircraft.
2019 saw the beginnings of our Poseidon project, with construction beginning on a new hangar and more. This project will be completed upon arrival of the aircraft in 2022.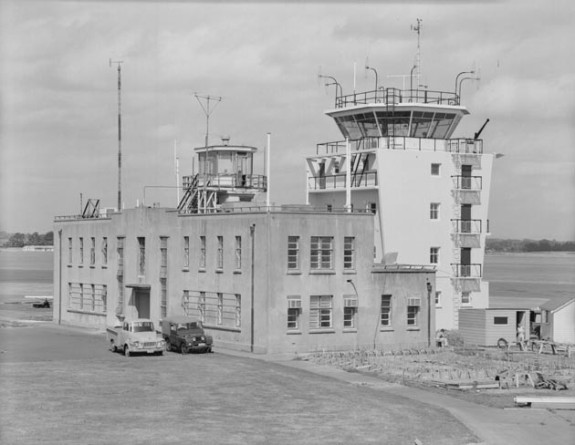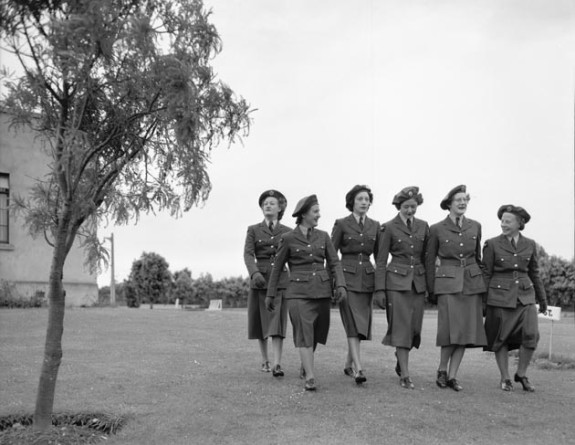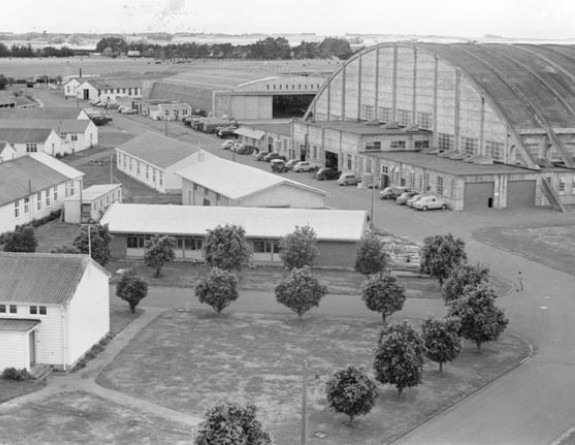 Future works
Over the next few years, as we prepare for the arrival of the four P-8 Poseidon maritime patrol aircraft in 2023, we'll invest in a hangar fire suppression tank, Airfield changes, military dogs facilities, Waka Kotahi's development of a new roundabout at the main gate entrance, upgrades to the wastewater reticulation and treatment plant in partnership with Manawatū District Council.
All new buildings will aim for high sustainability ratings to improve energy use.
Contact us
General enquiries: 06 351 5099
Media enquiries: 021 487 980
Considering
a career in the Air Force?
A big part of our work in the Air Force involves assisting communities affected by conflict or natural disasters. The fact that we work to protect and help people is one very good reason why we're so passionate about what we do. It gives our lives real meaning and purpose.
Find out more