Tactical flying
Keeping the skills finely honed
Evading surface-to-air missiles, flying low over unfamiliar terrain, dropping pallets onto drop zones and flying in formation are all part of No. 40 Squadron's regular tactical exercises with the C-130 Hercules.
No. 40 Squadron exercises involves a range of flight training over unfamiliar and challenging terrain, co-ordinating pallet drops, testing the crew's proficiency in tactical flying and dropping loads so they can be ready to assist in resupply, humanitarian aid and disaster relief or search and rescue operations whenever required by the New Zealand Government.
The crew have to compute the release point for the loads that are dropped and direct the pilots to put the aircraft in the right position to make sure they are in the right place for the drop.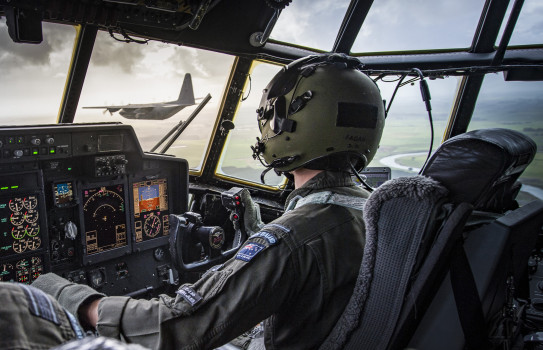 They also have to contend with a Smoky SAM (surface-to-air missile), which simulates a surface-to-air threat and puts the crew in a position where they have to react to that threat and manoeuvre the aircraft away from it.
The skills practised in the training have been used in real-life scenarios, including a deployment in December 2019 on a US Air Force-led Operation Christmas Drop out of Guam where a C-130 crew delivered pallet loads of goods via airdrops to people living on remote islands and atolls in the Pacific.
Considering
a career in
the air force?
A big part of our work in the Air Force involves assisting communities affected by conflict or natural disasters. The fact that we work to protect and help people is one very good reason why we're so passionate about what we do. It gives our lives real meaning and purpose.
Find out more