Rongomau me te haumaru
Peace & security
Living in peaceful times doesn't just mean being peaceful within our homes, land and country. We are an island nation, surrounded by water. To protect our country beyond dry ground, we need an Air Force.
It is easy to think that because we're a long way from other countries, we are safe from problems that other countries have. We might feel that threats to peace don't affect us. But in a modern world, they do. New Zealand is vulnerable to disruption. Our prosperity is reliant on maritime trade, with 90 per cent of our trade coming via the sea. We also need safe air routes in and out of New Zealand, and we need safe and secure lines of communication.
The Royal New Zealand Air Force contributes to protection of our peace and security, our way of life. A combat-capable Air Force that can detect, deter and counter threats to New Zealand is a deterrent to those who might threaten the peace and security we enjoy.
We don't do this alone. New Zealand partners with other countries, such as Australia, the United Kingdom, the United States and Canada, to promote global security. Globally, there are more challenges. Different countries around the world are pursuing goals that are threats to peace. There are people who pursue extreme ideologies. Organised crime is international. Countries like New Zealand are stronger when we work with other countries to promote peace and security.
We are a small country, but there are others who are smaller and even more vulnerable. Just as large countries share the responsibilities, so too does New Zealand for its South Pacific neighbours. We are a Pacific Island country and what happens in the South Pacific directly affects our security and well-being. We have a constitutional responsibility to the Cook Islands, Niue and Tokelau. The Air Force will respond to events in the Pacific and undertake security and stability operations.
Why ask New Zealand for help? It's in our history and in the way New Zealanders are viewed around the world. The world views New Zealand as a nation with people who want to do the right thing and help others. This culture is inherent in our Defence Force. We've been doing it a long time, often as part of an international team trying to prevent or resolve conflict, such as a part of United Nations initiatives. Sometimes it's important enough to keep helping for years. We have long commitments to peace and security in Asia, the Pacific, and the Middle East.
These are some of our stories
Korean Peninsula
A visible presence
The international community, including New Zealand, maintain a continuous presence on and around the Korean Peninsula in the interests of regional security. The Royal New Zealand Air Force is part of this work.
New Zealand has long supported the maintenance of peace and security on the Korean Peninsula as part of international efforts to address regional security issues. New Zealand contributes to the international community's efforts to achieve the full implementation of United Nations Security Council (UNSC) resolutions, and supports the goal of the complete, verifiable, and irreversible denuclearisation of North Korea.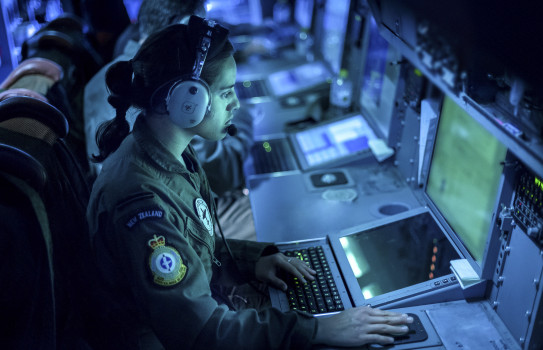 Because of North Korea's nuclear and ballistic missile programme, the UNSC has imposed sanctions against the country. To help monitor the sanctions and support international efforts, the Royal New Zealand Air Force have conducted multiple deployments of a P-3K2 Orion maritime patrol aircraft based out of Japan. Our aircraft operates over international waters, to detect and deter illicit ship-to-ship transfers of sanctioned cargo and other practices that contravene the UNSC sanctions.
During 2021, we carried out these patrols for the fourth time, locating vessels of interest and looking to detect any evasions of sanctions such as illicit ship-to-ship transfers of sanctioned goods such as oil and coal. Activities of interest spotted by the aircrew are recorded and passed on to the relevant authorities.
Timor-Leste
Fighting for independence
Timor-Leste has had a long and sometimes brutal passage towards its independence.
1999-2002
The Royal New Zealand Air Force is deployed into East Timor as part of a multinational peacekeeping force to restore order, after violence breaks out following a referendum for independence.
Mounting the East Timor operation puts NZDF's military capability to the test, and follows months of planning and preparation. This preparation and deployment to East Timor demands collaboration and co-operation from all parts of the NZDF, often under significant time pressure and in an environment of uncertainty, for what is to become a complex and large-scale military operation.
The area of operation covers some 1,700 square kilometres of rugged terrain, characterised by poor infrastructure, difficult supply routes, limited communications, and considerable destruction by the retreating militia.
Pro-Indonesian militia are burning buildings and killing people in raids around East Timor, and the International Force East Timor (INTERFET) forces – from New Zealand, Australia, Philippines, South Korea, and Thailand – are welcomed by the populace.
An Air Force element of 130 personnel (including aircraft crews and mechanics) and up to six Iroquois helicopters (now retired from service) are used in support of New Zealand and other nations' ground forces. Two Hercules and one Boeing aircraft transport troops and equipment between New Zealand, Australia, and East Timor.
From 1999 to 2002 New Zealand deployed 5,000 NZDF personnel to the INTERFET deployment and then to United Nations Transitional Administration in East Timor (UNTAET), making it the largest single deployment of New Zealand military personnel since the Korean War. It provides the foundation for a warm and close relationship between Timor-Leste and New Zealand. Timor-Leste became independent on 20 May 2002.
For their work in East Timor, No. 3 Squadron, operating the Iroquois helicopter, was awarded the Australian Meritorious Unit citation in 2002, for sustained outstanding service in a warlike operation. All personnel of No. 3 Squadron are entitled to wear an adapted citation badge as a unit honour.
2006-2012
In May 2006, following significant unrest in Timor-Leste, including murders in Dili, the NZDF deploys a company sized group to assist in the restoration of peace and security. A substantial contingent is maintained in Timor-Leste until 2012 with a wide variety of personnel involved including the deployment of our Air Force Iroquois. Our personnel contribute to the Australian-led military operation and work alongside the New Zealand Police among others. Elections take place successfully and Timor-Leste takes full responsibility for its internal security. When the final of 13 contingents departs in November 2012, we continue to support the Timor-Leste military with advisers.
NZDF remains committed to Timor-Leste's security and stability and maintains a strong partnership through the NZDF's Mutual Assistance Programme, which provides training assistance to the Timor-Leste military.
Five Power Defence Arrangements
Security in our region
The Five Power Defence Arrangements (FPDA) between the United Kingdom, Australia, New Zealand, Malaysia and Singapore are one of the longest-running defence arrangements in the world. Conducting regular military exercises between the military forces of the five countries since 1981, the FPDA enhance interoperability and promotes stability and security in the Southeast Asian region.
1971
Five nations commit to defend and protect the newly formed states of Singapore and Malaysia whilst they build their defence capability. Following the reduction of forces in Southeast Asia from the United Kingdom, the FPDA are established and agree that in the event of any form of threat of armed attack the member countries will "immediately consult together for the purpose of deciding what measures should be taken jointly or separately."
1981
Although not a formal alliance the FPDA evolve to include a multilateral training exercise programme with all five countries regularly coming together to conduct complex exercises involving air, maritime and land forces. These tactical and operational training activities enhance military interoperability between the five nations becoming the only defence arrangements of their kind in Southeast Asia.
2004
Responding to changing global threats, the first FPDA Exercise Bersama Lima (translates to "Together Five" in Malay) commences. This is a new large-scale military training exercise executing multi-threat scenarios from counter-terrorism and maritime security to humanitarian assistance and disaster relief tasks around the region. The combined joint exercise involves 3,500 military personnel, 31 ships, 60 aircraft, and two submarines operating from the Command-and-Control facility at Paya Lebar Air Base in Singapore.
2013
Almost every year the NZDF deploy a contingent to Exercise Bersama Lima, participating in tactical training scenarios alongside other FPDA nations using air, land, and maritime assets. In the air, the Royal New Zealand Air Force No. 5 Squadron deploy a P-3K2 to RMAF Base Butterworth, at Penang in Malaysia, for Exercise Bersama Lima 13.
The squadron participates in a warfare scenario involving two phases, Force Integration Training (FIT phase) and the War Exercise (WAREX). Anti-Surface Warfare (ASuW) is carried out—working first in support of friendly naval forces, then switching sides to work for the opposing forces (OPFOR). They conduct Anti-Submarine Warfare (ASW) exercises using an Expendable Mobile Acoustic Training Target (EMATT). The P-3K2 conducts surveillance, as a maritime patrol aircraft, providing surface pictures of enemy forces to friendly ships, and in the ASW role, to find the submarine that is in the area.
During the WAREX the role of the P-3K2 changes as tensions escalate. As a surveillance platform they guide fighter aircraft to the enemy vessels, or seek to detect, deter or destroy the 'enemy' submarine. No.5 Squadron develop and hone their procedures for the P-3K2 as well as connecting with military friends in Southeast Asia.
2021
Aircrew on a Royal New Zealand Air Force P-3K2 Orion will join the Royal New Zealand Navy Task Group for Exercise Bersama Gold 21 in October. Approximately 270 Navy and Air Force personnel are deploying on the ships HMNZS Te Kaha and replenishment tanker HMNZS Aotearoa. These exercises build friendships, share cultures, enhance interoperability, and continue to hone our warfare techniques. 2021 marks the 50th anniversary of the FPDA - a unique and enduring multinational defence engagement maintaining peace and security in the Southeast Asia region.
Considering
a career in the Air Force
A big part of our work in the Air Force involves assisting communities affected by conflict or natural disasters. The fact that we work to protect and help people is one very good reason why we're so passionate about what we do. It gives our lives real meaning and purpose.
Find out more