Mahi whakaora
Humanitarian assistance & disaster relief
When disaster strikes, putting life, health and property at risk, people's lives are turned upside-down. Communities, regions or even whole countries can need help as quickly as possible.
Our Air Force is uniquely capable of responding quickly to unfolding events. We train to operate in tough conditions and a variety of environments. We are disciplined, well-coordinated, and have aircraft on stand-by and personnel trained to operate in difficult situations, that can quickly deploy to a disaster site. The Air Force maintains experts who can assess the scale of the disaster situation and determine what to do with the people and equipment we have available.
These are some of our stories
Kaikōura
A community cut off
In 2016 a magnitude 7.8 quake strikes Kaikōura in the middle of the night. Nationally significant and locally vital road and rail links are buried under enormous landslides, or distorted beyond repair. Landline and mobile phone services go down across the region. Power and water infrastructure are disrupted. From 12:02 am Monday 14 November, Kaikōura is cut off.
14 November 2016
It becomes apparent that access and relief to the community – which includes hundreds of stranded tourists – can only happen in the short term with the help of the Royal New Zealand Air Force, followed by the Navy.
At daybreak a P-3K2 Orion and crew conduct aerial reconnaissance of the region, providing imagery that reveals the scale of the destruction. Simultaneously, 2 NH90 helicopters and crew from RNZAF Base Ohakea head south and are amongst the first to arrive into the cut-off town.
Meanwhile, HMNZS Canterbury, a logistics supply ship, and HMNZS Wellington are ordered to head south from Auckland from 11pm.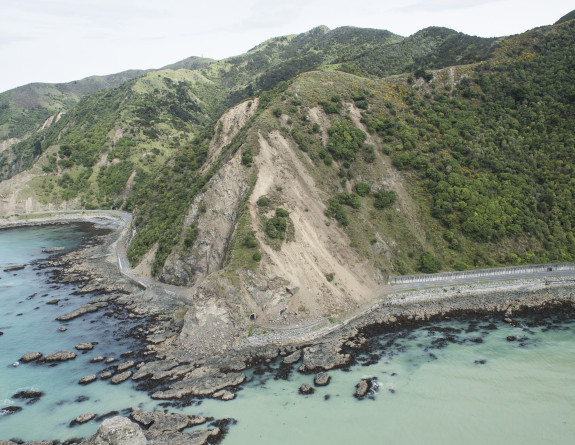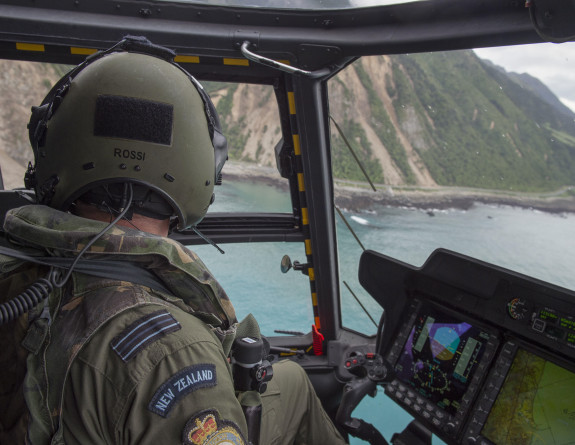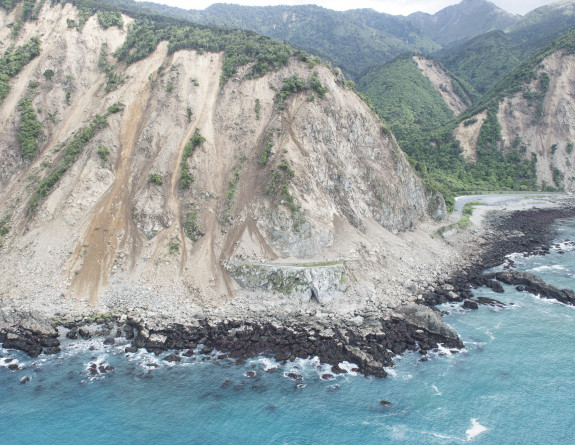 15 November 2016
Water and food are the most immediate concerns, as well as getting evacuations underway. On 15 November, NH90 helicopters land in Kaikōura to deliver supplies and begin evacuations. Their priority is to evacuate tourists and residents completely displaced by the earthquake and living in temporary shelters.
16 November 2016
At sea, hydrographic teams from HMNZS Wellington begin assessing how much the sea bed has altered. This paves the way for HMNZS Canterbury and her landing craft to start mass evacuations of stranded tourists to Lyttelton. More aid arrives thanks to the Royal New Zealand Air Force, including water airdrops from C-130 Hercules and continuing aid from helicopters.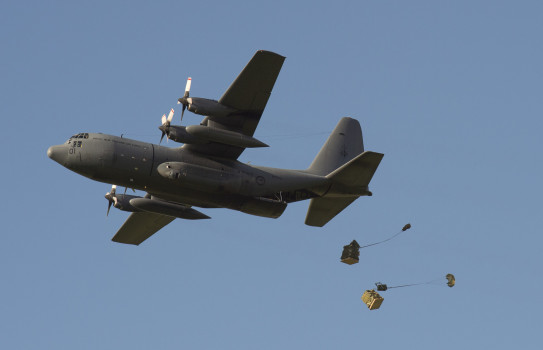 17 November 2016
At the time of the quake, New Zealand is hosting a number of international navies in Auckland to celebrate our Royal New Zealand Navy's 75th birthday. Australia, Canada and the United States offer support to New Zealand. A task force of three frigates and a destroyer, (HMNZS Te Kaha, HMAS Darwin from Australia, HMCS Vancouver from Canada and USS Sampson from the US) are diverted to Kaikōura to support the airlift of supplies into the stricken town. Helicopters from these vessels will spend days ferrying aid and supplies into Kaikōura from the deck of HMNZS Canterbury. International air assets - US P3 Orion and Japanese Kawasaki P1 - also support the response by conducting aerial assessments of the damage.
18 November 2016
HMNZS Endeavour, the fleet tanker, arrives to restock ships with fuel and supplies. By this time, the first Army convoy of 27 trucks find their way through a four-hour overland route from Culverden to reach Kaikōura, providing fuel supplies and more aid. In all, the army will deliver 155 tonnes of aid.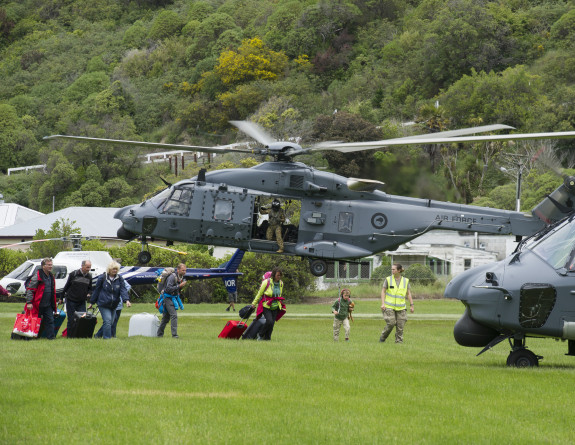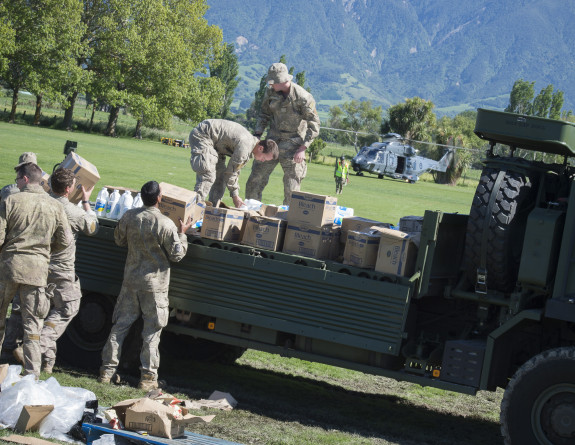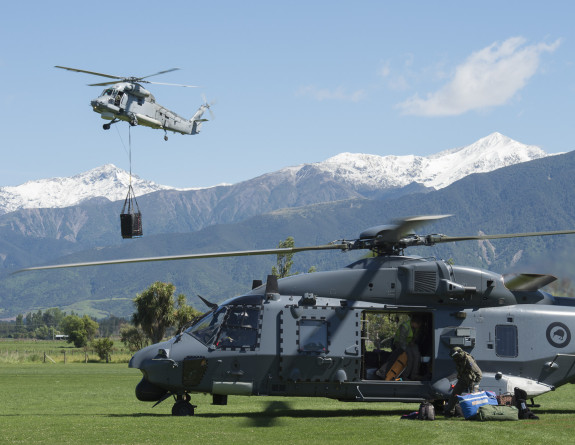 19 November 2016
HMNZS Canterbury continues to evacuate residents and tourists to Christchurch, with overseas helicopters lifting more aid supplies off its flight deck and into the town.
20 November 2016
With Kaikōura now sustained and established as a base of operations for NZDF, A109 helicopters are utilised to investigate isolated and rural communities near Kaikōura.
Fiji
When Winston blew into town
When Cyclone Winston strikes Fiji on 20 February 2016, it pummels the country and leaves a trail of devastation, particularly in the northern outlying islands. Thousands of homes are destroyed, and water, power and communication outages are expected to continue for several days.


21 February 2016
An RNZAF P3-K2 Orion reconnaissance aircraft conducts aerial surveys less than 24 hours after Winston hits to assess the damage. This vital information provides Fijian officials with a clearer picture of the damage, saving them days of on-site damage assessments and enabling them to immediately secure international aid for relief efforts.
22 February 2016
In the aftermath of the disaster it is clear that Fiji faces a major clean-up and recovery operation. A RNZAF C-130 Hercules is ordered to depart for Suva. It carries almost 13 tonnes of emergency aid supplies and a Joint Reconnaissance Team made up of NZDF personnel, Fire Service and Ministry of Health staff to assist the Government of Fiji with damage assessments and help coordinate New Zealand's aid effort.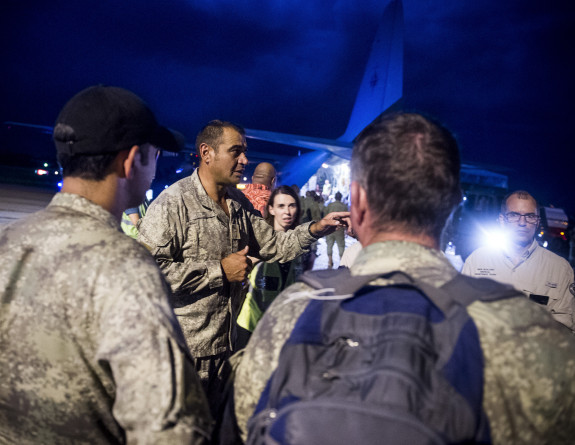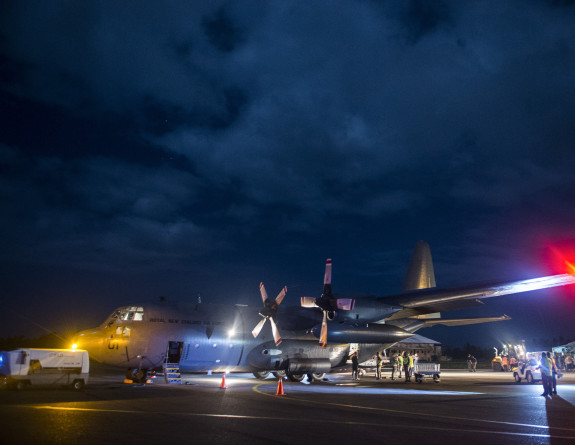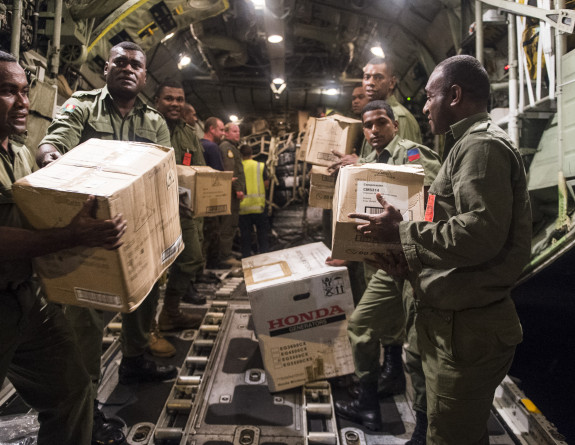 24 February 2016
An advance group of 37 specialist engineers arrive in Suva to help with the rebuilding process. They work alongside the Fijian military to support communities who have been devastated by the cyclone.
28 February 2016
Offshore Patrol Vessel HMNZS Wellington arrives with 60 tonnes of aid supplies and 71 military personnel.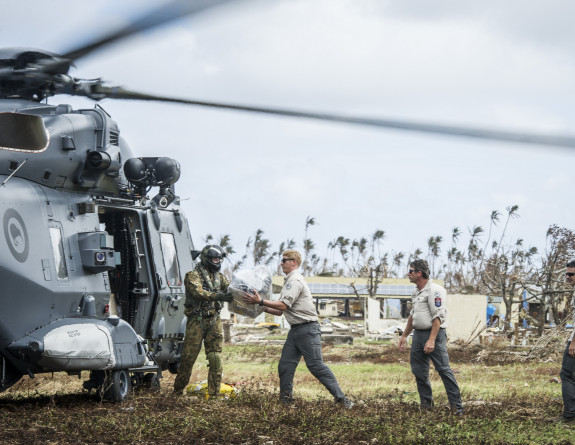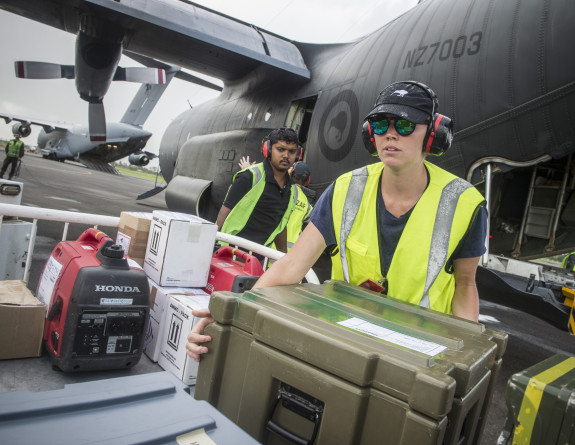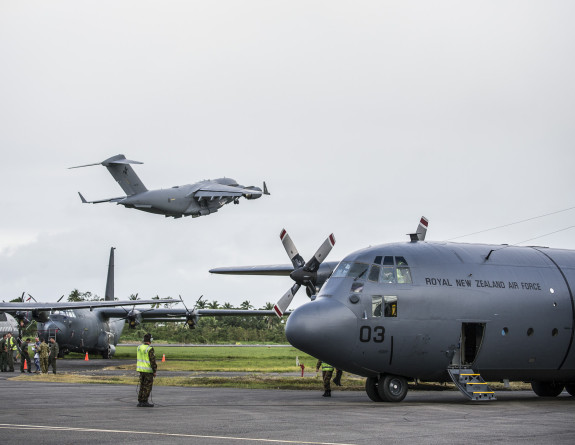 3 March 2016
Logistics and Supply vessel HMNZS Canterbury arrives from New Zealand with 106 tonnes of essential supplies, including building materials, water tanks and medical supplies. On board are 300 personnel, 2 Air Force NH90 helicopters, 2 Seasprite helicopters and 45 military vehicles.
The ship becomes the maritime base for recovery operations in the northern outer islands, while the NH90 helicopters, on their first overseas operation, deliver essential aid supplies, shelter kits, water purification equipment, food, and sacks of seeds and plant cuttings to cyclone-ravaged communities. They also transport New Zealand medical volunteers, NZDF personnel, and Fijian government staff to Fiji's remote communities and far-flung islands.
In all, close to 500 engineers, soldiers, and aircrew are deployed on the humanitarian aid operation to Fiji, making it one of NZDF's largest peacetime deployments to the Pacific.
17 April 2016
After a month and a half of supporting relief and recovery operations, HMNZS Canterbury prepares to leave Fiji. New Zealand's focus now turns to the long-term reconstruction effort to rebuild schools, evacuation centres, and medical facilities on Vanua Balavu and elsewhere in Fiji.
In addition to the immediate relief provided to Fijian people and communities, the deployment demonstrates NZDF's commitment to supporting Pacific nations and in particular the benefits of being able to work in partnership with our friends in the Fijian military forces.
Whakaari / White Island
Whakaari erupts
At 2.11pm, Monday, 9 December 2019, Whakaari/White Island erupts. At the time of the eruption, there are 47 people on the island. Tourists and tour guides are caught up in the explosive event.
9 December 2019
Within minutes, our personnel at the New Zealand Defence Force's Headquarters Joint Forces New Zealand (HQJFNZ) gather to build a picture of the problem and determine what assets and personnel can be deployed to support the recovery effort.
Reports are coming in around the number of people killed or seriously injured. A Royal New Zealand Air Force P-3K2 Orion aircraft and crew is diverted from a task surveying flooding on the West Coast of the South Island to turn and fly north to carry out surveillance and reconnaissance over Whakaari/White Island to gather imagery and information.
Within hours of the eruption, two NH90 helicopters with a dedicated team of aeromedical evacuation specialists on board fly from Ōhakea to Whakatāne.
Patients are being transported to burns units in hospitals around the country. The aircraft sits on the ground with engines running, waiting for critically injured people to be stabilised, and in some cases decontaminated, before being loaded aboard the waiting NH90s for the 400 kilometre, 1 hour 40 minute flight down to Wellington. Just after midnight, the NH90s land at Trentham Military Camp carrying four seriously injured patients.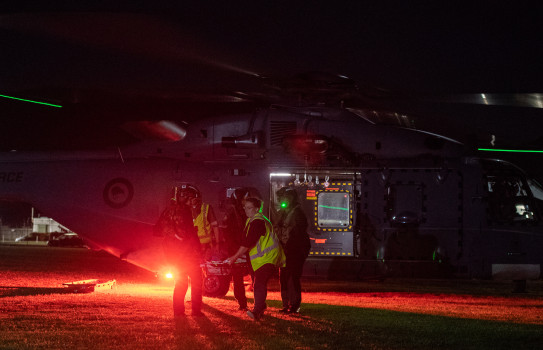 10 December 2019
Imagery from the P-3K2 Orion surveillance flight arrives in the early hours of the day and the team at 230 (Mission Support) Squadron, RNZAF and later the Joint Intelligence Fusion Centre (JIFC) analyse the images, determining the likely locations of up to eight victims that remain on the island.
13 DECEMBER 2019
The Explosive Ordnance Disposal (EOD) Squadron recovery team go ashore and locate the bodies of the victims, and when their work is complete the NH90s move in, taking two trips to move the victims onto the waiting ship HMNZS Wellington. Back on the island, the recovery team spends the remainder of their limited time searching for another two missing since the eruption - regrettably to no avail.
Despite all of the risks and challenges, the Air Force and other Defence Force personnel and capabilities involved are able to overcome those issues, making a difference to alleviate the suffering of victims, their families and friends.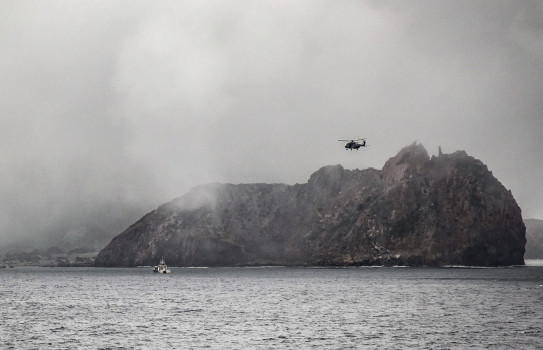 Two Seasprite helicopters begin the process of moving the victims, one at a time, back to Whakatāne airport. Finally the victims are reunited with their families and after some shared grieving, the bodies are loaded into two NH90 helicopters to be moved to Auckland where the Disaster Victim Identification (DVI) teams go to work.
The risks were very real. One of the go/no-go criteria for recovery was that there needed to be a 6 percent or less chance of death at the task site if an eruption were to occur in a three-hour window.
At the time, GNS were saying there was a 40-60 percent chance of another eruption in a 24-hour period.
Despite all of the risks and challenges, the Air Force and other Defence Force personnel and capabilities involved are able to overcome those issues, making a difference to alleviate the suffering of victims, their families and friends.
Considering
a career that helps other
A big part of our work in the Air Force involves assisting communities affected by conflict or natural disasters. The fact that we work to protect and help people is one very good reason why we're so passionate about what we do. It gives our lives real meaning and purpose.
Find out more