Tautoko tāngata, tautoko hapori
Supporting people & communities
Our size, skills, equipment and training means we're geared for combat. But when you're as large as the Air Force, with highly skilled personnel and specialised assets, you end up being very valuable in other emergency situations.
The Air Force has around 2,500 personnel. It has disciplined forces and fleets of aircraft. Our resources are on a scale that civilian authorities can't match; and the best thing about us is that we're available at short notice when a crisis happens, whether it's in New Zealand, or further afield with our Pacific neighbours.
Government agencies, such as the National Maritime Coordination Centre or the National Emergency Management Agency, will look at a situation, like a Mayday, a flood, or a fire, and ask themselves: what is the best way to solve this situation? When it's on a large scale, or if it is remote and inaccessible, they may determine that the Air Force has the skills and equipment to respond to the situation.
A good example is search and rescue operations. The Royal New Zealand Air Force, at short notice, can put helicopters in the air, day or night, to search New Zealand's rugged mainland, aided with sensory equipment to enhance the rescue operation. Similarly, we will despatch our P-3K2 Orion aircraft to search and locate missing boats on the ocean, even if they're hundreds of kilometres away.
We've joined forces with Fire and Emergency New Zealand to tackle large-scale forest fires, such as the Port Hills and Nelson fires in the past three years. When a community is flooded, our personnel rescue people, survey damage, and deliver Government assessment teams into affected areas.
The Air Force helped evacuate hundreds of tourists and New Zealanders from Kaikoura following an earthquake in 2016, as well as bring supplies into the cut-off township.
We help to ensure our fighting heritage – and the men and women who served during the two World Wars and other conflicts - is not forgotten. Our veterans and what they have done for New Zealand is important to the Air Force. We support the Returned and Services' Association with commemorative events.
NZDF also works to support New Zealand's youth because we are a progressive employer and keen to showcase what we can offer. The market for skilled youth is competitive, and we'd like New Zealand's youngsters to see NZDF as a promising and fulfilling career. The Air Force runs an introduction programme for Year-13 girls who favour Science, Technology, Engineering and Mathematics.
Ultimately, the Air Force is a major New Zealand employer, providing New Zealanders with satisfying careers that support not only themselves, but the communities they live in. An Air Force base has hundreds of personnel who live and work on site, and this boosts local economies.
These are some of our stories
Search & rescue
Finding those in distress
When the call comes in to help find a missing person or group, the New Zealand Defence Force has aircraft on standby 24/7, 365 days of the year to respond immediately. Whether it is a lost tramper or a vessel in trouble on the ocean, our Air Force personnel have the equipment and skills for the job.
The National Contingency is an agreement with the Government to always have personnel, ships, and aircraft ready to deploy after a request from the New Zealand Rescue Coordination Centre.
I thought it was another crashing wave but when I peered out I saw the Hercules flying right over my raft.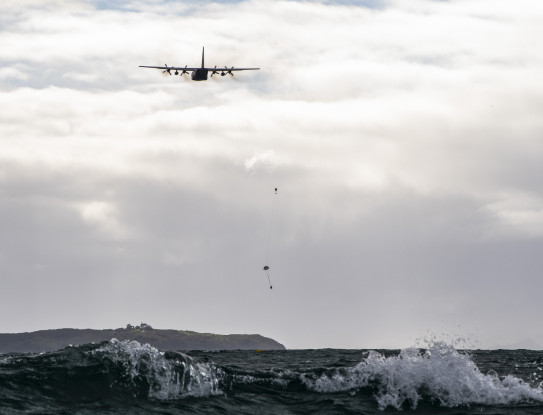 Our P-3K2 Orion and C-130 Hercules aircraft can fly over vast areas of ocean to get to vessels in trouble or look for lost ships and boats. They are equipped to deploy survival equipment including a life raft, a communication device, water, and food.
244

flying hours for air-based searches, fy20/21
Our NH90 helicopters are often called on to help look for missing trampers in New Zealand's lush and dense bush, on snow-capped mountains, from flooded waters, or from rocky cliffs. A primary role for the helicopters is to fly search and rescue teams in and out of the search areas. Their combination of payload and fuel endurance gives the search and rescue controller the ability to move or rotate their teams at a high pace.
School to skies
Students in the skies
Every year, the Royal New Zealand Air Force's School to Skies programme gives around 40 Year 13 female school students the opportunity to spend a week at Base Ohakea and experience what a career in STEM (Science, Technology, Engineering and Maths) looks like within the Air Force.
The programme gives participants the opportunity to explore their passion for STEM, while giving them an insight into the career possibilities within the Air Force.
During the week, students work alongside Air Force personnel to find out just what life is like in the Air Force. This includes working in the hangar maintaining a Grumman aircraft, flying the A109 helicopter simulator and planning a search and rescue mission. The course culminates in flying the planned mission in an NH90 helicopter.
The event is part of Operation Tangata Kanorau, a scheme that encourages diversity in our Air Force. There are certain barriers that young women have when it comes to joining the military, or knowing about what they can do – not only in the military but in STEM related industries. It is this information gap that School to Skies seeks to remedy.
The students live on base as if they had joined the Air Force, sleeping in barracks, eating in the mess, and wearing uniforms.
They built that sense of camaraderie through the week as well, which was special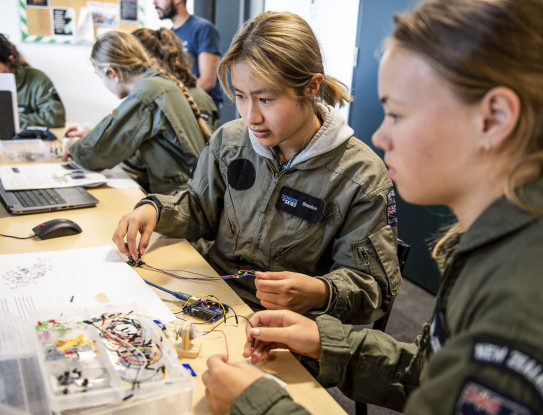 While the participants might arrive wide-eyed and not knowing anyone, after the first evening there is a hum of energy from everyone starting to get to know each other, and by the end of the week, it is just like what you would see on a recruit course, with close bonds forming.
The Air Force works closely with industry partners, so it boosts the whole aviation sector to have more women in these careers, and even if the young women look to take up careers in other STEM industries outside the sector, that is still considered to be a positive outcome.
Nanotechnologist and science educator Dr Michelle Dickinson, known as Nanogirl, also spends time with the students during the week. She inspires the group to think about experiments they could do based on the work they had been doing on the base, including principles of flight.
Then, in teams, they participate in a 'Dragons' Den' style event, proposing their experiments, how they would work and how they could be taught to a younger audience. This supports the students to become influencers in their community.
COVID-19
On the frontline
On 19 March 2020, New Zealand closed its borders. On 9 April, the Prime Minister announced that a network of Managed Isolation and Quarantine Facilities (MIQFs) would be established, to bring citizens and residents home.


The Royal New Zealand Air Force, along with Army and Navy, was tasked with supporting the MIQFs, as part of a multi-agency effort run by the Ministry of Business, Innovation and Employment.
But even before the creation of the MIQFs, around 120 Defence Force planning and logistics staff were being attached to the Government's COVID-19 response teams.
New Zealand developed the concept of hotels being used as isolation centres where returnees were isolated for two weeks. By October 2020 around 1,200 NZDF personnel were rotating through the MIQFs, taking their turn. Personnel would typically work seven days on, six days off.
Operation Protect, the name of the NZDF contribution, touched at the heart of what the Air Force trains to do. The staff were on the front line, helping to protect our country and the well-being of our population, and we did it in a professional and caring way that was noticed and had a powerful effect on the thousands of people returning to New Zealand.
When more than 1,000 Ni-Vanuatu seasonal workers were stranded in New Zealand, we answered a call from the Government of Vanuatu and our Royal New Zealand Air Force flew them home. Other flights to the Pacific transported both people and critical supplies such as Personal Protective Equipment (PPE).
As of July 2021, over 150,000 returnees had been through an MIQF.
"When we took a bus ride to a managed exercise area, they kept their distance, but one of the soldiers provided some entertainment for my daughter for half an hour, telling her riddles. Another time, someone did a lot of chalk mind-teasers on the carpark tarmac below our window. It's that kindness and thoughtfulness that makes people's stay that little bit better."

Mike LaFranchie, Taranaki (returning from the United States)
Considering
a career supporting community?
A big part of our work in the Air Force involves assisting communities affected by conflict or natural disasters. The fact that we work to protect and help people is one very good reason why we're so passionate about what we do. It gives our lives real meaning and purpose.
Find out more