School to skies
Students in the skies
Every year, the Royal New Zealand Air Force's School to Skies programme gives around 40 Year 13 female school students the opportunity to spend a week at Base Ohakea and experience what a career in STEM (Science, Technology, Engineering and Maths) looks like within the Air Force.
The programme gives participants the opportunity to explore their passion for STEM, while giving them an insight into the career possibilities within the Air Force.
During the week, students work alongside Air Force personnel to find out just what life is like in the Air Force. This includes working in the hangar maintaining a Grumman aircraft, flying the A109 helicopter simulator and planning a search and rescue mission. The course culminates in flying the planned mission in an NH90 helicopter.
The event is part of Operation Tangata Kanorau, a scheme that encourages diversity in our Air Force. There are certain barriers that young women have when it comes to joining the military, or knowing about what they can do – not only in the military but in STEM related industries. It is this information gap that School to Skies seeks to remedy.
The students live on base as if they had joined the Air Force, sleeping in barracks, eating in the mess, and wearing uniforms.
They built that sense of camaraderie through the week as well, which was special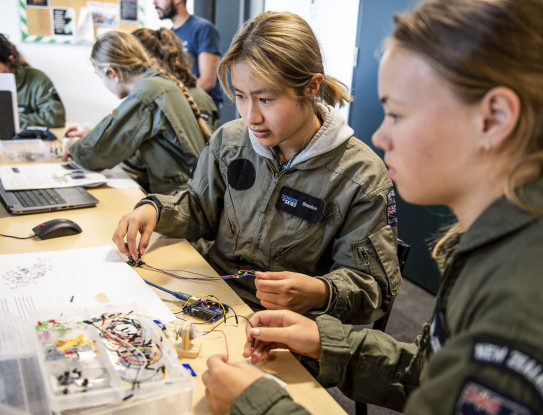 While the participants might arrive wide-eyed and not knowing anyone, after the first evening there is a hum of energy from everyone starting to get to know each other, and by the end of the week, it is just like what you would see on a recruit course, with close bonds forming.
The Air Force works closely with industry partners, so it boosts the whole aviation sector to have more women in these careers, and even if the young women look to take up careers in other STEM industries outside the sector, that is still considered to be a positive outcome.
Nanotechnologist and science educator Dr Michelle Dickinson, known as Nanogirl, also spends time with the students during the week. She inspires the group to think about experiments they could do based on the work they had been doing on the base, including principles of flight.
Then, in teams, they participate in a 'Dragons' Den' style event, proposing their experiments, how they would work and how they could be taught to a younger audience. This supports the students to become influencers in their community.