Mahi whakaora
Humanitarian assistance & disaster relief
When disaster strikes, putting life, health and property at risk, people's lives are turned upside-down. Communities, regions or even whole countries can need help as quickly as possible.
Our Defence Force is uniquely capable of responding quickly to unfolding events. We train to operate in tough conditions and a variety of environments. We are disciplined, well-coordinated and have vehicles, ships and aircraft, as well as personnel trained to operate in difficult situations, that can quickly deploy to a disaster site. The Defence Force maintains experts who can assess the scale of the disaster and determine what to do with the people and equipment we have available.
These are some of our stories
Kaikōura
A community cut off
In 2016 a magnitude 7.8 quake struck Kaikōura in the middle of the night. Nationally significant and locally vital road and rail links were buried under enormous landslides, or distorted beyond repair. Landline and mobile phone services went down across the region. Power and water infrastructure was disrupted. From 12:02 am Monday 16 November, Kaikōura was cut off.
14 November 2016
By 12:30am Monday morning the National Crisis Management Centre (NCMC) is operational. Our personnel make their way to the bunker under the Beehive to join Civil Defence & Emergency Management, New Zealand Police, Fire and Emergency New Zealand and a range of other agencies. Once there they set out to understand the scale of the event and coordinate the response. Our personnel liaise with the staff in Headquarters Joint Forces New Zealand, who will be responsible for managing the deployment of our Defence Force's people and equipment. In turn, staff from 'Joint' are getting high readiness teams across the three Services out of bed and up to speed.
As the sun rises, two NH90 helicopters and a P-3K2 Orion aircraft take to the skies to assess the damage. The images that come back to the team in the NCMC show tremendous damage. It becomes quickly apparent that getting immediate help to the now isolated community can only be done by air and sea.
Two NH90 helicopters and a P-3K2 aircraft take to the skies to assess the damage. State Highway 1 is cut off by multiple landslides.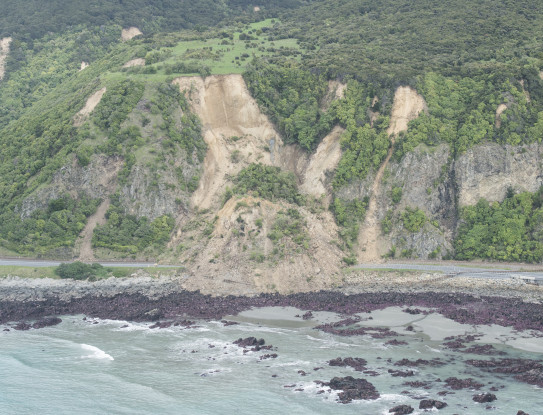 The first NH90 helicopters land in Kaikōura by midday carrying emergency responders from our Defence Force, New Zealand Police, Fire and Emergency New Zealand and other agencies. The helicopters set about creating an air bridge, carrying aid into the town and evacuating those in need of medical support, displaced residents and stranded tourists. The air bridge will operate for another week. HMNZS Canterbury and HMNZS Wellington depart Auckland, loaded with people, equipment and supplies, at 11pm.
15 - 16 November 2016
At sea, hydrographic survey teams from HMNZS Wellington begin mapping the dramatic changes in the seabed around Kaikōura. Because parts of the seabed have lifted up to a metre, new charts are needed so that HMNZS Canterbury and her landing craft can start mass evacuations of the stranded tourists to Lyttelton.
At the time of the quake, New Zealand is hosting a number of international navies in Auckland to celebrate our Royal New Zealand Navy's 75th birthday. Australia, Canada and the United States offer support to New Zealand. A task force of three frigates and a destroyer, (HMNZS Te Kaha, HMAS Darwin from Australia, HMCS Vancouver from Canada and USS Sampson from the US) are diverted to Kaikōura to support the airlift of supplies into the stricken town. Helicopters from these vessels will spend days ferrying aid and supplies into Kaikōura from the deck of HMNZS Canterbury. International air assets - a US P3 Orion and Japanese Kawasaki P1 - also support the response by conducting aerial assessments of the damage.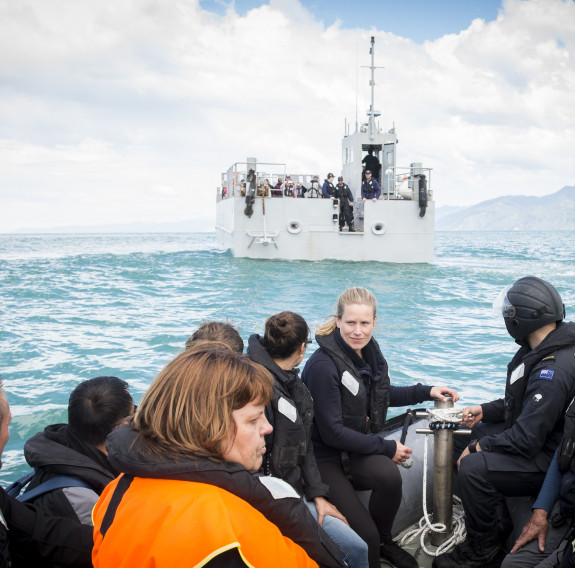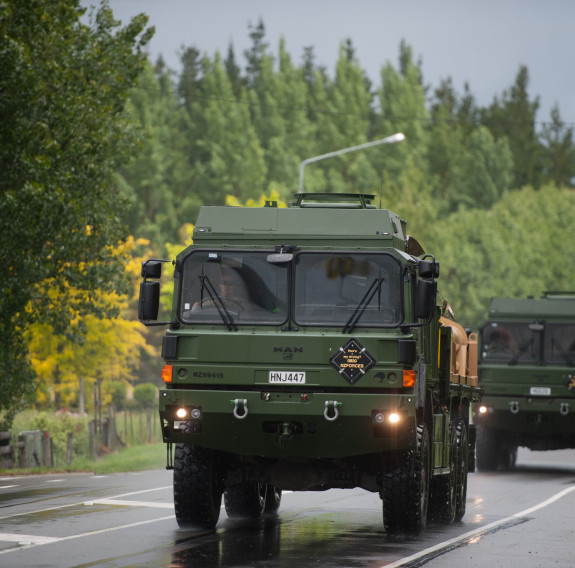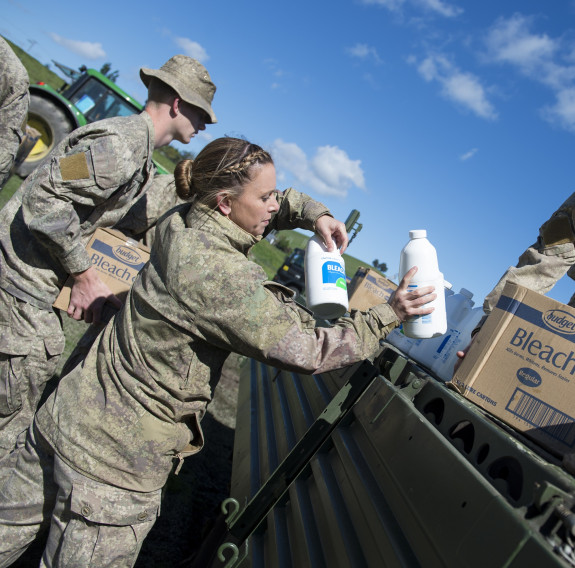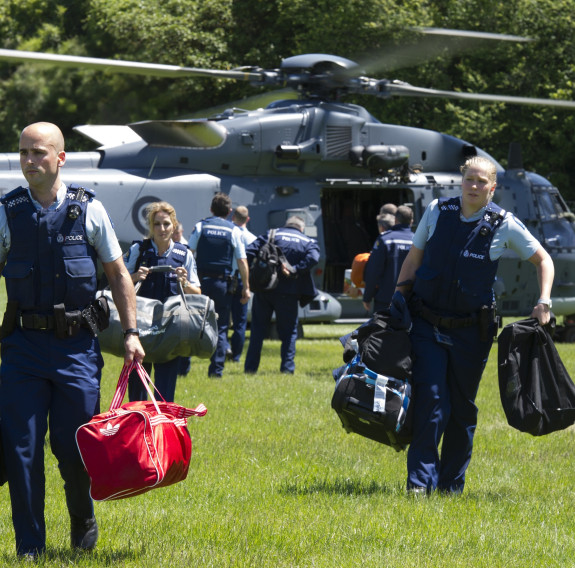 18-20 November 2016
While aid has been coming in by air, by way of helicopter and air drops of water and supplies from C-130H(NZ) Hercules aircraft, Kaikōura needs a land route to get the job of rebuilding underway. The first Army convoy of 27 trucks arrive in town following a gruelling four-hour overland route. The convoy brings fuel, food and construction materials. The route they take will become the main access to Kaikōura and the region for more than a year.
133t

aid delivered overland by
the new zealand army
HMNZS Canterbury, having offloaded 214 tonnes of aid by helicopter, sails for Christchurch carrying 640 evacuees, 9.4 tonnes of luggage, 17 dogs and 30,000 bees. In total NZDF evacuates nearly 1000 people from the quake affected area.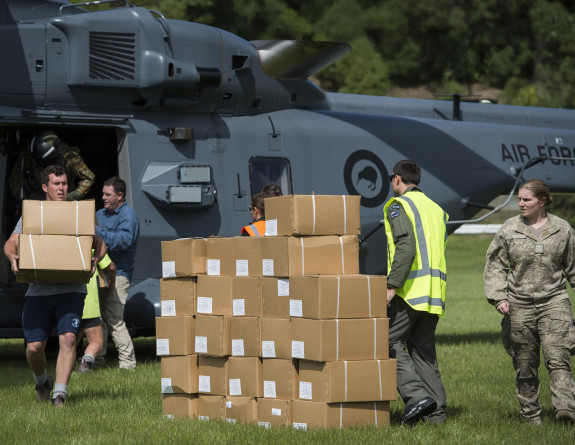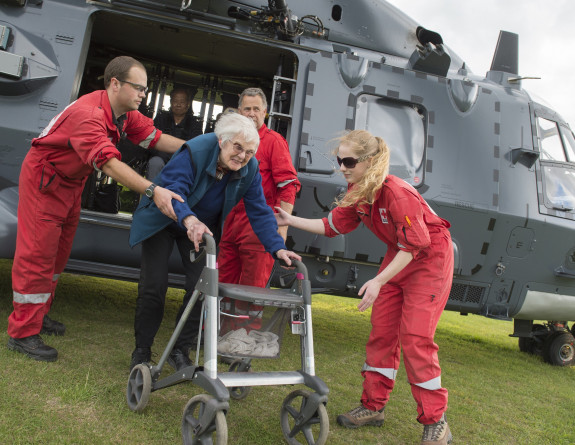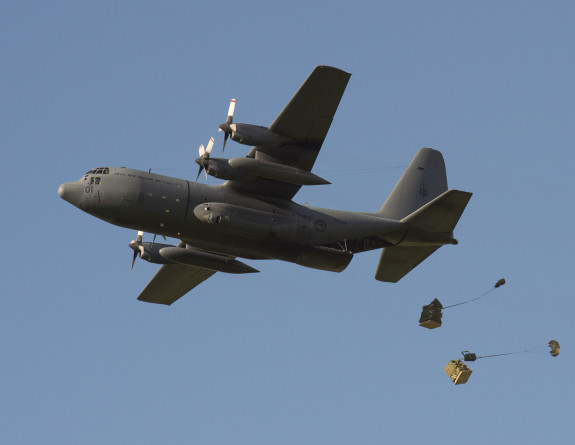 20 November - 13 December 2016
Army personnel strike out across Kaikōura tidying up the damaged town, boarding up broken windows and knocking on doors to check on residents. They fly out to remote settlements in the affected area to make sure those areas are reconnected with New Zealand and are included in the rebuild work that is getting underway.
Convoys of our Army's Medium to Heavy Operational Vehicles (MHOV) help get the town's supermarket back up and running so the community can start recovering some semblance of normality. An Army kitchen is set up to feed the hundreds of people from across our Defence Force, Government and supporting agencies who arrive in town to support the response. Our Air Force water specialists test water around the region to ensure the safety of the supply. A range of our personnel from planners to carpenters work alongside other government agencies in Kaikōura until mid-December.
When Cyclone Winston hit Fiji in 2016, it was at that time the strongest cyclone ever to hit the South Pacific and it left a trail of devastation across the country.
21 February 2016
As the cyclone moves on from Fiji, a Royal New Zealand Air Force P3-K2 Orion aircraft captures the first images of the damage caused by the cyclone. The devastation is catastrophic. Whole villages are destroyed, homes and crops damaged, power lines cut. Cyclone Winston has killed dozens and left more than 8,100 people without shelter. The northern islands are the hardest hit.
The Orion is able to air drop some crucial aid packs, including radios, to help connect several isolated communities, but the supplies on board are limited. Inside of 24 hours a C-130 Hercules is dispatched with 12 tonnes of emergency relief, including food, water and tarpaulins for hard-hit communities. It is the first of many flights that will deliver people and aid over the coming days.
We brought emergency supplies including tool kits, generators, water and water containers, ration packs and chainsaws for families affected by the cyclone
Within 72 hours of the cyclone, an Air Force 757 has put an inter-agency Joint Reconnaissance Team on the ground in Suva. Their job is to work with the Government of Fiji to assess the damage, plan the response, particularly for key government infrastructure such as health facilities, drinking water and schools.
In 1992 New Zealand, Australia and France signed the FRANZ agreement to ensure the best use of resources in response to cyclones and natural disasters in the South Pacific. We will work with the Australian and French militaries, and alongside the Fijians throughout our response. We are already sharing facilities and integrating some planning activities within days of the first response.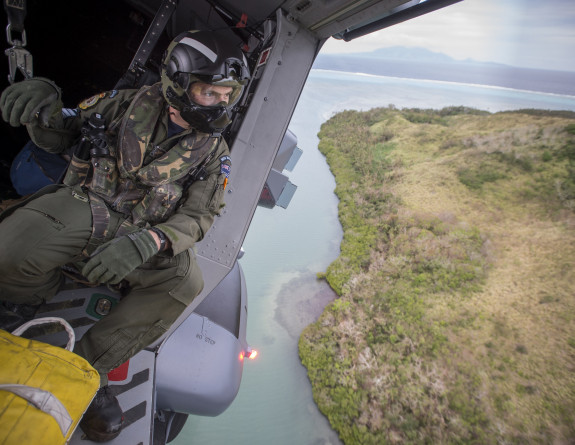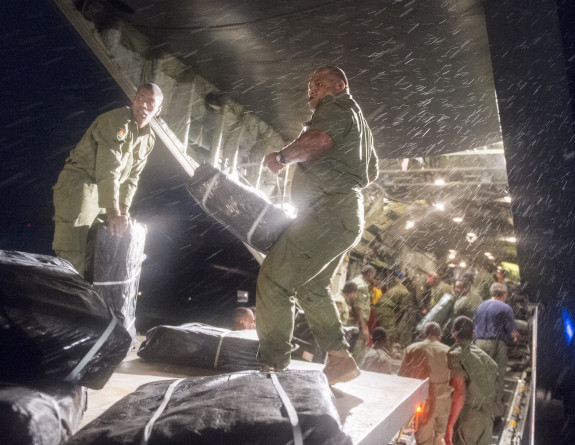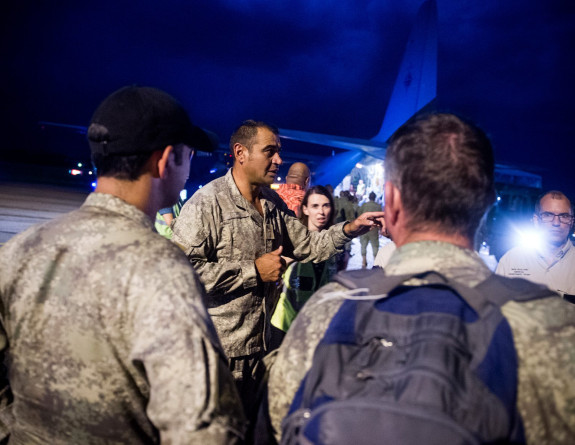 26 February 2016
The Air Force flights have landed a team of Army Engineers in Suva. Their first job is to team up with the Fijian military in clean up across Viti Levu. In villages like Driti and Silana, our engineers help to make it safe for the locals to return and get on with their lives.
28 February 2016
HMNZS Wellington is the first Royal New Zealand Navy ship to arrive in Suva. She is carrying 60 tonnes of New Zealand aid. Also onboard Wellington are a hydrography team who will update maritime maps for Lau Island group in Fiji's East. These islands will be a significant area of operation for New Zealand's contingent in the weeks ahead and some of the anchorages haven't been surveyed for nearly a century.
HMNZS Canterbury, which sailed from Devonport three days after Wellington will need the updated coastal charts. She is carrying 106 tonnes of aid and supplies and 300 personnel, including medics, carpenters, electricians, engineers and plumbers. They're destined for Vanua Balavu and the Lau group, tasked with helping the locals get home, re-open their schools, and get back on their feet. The helicopters, trucks, desalination plant and other equipment onboard will be critical to that mission.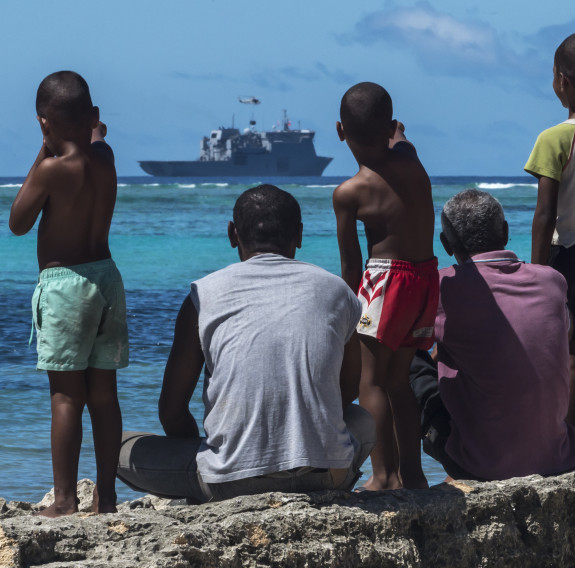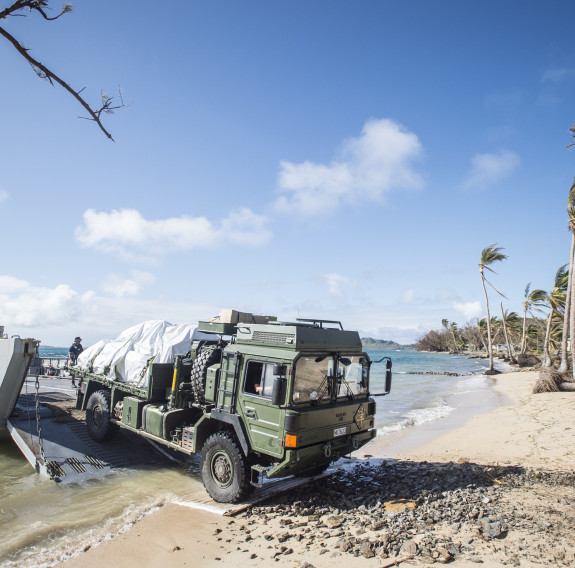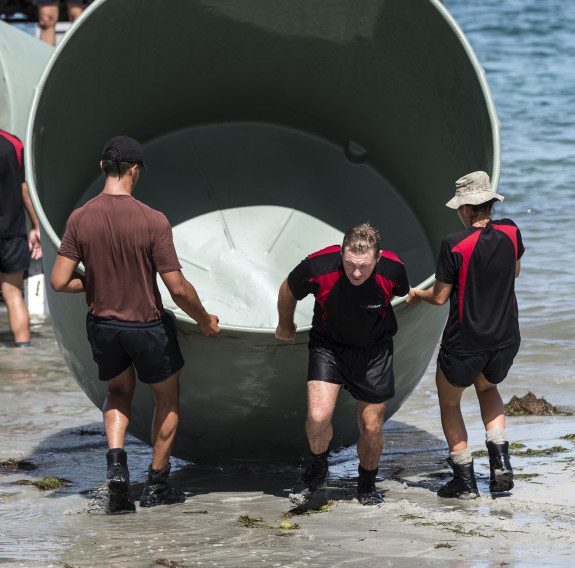 4 March 2016
Two Air Force NH90 helicopters, delivered to Fiji on HMNZS Canterbury, take to the skies in their first overseas deployment since entering service. Their first mission is to support New Zealand medical assistance, taking a team of medical personnel along with water, medicine and other supplies to the island of Koro. The helicopters are operating out of Nausori Airport alongside Australian and French aircraft, forming a crucial link between Suva, where the recovery effort is being coordinated and much of the international aid is being offloaded, and the outlying islands.
15 APRIL 2016
A ceremony is held at Queen Elizabeth Barracks, Suva, to mark the conclusion of NZDF support to the response to Tropical Cyclone Winston. In addition to the immediate relief provided to Fijian people and communities, the deployment demonstrates NZDF's commitment to supporting Pacific nations and in particular the benefits of being able to work in partnership with our friends in the Fijian military forces.
Whakaari / White Island
Whakaari erupts
At 2.11pm, Monday, 9 December 2019 there were 47 people on Whakaari/White Island. Tourists and guides are caught up in the explosive event, with no easy escape available.
Within minutes
Our personnel at Headquarters Joint Forces New Zealand (HQJFNZ) in Trentham start to build a picture of the problem and determine what assets and personnel can be deployed to support the recovery effort. Reports are coming in around the number of people killed or seriously injured. A Royal New Zealand Air Force P-3K2 Orion aircraft and crew is diverted from a task surveying flooding on the West Coast of the South Island to turn and fly north to carry out surveillance and reconnaissance over Whakaari/White Island to gather imagery and information.
Within hours
Two NH90 helicopters with a dedicated team of casualty evacuation (CASEVAC) medical specialists on board fly from Ōhakea to Whakatāne. Patients are being transported to burns units in hospitals around the country.
NH90 helicopters transport patients to burn units in hospitals around the country.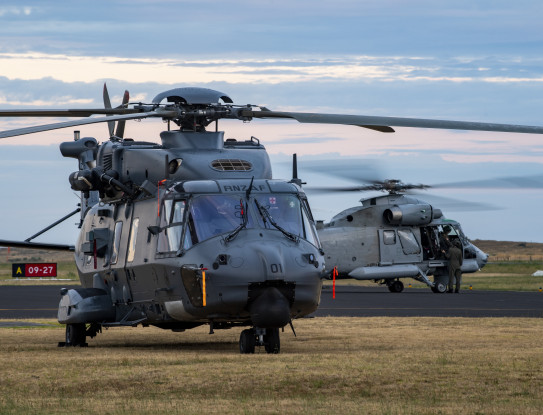 The aircraft sits on the ground with engines running, waiting for critically injured people to be stabilised, and in some cases decontaminated, before being loaded aboard the NH90 helicopters for the 400 kilometre, 1 hour 40 minute flight down to Wellington. Just after midnight the two NH90 helicopters land at Trentham Military Camp carrying four seriously injured patients.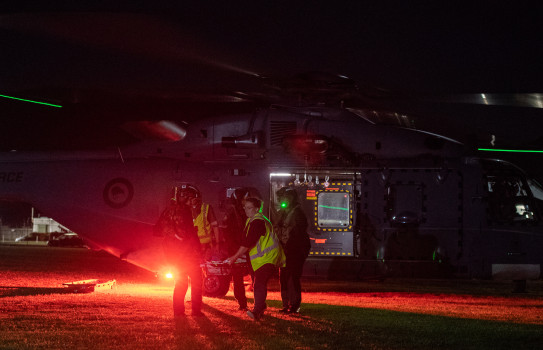 As soon as word of the eruption comes through HMNZS Wellington in Auckland is made ready to go to sea. Once its helicopter is embarked, the ship 'sprints' at 22 knots for White Island. Two additional Seasprite helicopters are used throughout the week for surveillance and reconnaissance of the island, VIP and command and control transport, and for the transfers of passengers and equipment to the ship. The Seasprite helicopters also have the sombre task of moving those who were tragically killed in the eruption back to Whakatāne airport. HMNZS Wellington becomes the key platform from which operations onto the island are conducted and controlled.
Two Disaster Victim Identification (DVI) teams are drawn from across NZDF and a Mortuary Affairs Team from 1 (NZ) Brigade is requested by New Zealand Police and are rapidly dispatched to support the overloaded civil authorities in Auckland and Whakatāne respectively.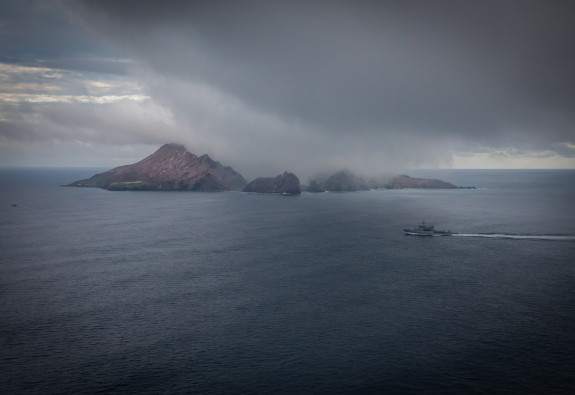 Tuesday
Imagery from a P-3K2 Orion aircraft surveillance flight arrives in the early hours of Tuesday and the Air Force team at 230 Squadron and later the Joint Intelligence Fusion Centre (JIFC) analyse the images, determining the likely locations of up to eight victims that remain on the island.
As the sun rises on Tuesday morning the scope and scale of the tragedy becomes clear. There are multiple units throughout our Defence Force preparing to move and one of these is a group of specialists from E Squadron of the SAS Regiment.
By late Wednesday information emerges on the nature of the toxicity on Whakaari/White Island and it becomes clear that it is within the EOD Squadron's capacity to undertake a recovery mission once the eruption risk is at an acceptable level.
Information about toxicity on the island emerges.
Our elite Littoral Warfare Team from HMNZS Matataua, made up of diving and hydrographic specialists, forward deploy into the Bay of Plenty area complete with Autonomous Underwater Vehicle (AUV) and recompression chamber. By Wednesday the AUV is transported onto HMNZS Wellington and is conducting underwater searches of White Island.
Friday
Starting Thursday evening and stretching into the early hours of Friday morning, Rigid Hulled Inflatable Boats (RHIBs) are used to pre-position the Explosive Ordnance Disposal (EOD) Squadron Recovery Team, a decontamination team and medical specialists, from Whakatāne onto HMNZS Wellington.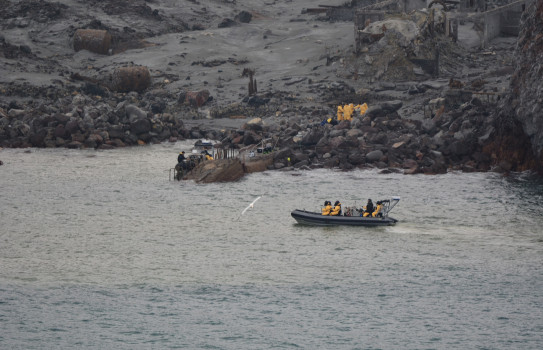 At around 0700 on Friday 13 December HMNZS Wellington's two RHIBs are lowered into the water and recovery team stores are moved onto the landing at White Island. By 0734 the recovery teams have landed on the island and they start dragging their equipment on sleds and on their backs toward the known locations of the people killed in the eruption. The RHIBS have medical staff on board wearing environmental suits and once the recovery team has been dropped off, the RHIBs back off the jetty and wait to be called forward if needed.
The recovery team reaches the victims and start working in deep, sticky, toxic sludge to move them one by one to a suitable point for helicopter uplift. After 90 minutes, the recovery team members are exhausted and return to the landing to regroup, rehydrate and cool off. They make a deliberate decision to not give up and push through and achieve the mission. Throughout the mission a Seasprite helicopter circles overhead and as it runs low on fuel a second Seasprite arrives from Whakatane to assume the over-watch role. A pair of NH90 helicopters lift off from Whakatane Airport and fly out to White Island where they enter a holding pattern as the ground recovery team completes their work. Finally word comes through that the recovery team has completed their work and the NH90 helicopters move in, taking two trips to move the victims onto HMNZS Wellington. Back on the island, the recovery team spends the remainder of their limited time searching for another two missing since the eruption - regrettably to no avail.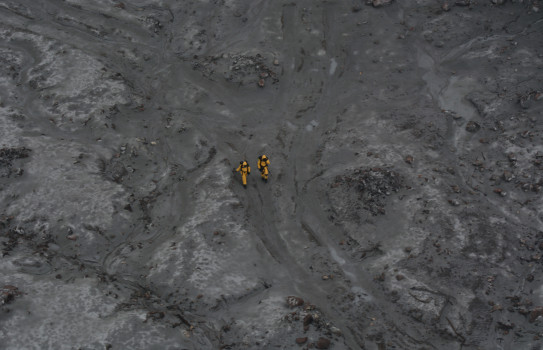 Two Seasprite helicopters begin the process of moving the victims, one at a time, back to Whakatāne airport. Finally the victims are reunited with their families and after some shared grieving, the bodies are loaded into two NH90 helicopters to be moved to Auckland where the DVI teams go to work.
The risks were very real. One of the go/no-go criteria for recovery was that there needed to be a 6 percent or less chance of death at the task site if an eruption were to occur in a three-hour window. At the time, GNS were saying there was a 40-60 percent chance of another eruption in a 24-hour period.
Despite all of the risks and challenges, the Defence Force personnel and capabilities involved are able to overcome those issues, making a difference to alleviate the suffering of victims, their families and friends.
Considering
a career that helps others
A career in the Defence Force is unlike anything out there. You'll work as part of a tight-knit team, trained and ready to assist in times of disaster or provide humanitarian aid to those in need. And you'll have the honour of representing the New Zealand way of life wherever you go. It's an incredibly rewarding job that gives you a real sense of purpose.
Find out more