Service Medals
Recognising Service
Military service has unique requirements – a commitment to serving the Crown, being liable for operational service, and being subject to military discipline and the demands and constraints of the military lifestyle. The New Zealand Defence Service Medal was instituted in 2011. It closed a long-standing gap in medallic recognition of that service.
The NZDF provided medallic policy experts and secretariat support to an independent Medallic Recognition Joint Working Group to undertake consultation and make recommendations for the criteria for such an award. Her Majesty Queen Elizabeth II approved the Government's subsequent recommendations and issued a Royal Warrant for the new medal.
Together with Parliamentary Counsel Office and the Honours Unit in Cabinet Office, the NZDF medals policy team also drafted a set of Regulations which specified the exact eligibility criteria, covering service from 3 September 1945 until today.
170k

people are eligible for the nz defence service medal
It is estimated that more than 170,000 people are eligible for the New Zealand Defence Service Medal. Of those people, a large number were not previously entitled to any medallic recognition. They served their country loyally and well in a wide range of roles and contexts, but not on operations, and they do not therefore qualify for campaign medals.
The NZDSM is a bronze medal with an antique finish suspended from a dark blue, red, light blue and light green ribbon.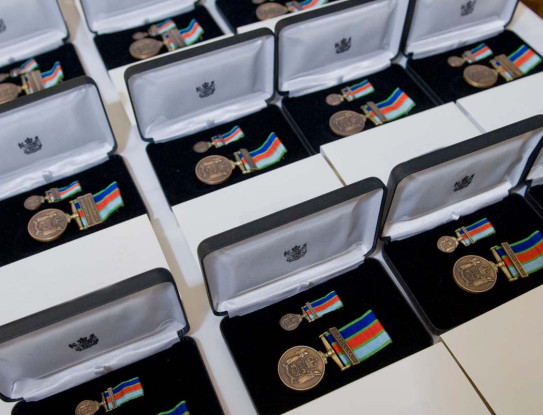 As at 30 June 2021, more than 120,000 New Zealand Defence Service Medals have been issued. We continue to award this medal to current serving personnel as well as to veterans and their families.
The New Zealand Herald of Arms, Mr Phillip O'Shea, CNZM, LVO, designed the NZDSM and its ribbon. Mr O'Shea has designed most New Zealand awards instituted since 1973. The medal ribbon reflects the colours of the Navy, Army and Air Force as dark blue, red and light blue respectively. Light green stripes have been added between these colour stripes to reflect the volunteer and territorial elements of the Services.
This has been the largest medal issue project New Zealand has undertaken since the 1950s when the majority of the Second World War medals were issued. It has been overseen by the NZDF medals policy team and managed by the NZDF Personnel Archives and Medals team.
Considering
a career in Defence?
A career in the Defence Force is unlike anything out there. You'll work as part of a tight-knit team, following in the footsteps of those who have gone before you. You'll protect your country from harm and represent the New Zealand way of life wherever you go. It's an incredibly rewarding job that gives you a real sense of purpose.
Find out more