Rongomau me te haumaru
Peace & security
As a small nation, New Zealand depends on global stability for our security and prosperity.
The Government tasks us to support peace and security in a wide range of ways, at home and abroad. Our work to promote stability helps to maintain our economic security, promote our national values, and defend the fundamental rights of those more vulnerable than ourselves. We partner with other nations through institutions and agreements and our contributions are valued for both our military skills and the humanity we bring to the job.
These are some of our stories
Afghanistan
A 20 year commitment
The New Zealand Defence Force's relationship with Afghanistan is built on 20 years of deployments to the country. Missions included Special Forces operations, provincial reconstruction activities and capacity building through training of local forces.
2001 – 2014 NZ Special Air Service (NZSAS deployments)
The NZDF undertook a number of separate deployments of the NZSAS to Afghanistan between 2001 and 2014. They undertook combat operations as part of the international intervention into Afghanistan, working closely alongside partners and local forces.
Long range patrols were initially conducted in order to gain an understanding of the political, social and security situation. Counter-terrorism combat operations disrupted and defeated insurgent threats, including Al Qaeda and Taliban, and established the security and stability necessary for broader international assistance to be realised and the Afghan Government to exercise authority across much of the country.
In subsequent deployments, the SAS worked alongside Afghan Forces, specifically the Crisis Response Unit (CRU), mentoring the Special Police Unit to build capacity and ensure personal development. The CRU continued to sustain itself following the NZSAS departure from Afghanistan and it was one of the most professional and frequently utilised assets within Afghanistan's national security architecture.
NZSAS undertook numerous operations in Afghanistan, including high risk arrests, explosive ordnance disposal, improvised explosive device disposal, counter narcotics, counter insurgency and counter terrorism. These actions disrupted many threats and by countering these threats, NZSAS contributed to national, regional and global security while upholding the rule of law in Afghanistan.
In 2020, a Government inquiry considered three of the operations undertaken by NZSAS – Burnham, Nova and Yamaha. Implementation of the recommendations of the inquiry's report is underway.
Sadly, two NZSAS servicemen lost their lives while serving in Kabul, Afghanistan.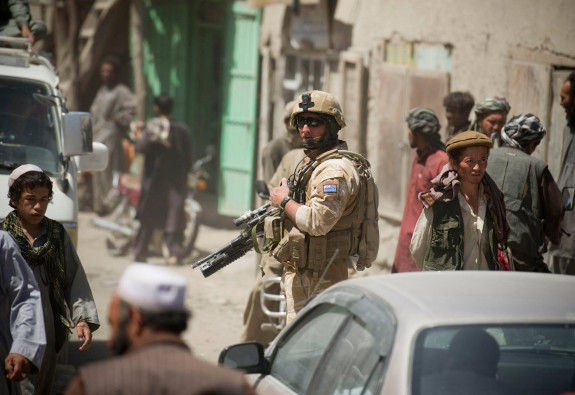 2003 – 2013 NZ Provincial Reconstruction Team (NZPRT) deployments
The purpose of the NZPRT deployment from 2003 to 2013 was to strengthen the influence of the Afghan Government by assisting with the reconstruction of Afghan institutions, facilitating aid efforts, monitoring disarmament and providing security. NZPRT was based in Bamyan province, while other NATO International Security Assistance Force (ISAF) contributing states similarly deployed PRTs with responsibilities for other provinces in Afghanistan.
The NZPRT was comprised of around 140 personnel and was made up from NZDF, New Zealand Police and Ministry of Foreign Affairs staff. It delivered over 200 development initiatives in Bamyan province, at a value of more than $100M and included security sector reform, support for local government, and reconstruction of infrastructure such as bridges, roads and local power supplies.
The NZPRT's primary responsibility was to promote security in the Bamyan province that would enable a legitimate government to re-establish control and create the conditions necessary for economic recovery. The NZPRT were equipped for self-defence only and not intended for enforcement tasks. It maintained security by conducting presence patrols in Bamyan province, demonstrating the importance of being seen and readily available to address concerns of the community. This did not make NZPRT immune to insurgent attacks however, and eight NZPRT personnel lost their lives over the course of the deployment. Bamyan was among the first tranche of provinces handed back to Afghan-led security in 2013. NZDF personnel deployed to the NZPRT maintained operational readiness on five live-firing ranges in Bamyan Province. Work is currently underway to complete additional clearance of these ranges to current international standards.
2003-2021 Capacity building and Headquarters roles
Following the conclusion of the NZPRT deployment in 2013, the New Zealand contribution in Afghanistan transitioned to supporting the development of Afghan forces, through the deployment of NZDF trainers and mentors to the Afghanistan National Army Officer Academy (ANAOA). The NZDF also deployed trainers in small numbers to support the Afghan Army in the years 2003 to 2012.
The ANAOA was one of Afghanistan's leading centres for officer training. The officers trained there went on to hold leadership positions within the Afghan Army. NZDF personnel provided training not only in technical skills, but were also able to promote New Zealand's leadership values and ethos. New Zealand's contribution assisted in the training of more than 5,000 Afghanistan Army Officer Cadets. Over 250 of these graduates were female.
Providing training and support to Afghan forces was the central feature of the NATO Resolute Support Mission (RSM) which commenced on 1 January 2015. The strategy behind this was to empower Afghanistan to be able to maintain its own security, eventually without international support. New Zealand's contribution to this mission ended in March 2021, when the Academy reached a point of being self-sufficient.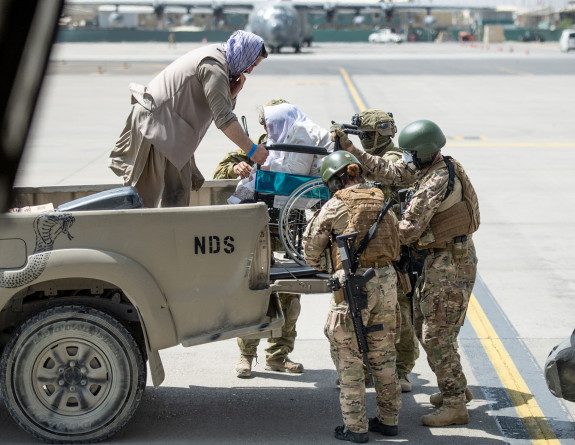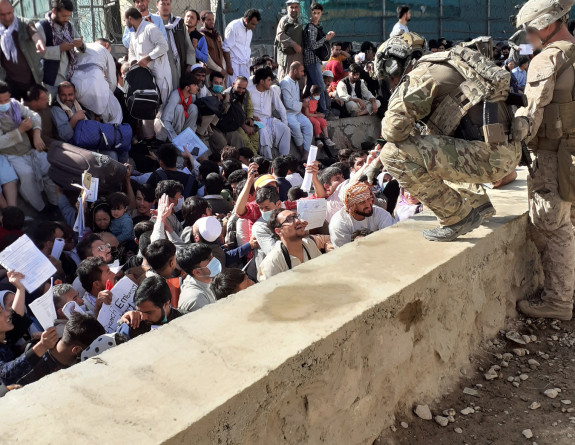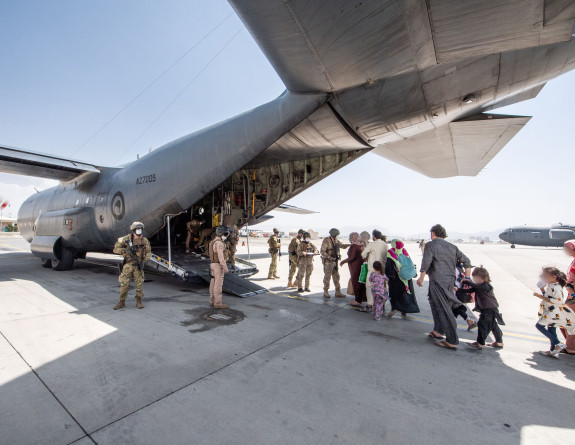 2021 Afghanistan Evacuations
In August 2021, due to a deteriorating security situation, the NZDF once again deployed into Afghanistan as part of Operation Kōkako – this time on a multi-agency humanitarian mission. Around 80 of our Army, Air Force and Navy personnel and a Royal New Zealand Air Force C-130H(NZ) Hercules aircraft deployed to assist with international efforts to evacuate New Zealanders and other foreign nationals from Kabul. Personnel included special forces troops, a female engagement team, aircrew and maintenance staff, a medical team, operational support staff, logistics personnel and force protection personnel, amongst others. Our deployed contingent were supported by over 500 of our military and civilian personnel based in New Zealand, and elsewhere around the globe, who were directly involved in planning, liaison, deployment preparations and execution of the operation. It proved to be a challenging mission given the changing circumstances on the ground in Afghanistan, however our NZDF personnel, and those involved in the planning and mission execution in New Zealand, made every effort to help get New Zealanders and other eligible evacuees out of Afghanistan safely.
FPDA
Security of our region
The Five Power Defence Arrangements (FPDA) between the United Kingdom, Australia, New Zealand, Malaysia and Singapore are one of the longest-running defence arrangements in the world. Conducting regular military exercises between the military forces of the five countries since 1981 enhances interoperability and promotes stability and security in the Southeast Asian region.
1971
Five nations commit to defend and protect the newly formed states of Singapore and Malaysia whilst they build their defence capability. Following the reduction of forces in Southeast Asia from the United Kingdom, the FPDA are established and agree that in the event of any form of threat of armed attack the member countries will "immediately consult together for the purpose of deciding what measures should be taken jointly or separately."
1981
Although not a formal alliance, the FPDA evolve to include a multilateral training exercise program with all five countries regularly coming together to conduct complex exercises involving air, maritime and land forces. These tactical and operational training activities enhance military interoperability between the five nations becoming the only defence arrangements of their kind in Southeast Asia.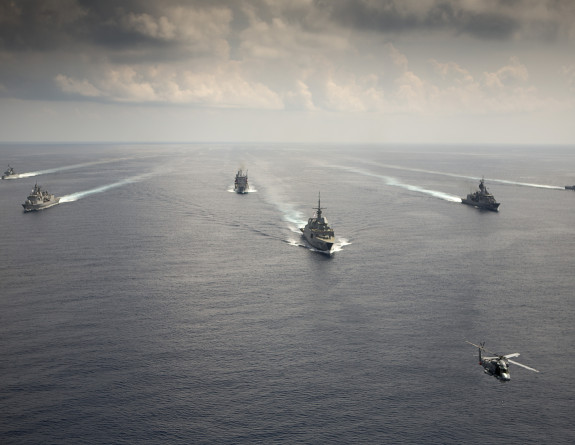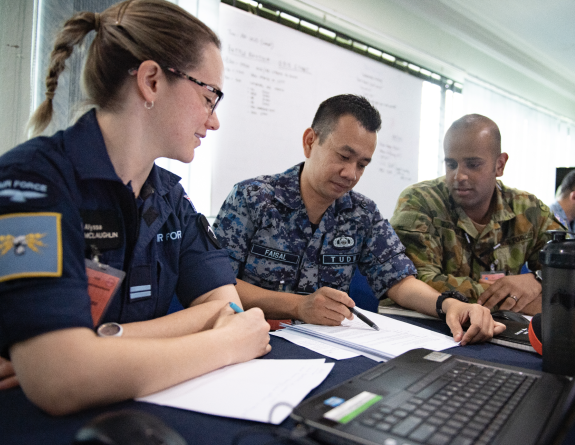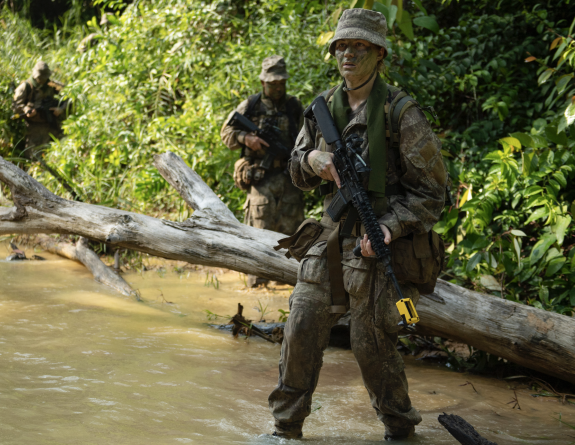 2004
Responding to changing global threats, the first FPDA Exercise Bersama Lima (translates to "Together Five" in Malay) commences. This is a new large-scale military training exercise executing multi-threat scenarios from counter-terrorism and maritime security to humanitarian assistance and disaster relief tasks around the region. The combined joint exercise involves 3,500 military personnel, 31 ships, 60 aircraft, and two submarines operating from the Command and Control facility at Paya Lebar Air Base in Singapore.
2013
Almost every year the NZDF deploy a contingent to Exercise Bersama Lima, participating in tactical training scenarios alongside other FPDA nations using air, land, and maritime assets. In the air, the Royal New Zealand Air Force No. 5 Squadron deploy a P-3K2 to RMAF Base Butterworth, at Penang in Malaysia, for Exercise Bersama Lima 13. The squadron participates in a warfare scenario involving two phases, Force Integration Training (FIT phase) and the War Exercise (WAREX).
Anti-Surface Warfare (ASuW) is carried out—working first in support of friendly naval forces, then switching sides to work for the opposing forces (OPFOR). They conduct Anti-Submarine Warfare (ASW) exercises using an Expendable Mobile Acoustic Training Target (EMATT). The P-3K2 conducts surveillance, as a maritime patrol aircraft, providing surface pictures of enemy forces to friendly ships, and in the ASW role, to find the submarine that is in the area. During the WAREX the role of the P-3K2 changes as tensions escalate. As a surveillance platform they guide fighter aircraft to the enemy vessels, or seek to detect, deter or destroy the 'enemy' submarine. No.5 Squadron develop and hone their procedures for the P-3K2 as well as connecting with military friends in Southeast Asia.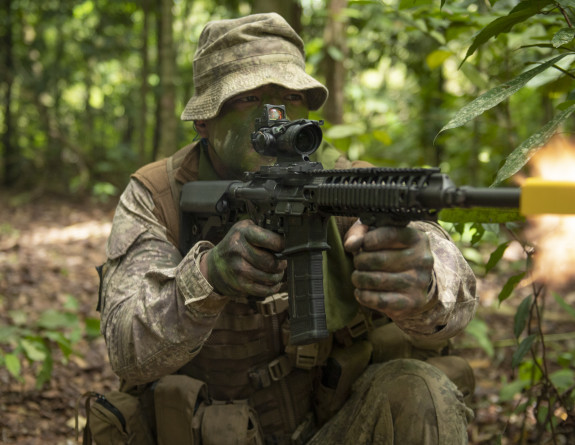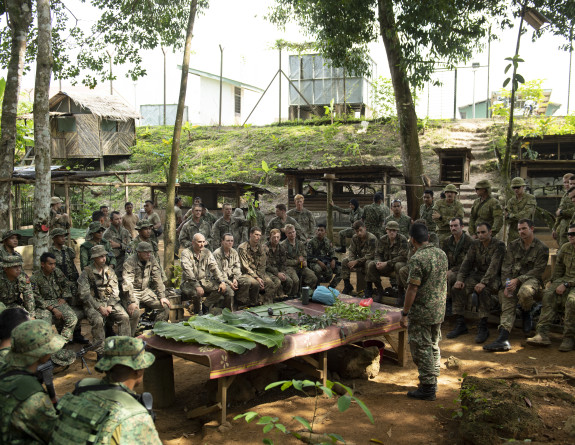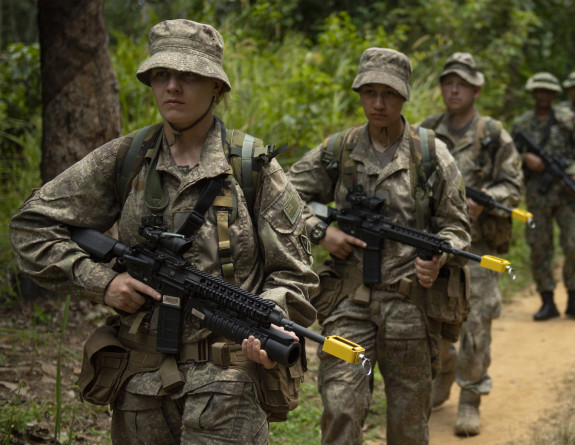 2019
On the ground, more than 50 New Zealand Army reservists undergo tactical and survival training at the Royal Malaysian Air Force Base in Kuantan with Royal Marine Commandos before heading into the Malaysian jungle for Exercise Bersama Lima 19. The infantry platoon conducts sea movement exercises on a Singaporean transport ship, platoon level fighting patrols, participates in an infantry company attack, and plans and conducts a non-combatant evacuation task.
At sea, the Royal New Zealand Navy contributes to the battle staff that command Maritime Task Group 657.1 on the eastern seaboard of Malaysia. The team plans and executes a two-week sea phase to mould ships KD Lekiu and Kasturi from Malaysia, RSS Persistence, Valour, and Vigour from Singapore, and HMAS Sirius from Australia, into an effective task group.
The Maritime Task Group proceeds to Kuantan where, as they plan, a multitude of fast jets and aircraft touch down, ready to go to battle. The task group gets used to operating with other militaries, and the battle staff embark on RSS Persistence to direct the Combat Essential Training/ Force Integration Training (CET/FIT) phase of the exercise.
It was really cool to be involved in such a dynamic exercise where the assets that we rarely get to play with were available in abundance
After anchoring at Tioman Island, the staff debrief and move into the War Exercise (WAREX) phase. With the assets split into opposing red and blue forces, both sides are tasked with winning the fight over the other.
The multi-national military exercise goes for 17 days with the five nations developing their joint naval, air and ground force interoperability.
2021
HMNZS Te Kaha and HMNZS Aotearoa are deployed to attend Exercise Bersama Gold 2021 in October. These exercises build friendships, share cultures, enhance interoperability, and continue to hone our warfare techniques. 2021 marks the 50th anniversary of the FPDA - a unique and enduring multinational defence engagement maintaining peace and security in the Southeast Asia region.
Timor Leste
The birth of a nation
Timor Leste has had a long and sometimes brutal passage towards independence. The New Zealand Defence Force has been there since the push for independence became the birth of a nation.
September 1999
The people of Timor Leste overwhelmingly vote for independence. Pro-Indonesian militia initiate brutal raids that drag the province into anarchy. Buildings and sometimes whole villages are destroyed. Hundreds of East Timorese are murdered. The United Nations calls for immediate action and New Zealand joins Australia, South Korea, Thailand and the Philippines in a multinational force - International Force East Timor (INTERFET) - tasked with restoring order ahead of further UN action.
New Zealand's SAS is on the ground in Dili by the end of the month, working with INTERFET partners to secure the streets of the capital in advance of the larger deployments of people and equipment still to come. Planning for this had started in June, and these troops, along with a number of ships and aircraft have been at a higher state of readiness for over a month.
October 1999
On the ground, New Zealand soldiers will work to secure the Cova Lima region, giving locals the confidence to return home and rebuild. Difficult supply routes, limited communications, and the devastation to lives and property left by retreating militia are going to make this challenging mission. Complicating matters further, the rugged terrain of the 1,700 square kilometre territory includes a long section of border between East and West Timor, across which militia are still mounting raids. Keeping the peace will put the 830 soldiers deployed by the end of October in harms way time multiple times in the months ahead, ultimately costing the lives of five of our people, including Private Leonard Manning who is killed-in-action in July 2000.
In the air, people and equipment are being flown from New Zealand to Timor Leste in Air Force Hercules and Boeing 757 aircraft. More locally, helicopters will prove to be an essential tool in building and maintaining New Zealand's presence across Cova Lima. Six Air Force Iroquois and 130 air crew and support personnel are in Timor by the end of the month. Their operations connect bases across the region with the headquarters in Suai, ferrying troops on mission, and flying reconnaissance and patrol across the densely forested hills of the region.
At sea, New Zealand has two frigates patrolling the waters around Timor Leste and escorting the ships that are supplying the INTERFET mission. Our frigates are part of a multinational naval taskforce that are keeping shipping routes safe and projecting the international community's resolve to protect this fledgling nation and its people. The tanker HMNZS Endeavour is supporting HMNZS Te Kaha and other ships in the INTERFET fleet with fuel and supplies.
February 2000
New Zealand's mission in Timor Leste transitions from INTERFET to supporting the UN Transitional Administration in East Timor (UNTAET). With this shift the remit broadens to include creating and maintaining the conditions for the establishment of the new, independent state of Timor Leste.
November 2001
New Zealand still has a battalion of up to 850 soldiers in Cova Lima. They continue to patrol the territory, deterring any flare up in violence, but they're also helping rebuild and develop the country. The Kiwis have built strong relationships in communities across their area of operation. They're picking up some of the Timorese Tetum language, and the locals kids are peppering "kia ora" and "kia kaha" into their interactions with the Kiwi peacekeepers.
In the settlement of Belulik Leten, New Zealanders are working to rebuild the school as well as helping out with some of the classes. In a sign of the trust the Kiwi's have earned, a young private is called upon by one of the children in a class she's teaching to help a local woman give birth to twins.
2002
New Zealand completes the deployment of a sixth Battalion Group then transitions its focus to providing staff officers and military observers who will supply training assistance to the Falintil Force for the Defence of Timor Leste (F-FDTL), as well as support to the United Nations Mission of Support in East Timor (UNMISET). The Battalion Group deployments are described as of New Zealand's most significant military operations since World War II. It provides the foundation for a warm and close relationship between Timor Leste and New Zealand.
2006-2012
In May 2006, following significant unrest in Timor Leste, including murders in Dili, the NZDF deploys a company sized group to assist in the restoration of peace and security. A substantial contingent is maintained in Timor Leste until 2012 with a wide variety of personnel involved including the deployment of our Air Force Iroquois. Our personnel contribute to the Australian-led military operation and work alongside the New Zealand police officers among others. Elections take place successfully and Timor Leste takes full responsibility for its internal security. When the final of 13 contingents depart in November 2012, we continue to support the Timor Leste military with advisers.
NZDF remains committed to East Timor's security and stability and maintains a strong partnership through the NZDF's Mutual Assistance Programme, which provides training assistance to the Timor Leste military.
Korean Peninsula
Together for security
The international community, including New Zealand, maintain a continuous presence on and around the Korean Peninsula in the interests of regional security. Forces operate both at the border and in the sky. The New Zealand Defence Force has a role in both locations.
New Zealand has a long supported the maintenance of peace and security on the Korean Peninsula as part of international efforts to address regional security issues.
On the Peninsula, our personnel are posted to the Demilitarised Zone between North Korea and South Korea. The Zone was created in 1953 during the armistice negotiations following the Korean War. It is 260 km long, dotted with landmines, fences, guard posts and other military equipment on both sides of the border. Only a small group of patrolling soldiers are allowed to walk along the world's most heavily fortified border. Our people are part of a United Nations team whose mission is to enforce the Armistice Agreement and enable security and stability on the Korean Peninsula.
A curious duty is the relaying of official messages across the border, which is done by personnel speaking them aloud at the border, with a Korean translating them. It is done very formally, with set procedures. Although there are landlines between the personnel staffing the borders, the North Koreans do not answer them.
Because of North Korea's nuclear and ballistic missile programme, the United Nations Security Council (UNSC) has imposed sanctions against the country. New Zealand also contributes to the international community's efforts to achieve the full implementation of UNSC resolutions, and support the goal of the complete, verifiable, and irreversible denuclearisation of North Korea.
To help monitor the sanctions and support international efforts, the Royal New Zealand Air Force have conducted multiple deployments of a P-3K2 Orion maritime patrol aircraft based out of Japan. Our aircraft operates over international waters, to detect and deter illicit ship-to-ship transfers of sanctioned cargo and other practices that contravene the UNSC sanctions.
During 2021, we carried out these patrols for the fourth time, locating vessels of interest and looking to detect any evasions of sanctions such as illicit ship-to-ship transfers of sanctioned goods such as oil and coal. Activities of interest spotted by the aircrew are recorded and passed on to the relevant authorities.
Considering
a career in peace and security?
A career in the Defence Force is unlike anything out there. You'll work as part of a tight-knit team, trained and ready to assist on operations with other forces from around the world. And you'll have the honour of representing the New Zealand way of life wherever you go. It's an incredibly rewarding job that gives you a real sense of purpose.
Find out more