Te rangamaro
Combat ready
If we want to keep New Zealand safe and secure, and also help with the safety and security of those who depend on us, we have to have the equipment, people and skills necessary to go into combat if required.
The government requires us to be ready to conduct combat operations. To do this we must be capable of using force and protecting ourselves in environments where threats may cause us harm. The work that goes into maintaining combat readiness is at the heart of what we do as an organisation, giving us the skills, tools and resilience to respond to any situation when called upon. Combat is our job and we train to be excellent at it. While we always hope that the fight can be avoided, we must be ready to fight – and prevail – when New Zealand needs us.
These are some of our stories
Southern Katipo
Restoring order
What would happen if an island nation in our region suffered civil unrest and a humanitarian crisis? NZDF's largest military exercise, Southern Katipo, puts this scenario to the test. The result is a multinational coalition of 2,500 troops from 13 countries, backed by amphibious ships, aircraft and armoured vehicles, who are tasked with restoring law and order to the fictional nation of Becara.
2017
The top of the South Island is recast as the fictional South Pacific country Becara and becomes a training ground for NZDF, as well as soldiers from Fiji, Chile, Brunei, Malaysia, Timor Leste, Tonga, Papua New Guinea, Australia, Canada, the United States, France and Britain. For the next five weeks, NZDF's ability to plan and conduct a joint multinational operation involving a range of land, naval and air assets will be put to the test.
They are faced with a complex scenario. Unresolved ethnic rivalries between Becara's West majority and Havo minority has exploded into a new wave of violence, just two years after a multinational force led by the NZDF helped restore peace and stability. Unable to quell the fast-spreading unrest, which has caused large numbers of the population to flee their homes, the Becara government is again seeking international assistance.
New Zealand leads a multinational Combined Joint Task Force, which must evacuate non-combatants in the region, counter the militia and intercept shipments of drugs and arms, before re-taking towns that have fallen under militia control. To add to the realism, 150 local volunteers act as refugees in need of transport from areas of fighting, while aid agencies, non-governmental organisations, NZ Police and government departments process the displaced persons.
The exercise shows what can be achieved when we work together with our partners, using the right tools and equipment for the task. The training tests us in a variety of ways, from those on the front lines, to our support and command functions, and across different scenarios that we may face in real-world operations. It enhances our ability to operate in the South West Pacific with defence partners, other government agencies and NGOs, demonstrating the NZDF's ability to lead a joint task force in a similar situation in the South West Pacific if required.
RIMPAC
The largest maritime exercise
New Zealand is one of the founding nations of Exercise Rim of the Pacific - RIMPAC - the world's largest international maritime warfare exercise.
RIMPAC gives the NZDF an unparalleled opportunity to put our assets and personnel to the test alongside some of the best in the world. Mutual, large-scale military exercises foster familiarity, trust, interoperability and collective strength among Pacific nations. It also means that the navies and air forces of friendly nations get used to working together. Live-firing of guns, torpedoes and missiles are carried out in a controlled environment, providing valuable insight into our capability. Our crews are pitted against adversary aircraft and ships, and witness large-scale amphibious operations.
rimpac 2018
The 26th edition of the exercise sees New Zealand serve as Sea Combat Commander for the first time. RNZN Captain Blair Gerritsen is responsible for commanding the at-sea defence of the Expeditionary Strike Group, employing escort ships and their helicopters plus shore-based aircraft.
26 nations, 47 surface ships, five submarines, 18 national land forces, and more than 200 aircraft and 25,000 personnel participate. NZDF's contingent includes a warship, three aircraft and more than 300 personnel.
For the first time in the history of RIMPAC, a Royal New Zealand Navy ship is crowned the winner of the prestigious Naval Surface Fire Support Rodeo competition. HMNZS Te Mana lands her shells closer to the target than any other ship – from over 6km away.
Iraq
Training our partners
Our readiness for combat provides us the ability to train others for combat – building the capacity of partner forces. From 2015 to 2020 we worked with the Iraqi Security Forces, supporting them to train for operations against ISIS.
2014
The Islamic State of Iraq and Syria, known as ISIS, takes control of territory within Iraq, including the major city of Mosul. They demonstrate an ability to fuel extremist causes and export terror around the globe.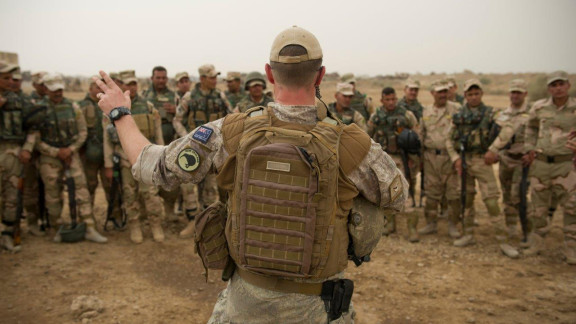 2015-2020
NZDF deploys a training mission to Iraq at the request of the Iraq Government as part of the Defeat-ISIS Coalition. New Zealand Army personnel use their expertise in combat operations to train Iraqi Security Forces to defeat and prevent the resurgence of ISIS. As the operation proceeds, it moves from one of training soldiers to mentoring trainers as the Iraqi Security Forces take over responsibility for their own training and move to a self-sustaining approach.
Considering
a career in Defence?
A career in the Defence Force is unlike anything out there. You'll be working as part of a tight-knit team, protecting your family, friends, the environment and your country from harm and representing the New Zealand way of life where you go. It's an incredibly rewarding job that gives you a real sense of purpose.
Find out more