Mahi whakaora
Humanitarian assistance & disaster relief
When disaster strikes, putting life, health and property at risk, people's lives are turned upside-down. Communities, regions or even whole countries can need help as quickly as possible.
Our Navy is uniquely capable of responding quickly to unfolding events. We train to operate in tough conditions and a variety of environments. We are disciplined, well-coordinated and have ships and aircraft, as well as personnel trained to operate in difficult situations, that can quickly deploy to a disaster site. The Navy maintains experts who can assess the scale of the disaster situation and determine what to do with the people and equipment we have available.
The Navy can transport materials and experts to help rebuild communities and infrastructure, such as running water and power. In situations where law and order has broken down, the Navy can transport troops and equipment to help civilian authorities re-establish safety and security.
The Defence Act 1990 says the NZDF will perform any public service and provide assistance to civilians in a time of emergency. It means the Navy, at any time, is on notice to move if an emergency occurs.
These are some of our stories
Kaikōura
A community cut off
In 2016, a magnitude 7.8 quake struck Kaikōura in the middle of the night. Nationally significant and locally vital road and rail links were buried under enormous landslides, or distorted beyond repair. Landline and mobile phone services went down across the region. Power and water infrastructure was disrupted. From 12:02 am Monday 14 November, Kaikōura was cut off.
14 November 2016
It becomes apparent that access and relief to the community – which includes hundreds of stranded tourists – can only happen in the short term by air and sea. While the Air Force takes to the skies to assess the damage and begin evacuations, HMNZS Canterbury, our logistics supply vessel, and HMNZS Wellington, are ordered to head south from Auckland from 11pm.
When HMNZS Wellington arrives, hydrographic teams begin assessing how much the sea bed has altered, paving the way for HMNZS Canterbury and her landing craft to start mass evacuations of stranded tourists to Lyttelton. With MetService losing their automatic weather station, HMNZS Wellington provides this service with their new MetService Automatic Weather Station on board.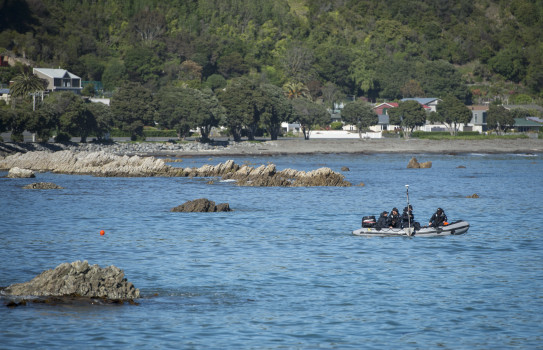 17 November 2016
At the time of the quake, New Zealand is hosting a number of international navies in Auckland to celebrate our Royal New Zealand Navy's 75th birthday. Australia, Canada and the United States offer support to New Zealand. A task force of three frigates and a destroyer, (HMNZS Te Kaha, HMAS Darwin from Australia, HMCS Vancouver from Canada and USS Sampson from the US) are diverted to Kaikōura to support the airlift of supplies into the stricken town.
We were basically opening the door for Canterbury, to save them time. It meant they could just roll up. It was a long day – 0430 to 2030 – and we just smashed it out in a day
Helicopters from these vessels will spend days ferrying aid and supplies into Kaikōura from the deck of HMNZS Canterbury. International air assets - a US P3 Orion and Japanese Kawasaki P1 - also support the response by conducting aerial assessments of the damage.
18 November 2016
HMNZS Endeavour, the fleet tanker, arrives to restock ships with fuel and supplies. HMNZS Canterbury continues to evacuate residents and tourists to Christchurch, with overseas helicopters lifting more aid supplies off its flight deck and into the town. Once the Army reaches Kaikōura via an overland route, this alleviates the reliance on maritime and air assets to connect Kaikōura with the rest of the country.
Tokelau
A hard to reach place
Pacific Islands need modern infrastructure and equipment to support homes, schools, businesses and hospitals with sustainable water and power. But the Tokelau atolls - Atafu, Nukunonu and Fakaofo – have no runway and no wharf that can handle a supply ship. So how do you get 48 water tanks and around 150 tonnes of materials, from cargo deck to flight deck, then from ship to shore, while at the same time having no physical contact with the Tokelau people due to COVID-19 restrictions? The Navy has the answer.
4 November 2020
The Royal New Zealand Navy ship HMNZS Canterbury sets sail to deliver much-needed infrastructure, including water tanks and solar panels, to the three main atolls of Tokelau. The ship also stops in the Kermadec Islands to assist other New Zealand Government agencies with re-supply and maintenance activities on Raoul Island.
This is one of the most complex NZDF operations of the year carried out by logistics supply vessel HMNZS Canterbury, with Army and Air Force support, all while observing COVID-19 protocols.
Canterbury is often used for humanitarian relief, getting people and equipment to difficult places. It has two 60-tonne cranes to handle cargo transfers when the ship is on shore, plus a drive-on, drive-off ability through side and stern cargo doors. But Tokelau, situated about 600 nautical miles from the equator, has no wharf facilities for Canterbury to dock against, and no runway. Even the ship's landing craft can't navigate the shallow reefs. It has to be done by air. HMNZS Canterbury utilises two NH90s and one Seasprite helicopter for the job.
200

personnel coordinate over 200 movements of freight within the ship to the flight deck
A team of over 200 personnel coordinate over 200 movements of freight within the ship to the flight deck. Tanks are transferred to the water and towed ashore using the ship's seaboats, or airlifted ashore using the helicopters. HMNZS Canterbury carries a team of Army logistics experts – the Ship's Amphibious Load Team – to coordinate the movements on ship and at landing sites on shore.
A particularly vital delivery is a new generator for Atafu atoll. With their previous generator burnt out, the atoll is running on emergency backup, and they are desperate for a replacement to keep power running at the school and hospital.
Mitigating any risk of COVID-19 reaching Tokelau during the operation is a major priority. All personnel working on the island are screened for COVID-19 before leaving the ship, and they maintain at least a 4-metre distance from any locals and wear PPE while performing their tasks. Communication is done by radio.
24 November 2020
With the operation complete, HMNZS Canterbury returns home. The mission demonstrates how the NZDF can put a system and plan in place to operate in a COVID-19 environment in a safe and effective manner with minimal loss of capability.
Fiji
When Winston blew into town
When Cyclone Winston hits Fiji on 20 February 2016, at the time it is the strongest cyclone ever to have hit the South Pacific. It leaves a trail of destruction, particularly in the northern outlying islands. Dozens lose their lives, whole villages are destroyed, homes and crops damaged, power lines cut and more than 8,100 people need shelter.
21 February 2016
The Air Force are able to respond rapidly with reconnaissance flights, and by airlifting emergency relief. However, a disaster operation on this scale needs the ships of the Royal New Zealand Navy to provide the bulk of the recovery. New Zealand's early response helps the Fijian Government to quickly ascertain the scale of destruction and galvanise support from foreign donors.
I saw the raw effects of what Winston had done. No leaves left on trees, and the villagers just stood there naked. An Island that was now brown and had lost all its leaves, no roofs on houses. The wharf was destroyed.
28 February 2016
A week after the cyclone, Offshore Patrol Vessel HMNZS Wellington arrives with 60 tonnes of aid supplies and 71 military personnel. Her early arrival means she can identify route and anchorage locations for the larger logistics and supply vessel, HMNZS Canterbury, which is en route.
3 March 2016
Canterbury arrives with 106 tonnes of essential supplies, including building and construction materials, water tanks and medical supplies. On board are 300 personnel, three helicopters and medical and engineering personnel.
The ship becomes the maritime base for recovery operations in the northern outer islands, while the NH90s, on their first operational deployment overseas, help deliver aid to the northern islands and remote communities. Not content with one delivery, Canterbury return to Suva to fill her cargo holds with more recovery supplies for the Northern Islands of Fiji.
Canterbury, in its multi-role logistics capability, uses landing craft to transport materials from the ship's cargo hold to the shorelines of remote islands. Helicopter operations from the ship's flight deck adds to the loads of equipment being delivered ashore, including Army personnel who go on to effect repairs and help with rebuilding.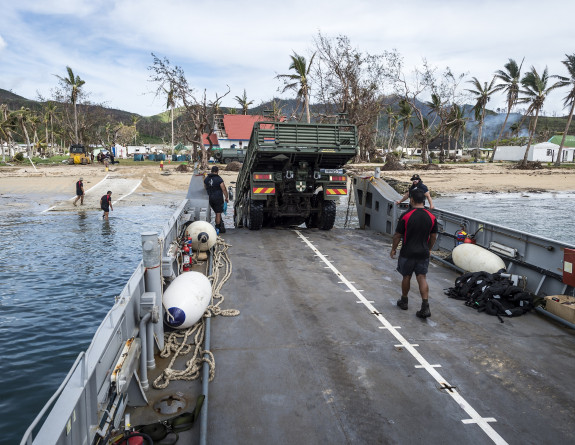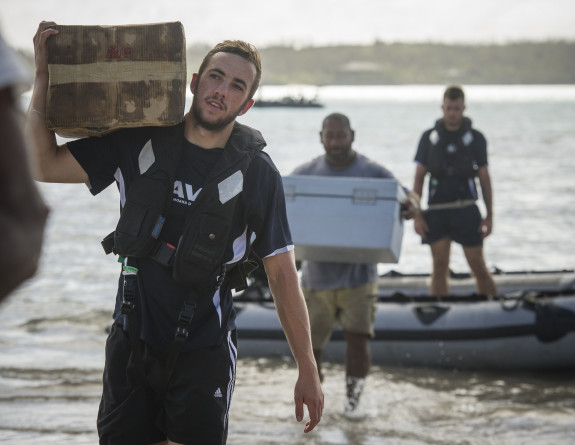 17 April 2016
After a month and a half of supporting relief and recovery operations, HMNZS Canterbury prepares to leave Fiji. New Zealand's focus now turns to the long-term reconstruction effort to rebuild schools, evacuation centres and medical facilities on Vanua Balavu and elsewhere in Fiji.
In all, close to 500 combat engineers, soldiers, and aircrew are deployed, making it one of the NZDF's largest peacetime deployments to the Pacific.
In addition to the immediate relief provided to Fijian people and communities, the deployment demonstrates NZDF's commitment to supporting Pacific nations and in particular the benefits of being able to work in partnership with our friends in the Fijian military forces.
Whakaari / White Island
Whakaari erupts
At 2.11pm, Monday, 9 December 2019, Whakaari/White Island erupts. At the time of the eruption, there are 47 people on the island. Tourists and guides are caught up in the explosive event.
9 December 2019
Within minutes, military personnel who plan operations in New Zealand and overseas, gather at the NZDF's Headquarters Joint Forces New Zealand (HQJFNZ) to build a picture of the problem and determine what assets and personnel can be deployed to support the recovery effort.
As soon as word of the eruption comes through, HMNZS Wellington in Auckland is made ready to go to sea. Once its helicopter has embarked, the ship 'sprints' at 22 knots for White Island. Wellington becomes the key platform from which operations onto the island are conducted and controlled.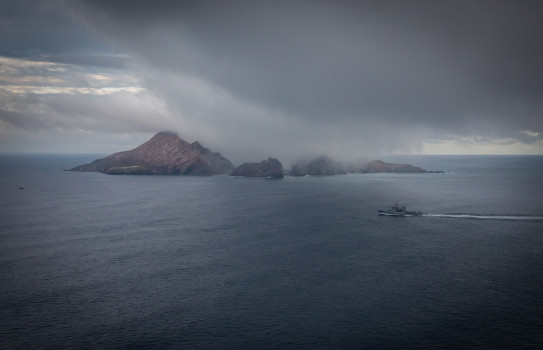 11 December 2019
The elite Littoral Warfare Team from HMNZS Matataua, made up of diving and hydrographic specialists, forward deploy into the Bay of Plenty area complete with Autonomous Underwater Vehicle (AUV) and recompression chamber. By Wednesday the AUV is transported onto HMNZS Wellington and is conducting underwater searches of White Island.
12 December 2019
On Thursday evening and into the early hours of the following morning, Rigid Hulled Inflatable Boats (RHIBs) are used to pre-position the Explosive Ordnance Disposal (EOD) Squadron Recovery Team, a decontamination team and medical specialists, from Whakatāne onto HMNZS Wellington.
13 December 2019
The victim recovery operation begins early in the morning. HMNZS Wellington's two RHIBs are lowered into the water and recovery team stores are moved onto the landing at White Island. Once on the island, the recovery team drag their equipment on sleds and on their backs toward the known locations of the people killed in the eruption. Working in deep, sticky, toxic sludge the recovery team locates the victims and moves them one by one to a suitable point for helicopter uplift.
Two RHIBs are lowered into the water and recovery team stores are moved onto the landing at White Island.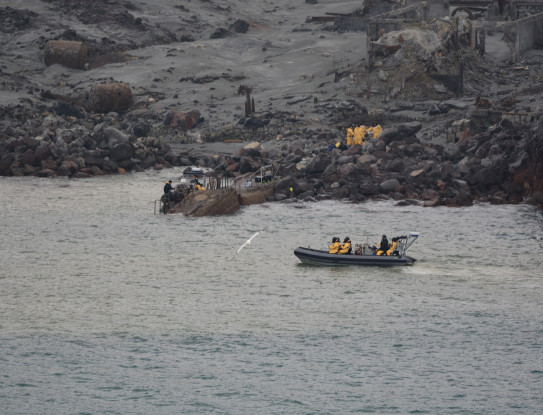 After 90 minutes, the team are exhausted and return to the landing to regroup, rehydrate and cool off. They make a deliberate decision to not give up and push through to achieve the mission. Throughout the mission a Seasprite helicopter circles overhead and as it runs low on fuel a second Seasprite arrives from Whakatāne to assume the overwatch role. Finally word comes through that the recovery team has completed its work and the NH90 helicopters move in, taking two trips to move the victims onto HMNZS Wellington.
Two Seasprite helicopters begin the process of moving the victims, one at a time, back to Whakatāne airport. Finally the victims are reunited with their families and after some shared grieving, the bodies are loaded into two NH90 helicopters to be moved to Auckland where the Disaster Victim Identification (DVI) teams go to work.
The risks were very real. One of the go/no-go criteria for recovery was that there needed to be a 6 percent or less chance of death at the task site if an eruption were to occur in a three-hour window.
At the time, GNS were saying there was a 40-60 percent chance of another eruption in a 24-hour period.
Despite all of the risks and challenges, the Navy and other Defence Force personnel and capabilities involved are able to overcome those issues, making a difference to alleviate the suffering of victims, their families and friends.
Considering
a career that helps others?
Together we protect New Zealand's interests at sea. Our Navy carries out a range of tasks including combat operations, search and rescue, underwater recovery, trade protection and peacekeeping. Whatever the mission, you'll find that there's a real tight-knit camaraderie whether you're at sea, at home or abroad.
Find out more