Celebrating Samoan Language Week: Ordinary Musician Elijah Taula
Ordinary Musician Elijah Taula has plenty to say as a vocalist in the Royal New Zealand Navy Band. But he's keen to say it in Samoan as well.
02 June, 2022
OMUS Taula, brought up in Tauranga's Samoan community, has been gradually immersing himself in Auckland's Samoan culture since becoming a full-time Navy musician in 2020. "I am afakasi Samoan/NZ European and identify strongly with my Samoan roots."
He's steadily learning the language and prior to joining the Navy visited his father's village, Taga, as regularly as he could. He's looking forward to the time when he can make a trip after a long stretch of COVID lockdowns.
"I became a reservist musician in 2019 and came on full-time a year later. I joined because it was an awesome opportunity to pursue a career in music whilst being immersed in an intriguing and prestigious organisation. Full-time musician jobs are very scarce, especially ones where you can travel and make a difference on a national and international level."
He is primarily a vocalist but plays the bass drum and side drum for ceremonies and marches. "I am part of the RNZN Pasifika Performance Leadership Group and am also on the marketing team for my unit. Day-to-day for me largely consists of rehearsals for Concert Band and Marching, as well as individual practice and small ensemble meetings. In less busy periods I enjoy jamming Eagles songs with the other vocalists in the band. Outside of the bands primary ensembles I am a part of the Jazz Combo, Covers Band, Pasifika Group and the Vocal Trio."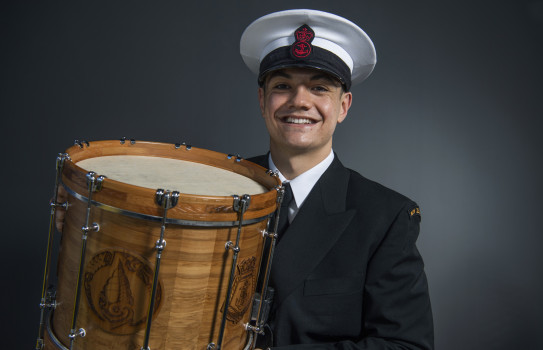 He came with a Bachelor of Music / Bachelor of Arts, majoring in jazz performance and communication at the University of Auckland, with the comms and marketing skills coming in handy. "I have been able to find areas where they are useful and valued. Completing Basic Common Training also taught me the importance of seeking out and adding value to a team, and I feel that this lesson has helped me find my place at work and make it more worthwhile. I've learned to always look for places where you feel you can add value because it could end up helping your team in the long run."
His tatau (Samoan tattoo) was done in 2018 and is based on his father's. "This is something special to me that keeps me connected to my culture and people.
I feel proud to be Samoan because of the people we are and the reputation we have around the world. We are a kind, humble, happy and strong people who are deeply rooted in our community and family-oriented ways. We look out for each other and are always happy to help and support our friends and oppo's. To be a part of such a rich cultural history is a privilege that I try not to take for granted. It gives me something to identify with and belong to.
"One of my special sayings is from Romans 12:16, Ia gatasitasi o outou manatu; aua le manatu i mea silisili, a ia feoai ma e ua faamaulalo; aua le faafiapopoto. Live in harmony with one another. Do not be proud, but be willing to associate with the humble. Do not be conceited."