Modular Assault Rifle System – Light (MARS-L)
The MARS-L is the primary individual weapon for all three Services and is used by every soldier, sailor and airman within the NZDF.

It is available in two different primary configurations depending upon the individual Service requirement.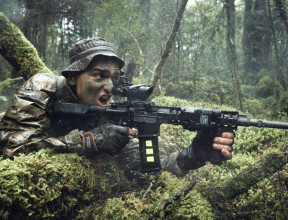 The MARS-L Rifle is a light weight, fully ambidextrous select fire rifle capable of engaging adversaries beyond 500m in any weather conditions.
| | |
| --- | --- |
| Calibre | 5.56x45mm NATO |
| Length | 830-920mm |
| Weight | 4 kg |
| Rate of Fire | 700-900 rounds per minute (in automatic) |
To meet mission requirements it can be fitted with a range of ancillaries such as: optical sights, suppressors, night vision equipment, torches, blank firing device, grenade launcher and a bayonet.