Benelli M3 (NZ) Tactical Shotgun
The M3 Benelli shotgun is used in two primary configurations by all three Services.

Dependent on the nature of ammunition used it is capable of delivering the following tactical outputs: less than lethal, breeching, short range lethal effects, and pest control.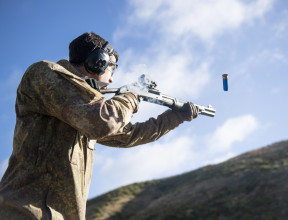 The Benelli M3 (NZ) 12 gauge shotgun is configurable with two different barrel lengths and is able to be operated in either pump-action or semi-automatic mode which is selected by the user.
| | |
| --- | --- |
| Calibre | 12 Gauge |
| Length | 800-1100mm (configuration dependent) |
| Weight | 3-5 kg (configuration and ammunition dependent) |
To meet mission requirements it can be configured with a range of ancillaries such as: long or short barrel, torch, auxiliary aiming devices, holographic sights, and multiple ammunition natures.
Various ammunition natures are used, primarily in the less than lethal role such as: distraction rounds, bean bag, and rubber buck shot.