A109 Light Utility Helicopter
Our Royal New Zealand Air Force has five AgustaWestland A109 Light Utility Helicopters (A109LUH). They are a lightweight, twin-engine aircraft with a modern glass cockpit and a retractable wheeled undercarriage.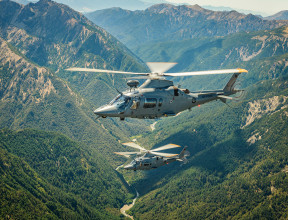 The A109LUH is part of our Defence Force's helicopter training system that includes a virtual interactive procedural trainer, a full flight simulator, and the fleet of five helicopters. This provides us with a comprehensive and cost-effective means of training aircrew prior to operational conversion onto the NH90 or Seasprite helicopters. In addition to its training role, the A109LUH is utilised in various operational tasks, including support to other government agencies, disaster relief, and personnel transport in a light utility role.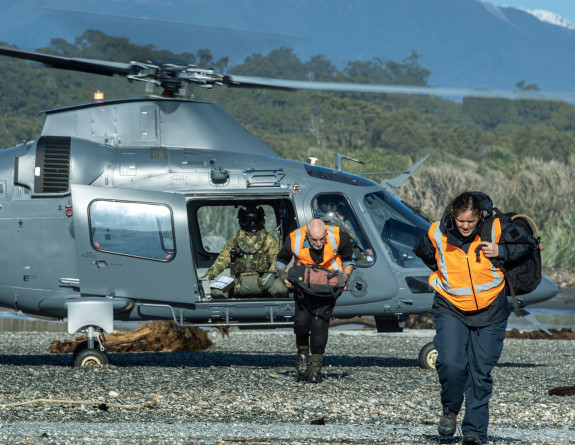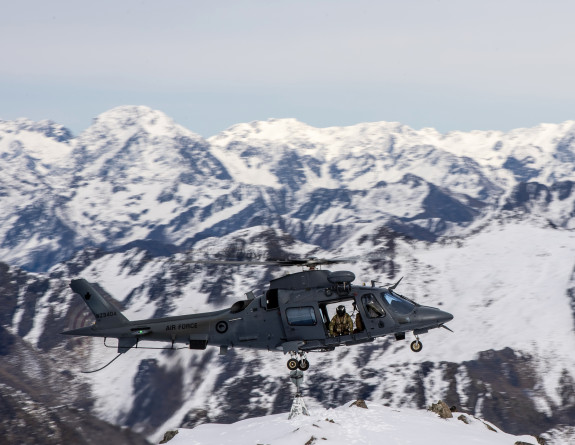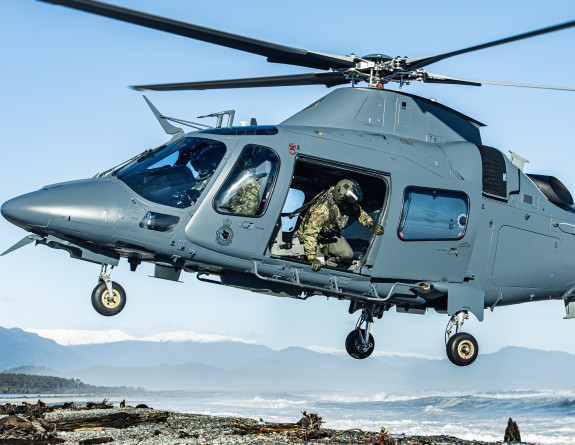 Specifications
| | |
| --- | --- |
| Aircraft | A109 LUH |
| Manufacturer | AgustaWestland (Italy) |
| Power plant | Two Turbomeca Arrius 2K2 turboshaft engines capable of producing 609 Shaft horse power (SHP) each. The transmission system is rated for a maximum of 900 SHP (normally 450 SHP x 2). |
| Length | 12.939m |
| Fuselage length | 11.429m |
| Rotor diameter | 10.830m |
| Height | 3.421m |
| Empty weight | 2200kg |
| Undercarriage | Retractable tricycle (wheeled) |
| Max take-off weight | 3175kg (3200kg with external load) |
| Max underslung load | 1000kg |
| Useful load on cargo hook | 500kg |
| Rescue hoist | Can lift 270kg or two people |
| Max cruise speed | 285kph |
| Normal ferry range | 650km |
| Normal endurance | 3 hours 30 minutes |
| Standard crew | Two pilots and one or two helicopter loadmasters |
| Seating | The A109LUH has two pilot seats and a maximum of six seats in the rear cabin |
| Equipment | Glass cockpit (fully Night Vision Goggle compatible) with moving map, advanced flight management system, four-axis autopilot, fitted with radios for interoperability with other military partners and civil agencies, and emergency floats. |
| Armament | Single pintle mounted 7.62mm MAG 58 Machine Gun |
| Protection | Full cockpit and rear cabin ballistic protection |