HMNZS Manawanui
HMNZS Manawanui is our Royal New Zealand Navy's specialist dive and hydrographic vessel. Manawanui is the fourth ship to carry that name and provides our Navy with the ability to conduct a range of specialist diving, salvage and hydrography tasks around New Zealand and across the South West Pacific.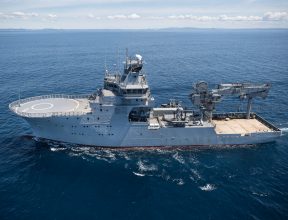 HMNZS Manawanui provides our Navy with a modern and capable platform for diving and hydrographic specialists to embark and conduct specialised operations. Missions that the ship enables include coastal and harbour survey, underwater explosive disposal, underwater search and recovery, and limited mine countermeasures.
HMNZS Manawanui was acquired to close the capability gap created with the decommissioning of the survey ship HMNZS Resolution in 2012 and the dive tender HMNZS Manawanui in early 2018. The ship was purchased by the Ministry of Defence in 2018 and entered service with the Royal New Zealand Navy in 2019.
Manawanui's role supports our operations across the maritime domain. The ship can survey harbours and approaches prior to larger support ships landing support equipment and personnel whether for combat or disaster relief. It can support the ongoing mission to eradicate explosive remnants of war in the South Pacific. And it can undertake salvage operations to find and recover submerged objects.
Contributing towards New Zealand's maritime presence in the region, Manawanui is also capable of supporting government agencies including the New Zealand Police, Customs, Ministry for Primary Industries, and Ministry of Civil Defence and Emergency Management.
Homeport: Gisborne
Ship Sponsor: Dame Jacinda Ardern
Commanding Officer
Commander Yvonne Gray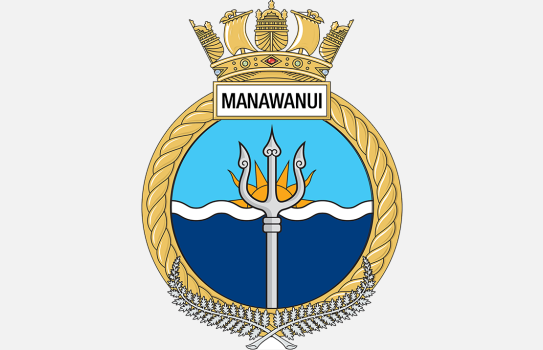 The Trident and Sun design was selected by the Chief of Navy for a number of reasons. The three-pronged spear represents the key capabilities of the ship – hydrographic survey, diving operations and marine salvage. The koru has been incorporated into the spear head to provide a unique New Zealand link to a weapon better known in ancient Greece and Rome.
With the home port of HMNZS Manawanui being in Gisborne, the Sun element was taken from the Gisborne Coat of Arms which represents the fact that Gisborne is the first place in the world to see the light of a new day. The deep blue of the sea and light blue of the sky are bisected by the turbulent waves of the South Pacific and Southern Oceans that the ship sails on.
Specifications
| | |
| --- | --- |
| PENNANT # | A09 |
| Purpose | Hydrographic Dive and Survey Vessel |
| Purchased from | Østensjø Rederi, AS, Norway |
| Builder | Myklebust Verft AS |
| Commercial Class | Remotely Operated Vehicle (ROV) and survey vessel |
| Year Built | 2003 |
| Propulsion System | 4 x diesel electric generators powering 2 x azimuth propulsion systems and 3 x bow thrusters |
| Positioning System | Kongsberg K-POS Dynamic Positioning 2 (DP2) System |
| Dive Systems | IHC Hytech 3 person wet bell and Surface Supply Breathing Apparatus through an enclosed moon pool. Recompression chamber |
| Hydrographic Systems | Kongsberg EM712 Multi Beam Echo Sounder and EA 440 Single Beam Echo Sounder |
| Remotely Operated Vehicle | AAB Seaeye Cougar Remotely Operated Vehicle |
| Length | 84.7 m |
| Beam | 18.0 m |
| Draught | 6.8 m |
| Displacement (Full) | 5741 tonnes |
| Range | 7000 nautical miles |
| Speed | 14 knots |
| Core Crew | 39 |
| Bunks | 66 |
| Delivery | May 2019 (in service Nov 2019) |