Celebrating Samoan Language Week: Chief Petty Officer Master At Arms Lino Kurene
Chief Petty Officer Master At Arms (CPOMAA) Lino Kurene was 16 years old when walked out of school after her last exam. She hadn't been confident about her success and she was proved right; she only managed to pass two School Certificate subjects.
29 May, 2022
She picked up her CV and began knocking on doors in Palmerston North.
She did get a job with Telecom, but she had also applied to join the Navy.
"I really didn't intend to join. The mobile recruiting unit came to Palmerston North and I took time off from a class one day to go." She scored well in her recruiting tests. When she got her call-up letter she boarded an overnight train from Palmerston North to Auckland and started with the first intake of Navy recruits for 1986.
Today CPOMAA Kurene is a Divisional Chief Petty Officer at the Recruit Training Squadron, responsible for delivering the training and development of new recruits into professional and disciplined sailors.
She credits her Samoan upbringing and foundations established at home, augmented with Navy training, for her achievements to date. She was notably the first Samoan female to become an Acting Warrant Officer in the Royal New Zealand Navy. But when she was 16, she didn't know New Zealand had a Navy.
She was born in New Zealand after her father Patea Viliamu Luafalealo Kurene (Luatuanu'u) and mother Lino Semisi Kurene (Moata'a) migrated to New Zealand in the mid-1950s.
"They were part of a small handful of Samoans who settled in Palmerston North and were founding members of the Samoan Methodist Church (Lotu Metotisi) in Palmerston North. Attending church regularly, my siblings and I continued to learn our Aganu'u and Gagana Samoa as part of Sunday School as well as being raised 'Fa'asamoa' and we were surrounded by our people, our language, our culture growing up.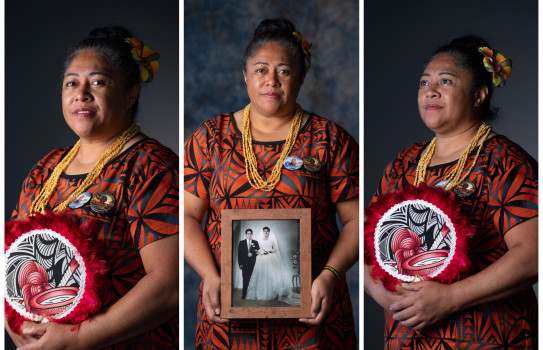 "My family life was one where 'toona'i' in our family home was a table laden with dishes prepared by our mum and her sisters and included favourites such as sapasui, talo fa'alifo, luau, povi masima among other things, and maybe panipopo and/or pineapple pies for dessert if one our Aunties was happy to bake."
She remembers the smell of fire piercing the dark morning sky as her father, Uncles and brothers prepared to put down an 'umu' for visiting Faifeau or other special occasions. "There would be hoses running to wet the sacks and newspaper. As kids, we were sent up the street to find willow to stuff the pig while the younger ones eagerly waited to see the pig being cleaned before it took its place among the heated stones. I remember one day that a pig got out of the sack and was off running up the street and together with our cousins we were sent to recover the pig. Annually the celebration of Children's White Sunday meant a day of new outfits; memory verses and the occasional tears but also memories of days gone by."
She was blessed to belong to a big family, as one of 11 children. "We had enough siblings and cousins to field a couple of sports teams and it meant we were never short of friends. We were also never short of advice (wanted or otherwise) from having our parents and so many Aunties and Uncles, but it also meant we were never short of love."
Leaving home to join the Navy didn't mean she stopped being Samoan. "It meant bringing the values I was raised with. In the initial couple of years it took a little bit to see how this fitted into the expectations of being a sailor, but I got there and I continue to use this knowledge and these experiences to interact with my superiors and subordinates."
Apart from two years posted to the Navy wireless station HMNZS Irirangi near Waiouru, she has been based in Auckland. After the success of the Woman at Sea programme and she decided to take up the challenge. "I was fortunate enough to travel overseas a number of times including to the Far East – Malaysia, Singapore, Vietnam, Hong Kong, Bangkok - and this included my greatest moment, coming alongside in Apia Port onboard HMNZS Te Kaha with my Aunty and cousin waiting on the jetty."
There were very few Pacific Islanders in the Navy when she joined that she knew, and it meant there was no-one she could identify with to speak Samoan to.
Having a language, a culture to identify with means we are rich, although not in the monetary or asset sense; it gives a sense of identity, a sense of belonging.
She 'lost' her language and found returning home sometimes hard. "I didn't have ready access to keep my culture alive when I returned to Auckland." She would sometimes visit Otara Market to hear her culture again. "I would spend the whole day just getting my fix of island food and listening to conversations in Samoan or music that filled my cup and gave me that sense of home."
Her partner, Warrant Officer Weapon Technician Nicholas Rowe, is also in the Navy, which meant raising their children Tyana and Keneti was a balancing act for them. If courses or deployments overlapped, the children would stay with friends or spend time in Palmerston North or Wellington with family.
"Such is the beauty of being surrounded by the village that loves you, and helps to raise your children till you return home. After I left the Navy in 2012 I realised that as a family, my partner and I and our kids had 13 years where we had never spent a full 12 month period living under the same roof, and this only cemented the support and love we had that allowed us to have a career."
CPOMAA Kurene had a nine-year stint at the Ministry of Social Development as an Investigator. She rejoined the Navy last year into her role at the Recruit Training Squadron.
"No two days are the same in the training environment, from delivering modules, marking exams, reviewing course content or facilitating wraparound services for recruits in terms of their welfare needs. We are fortunate to have a diverse group of Instructors from all trades and ethnicities who are passionate about their job."
It's that diversity of today she celebrates. "Being the first Samoan female to attain the rank of Warrant Officer in the RNZN was significant to me and to see years later the promotion of the first Tongan Warrant Officer in the RNZN and more recently first Tongan female promoted to Chief Petty Officer means that those coming through the ranks will continue to have positive role models."
She is looking forward to joining her partner, Warrant Officer Weapon Technician Rowe, in Fiji, where he is a Technical Adviser to the Republic of Fiji Military Forces. "I hope to use my experiences, service knowledge and the knowledge I gain from my Gender Focal course to help empower the females in the military in the Pacific Islands."
Home means family, surrounded by laughter, retelling of stories of old and happy times with parents, aunties and uncles reflecting on the more serious moments of growing up – coupled with moments of reflection remembering loved ones who have passed on. "Whatever the occasion, it is the constant flow of conversation in Samoan and English with the old familiar tunes in the background that keep me grounded. My sister and I recently observed our grown children reminiscing in the very same way except it was about us; each one taking turns to impersonate or mimick our 'sayings'; it was us - just 30 years younger. Today my siblings and I continue to serve our wider family and church community in the ways that our parents and older sister did.
"I consider myself to be blessed to have reconnected years ago and I continue to learn more regardless of how old I get.
I hope to continue to support others regardless of their ethnicity to maintain their identity and empower them to do so.
Bring the whole of yourself to the New Zealand Defence Force, she says. "Don't shed your culture or your identity, it's what makes you you, it's what makes you unique.
"E lele le toloa ae ma'au i le auvai – The toloa bird flies far but will always return to the water. It means that life may take someone far from home but they will always return home."