Our people
Our maritime force is made up of experts recruited from all walks of life and brought together to become Warriors of the Sea – to do what is right for our country and for those who ask for our help.
Regular Force
Our full time Regular Force is made up of sailors who fill a wide variety of ranks and roles: Ordinary rates to Admirals, technicians to divers, intelligence specialists to medics. Our people are trained in skills specific to their trade as well as military skills applicable to their role such as planning, leadership and command. They serve on and support operational deployments and undertake training, both in New Zealand and overseas. Our people also fill management and corporate functions on bases, camps and in headquarters.
Reserves
We have over 500 Naval Reservists who provide a valued, flexible workforce of skilled professionals. They serve to support the Navy's operational capability in its maritime defence and security roles, as well as in times of natural and other disaster events both within New Zealand and overseas. Modern Reservists are a blended mix of personnel who have signed up for paid part-time service as an adjunct to their civilian careers or home life. Our Navy has four Reserve units that are based in different parts of Aotearoa:
HMNZS Toroa (Dunedin)
HMNZS Pegasus (Christchurch)
HMNZS Olphert (Wellington)
HMNZS Ngapona (Auckland with a sub-branch in Tauranga).
Civilian personnel
Civilian employees fill a wide range of specialist and corporate roles that do not require deployment to an operational environment. The work they do is essential to our Navy.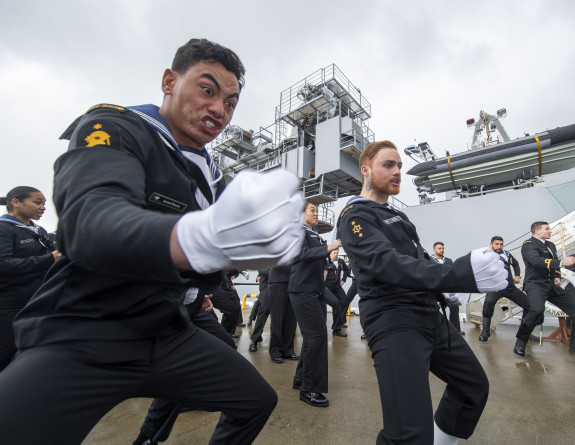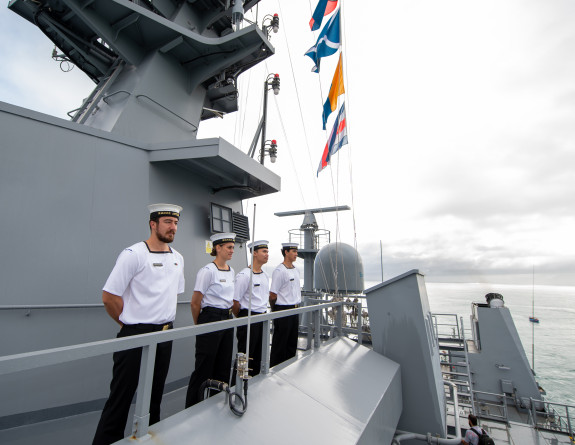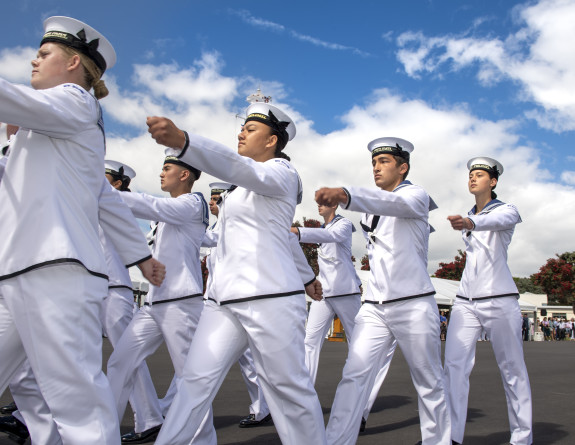 By the numbers
Our Navy is comprised of almost 2,900 regular force and reserve force personnel, as set out in the following tables.
Information last updated: 30 June 2022
Headcount by arm
| | |
| --- | --- |
| REGULAR FORCE | 2,219 |
| RESERVE FORCE | 611 |
| TOTAL | 2,830 |
Regular Force headcount by gender
female
601
male
1,618
Total
2,219
Our ranks
The rank system forms the backbone of our military structure and defines the role of commissioned and non-commissioned personnel, and the degree of responsibility they hold.
Commissioned Officers
| RANK | ABBREVIATION |
| --- | --- |
| Vice Admiral | VADM |
| Rear Admiral | RADM |
| Commodore | CDRE |
| Captain | CAPT |
| Commander | CDR |
| Lieutenant Commander | LTCDR |
| Lieutenant | LT |
| Sub Lieutenant | SLT |
| Ensign | ENS |
| Midshipman | MID |
Non-Commissioned Personnel
| RANK | ABBREVIATION |
| --- | --- |
| Warrant Officer | (WO---) |
| Chief Petty Officer | (CPO---) |
| Petty Officer | (PO---) |
| Leading Hand | (L---) |
| Able Rating | (A---) |
| Ordinary Rating | (O---) |
The letters that fill the '---' space indicate the sailor's trade. View all our trade badges here.