Trentham Military Camp
Trentham Military Camp (TMC) can be found in the lower North Island, in Upper Hutt near Wellington. Accommodating all three services, TMC is a tri-Service camp.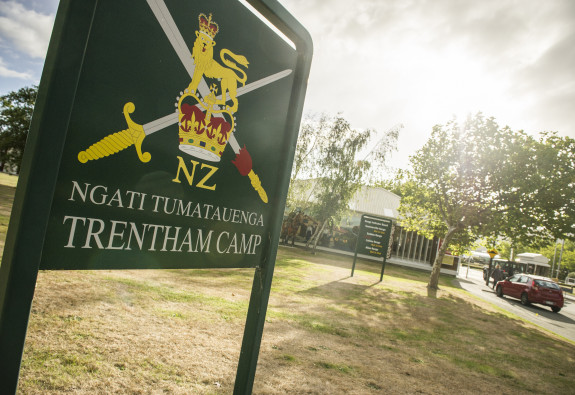 Trentham Military Camp is home to many "lodger units" which in most cases have higher commands in other camps and bases. TMC is managed by the Officer Commanding (OC) of the camp headquarters, the Trentham Regional Support Centre (TRSC).
TMC is the home to the Formation Command of Joint Support Group (JSG) who command NZDF Health personnel and Military Police.
By far the biggest concentration of uniformed pers within TMC is the Trade Training School who provide training to trades from all Services. The most diverse unit within TMC is that of the New Zealand Defence College, which has its HQ within TMC and also the training delivery areas of the Defence Academy, the Defence Learning Centre and the Defence Explosives and Ordnance School (DEOS).
Other units within TMC are Defence Shared Services Group (DSSG), Explosive Ordnance Disposal (EOD) Squadron, Military Intelligence Company (MI COY), 5/7 Battalion (Royal New Zealand Infantry Regiment), Network Enabled Army (NEA), Personnel, Archives and Medals (PAM), Youth Development Unit (YDU) Central, HQ New Zealand Cadet Forces (HQNZCF) and the Directorate of Land Engineering (DLE).
There are many other smaller sections who provide services within TMC such as the disposal section, map library and others. Areas of Human Resources, social work and other support networks are also well established within TMC.
TMC itself sits within the Trentham Defence Area (TDA) which encompasses other sites nearby such as the Messines Defence Centre (MDC), National Service Centre (NSC), Defence housing within the Trentham area and further north in the Mangaroa valley. Within the Defence Area there is also a number of shooting ranges, servicing both civilian gun clubs and Defence and also the TMC Golf Club.
The TDA also incorporates the Gun emplacement at Point Jerningham overlooking Wellington Harbour. This is the place for all gun salutes on occasions such as Royal birthdays and state events. TMC sits adjacent to Headquarters Joint Forces New Zealand (HQ JFNZ) and although they are separate organisational entities, they provide support to each other.
Facilities and amenities
Parade Grounds

At Trentham Military Camp( TMC) the parade ground is found towards the front of camp adjacent to the headquarters of the Trade Training School (TTS). The parade ground is used by units such as TTS and the Youth Development Unit and due to its proximity to Wellington, is the ground also used by guards preparing for high profile events such as Royal guards, state events, and visits by other countries leaders.

Gym

Trentham Military Camp (TMC) offers two gymnasiums. The first is the main gym with a weights room and training area is similar to what you would expect to find in any commercial enterprise, and the second is the rehabilitation gym which provides a differing level of equipment for the purpose of rehabilitation of service personnel after injury. TMC is well supported by gym personnel who are professional and open to offering what the customer wants as well as all Service fitness testing. Though TMC does not have a swimming pool, staff of TMC have free access to a quality facility in Upper Hutt at H2O Extreme.

Mess and cafe

Trentham Military Camp (TMC) offers two Dining messes and three wet area Messes. The Main mess (sometimes referred to as the 800-man mess) offers a good range of buffet style meals, breakfast, lunch and dinner. It is where the soldier's lunch is held every Christmas and has also provided a venue for larger scale events such as the reunion of Malay Veterans. As with other camps and bases, work is to begin soon to implement a food court style venue to provide a much more diverse selection of meal choices. The second mess in TMC is the Combined Mess which offers menu choice meals for NZDF personnel of the rank of SGT (E) and above.

Within TMC there are three wet area messes, the Officers' Mess, the Warrant Officers and Sergeants' Mess and the Junior Ranks Club. All three messes are very active within TMC and support events and social life in TMC extremely well.
Trentham Military Camp was a tented camp when it was first established in 1914 to train soldiers for WWI. The first wooden huts were built in the Trentham Defence Area (TDA) in March 1915.
From 1948 to 1951, Regular Force cadets undertook their training at Trentham. The cadets were intended to provide the Regular Force with its future senior non-commissioned officers and tradesmen. They joined at age 16 or 17 and graduated when they reached 18.
From 1956 to 1965, Trentham Camp served as a stores and workshops depot servicing the large number of conscripts passing through the Army.
The New Zealand Police connection with Trentham dates back to 1937 when Police recruits began training at the camp, using some of the old WW1-era barracks. The Police remained at Trentham until a new Police Training College was built at Porirua in 1981. Police dog-handlers and other police units, continue to use the camp as a training venue and also for messing for local officers
Fun fact: our NZDF archive is based at Trentham Military Camp and has 1.5 million personnel files for New Zealanders who have served in our armed forces.
Today, the camp has a large number of buildings, a number of them Heritage buildings and hosts many logistics and support functions for our New Zealand Defence Force.
Recently a memorial was established in the grounds of Trentham Camps' chapel to commemorate the strong connection Trentham has with training and deployment of troops during the war.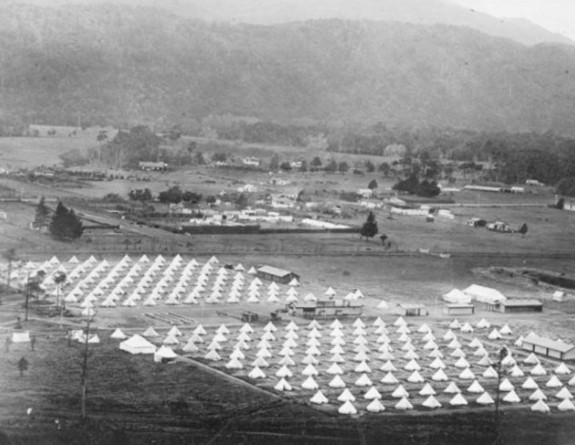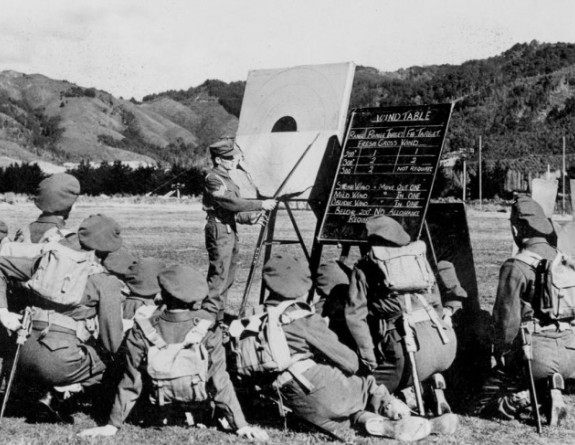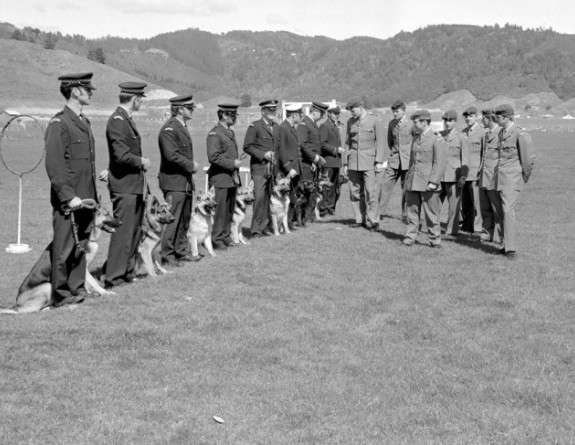 Future work
Recent developments include a sandblasting booth and a new roof for the Trade Training School. The long-term development of the camp includes improved barracks, headquarters and workshops.
All new buildings will aim for high sustainability ratings to improve energy use.
Contact us
Operator: 04 527 5099
Duty Complex (Guard Hut): 04 527 5115
Media enquiries: 021 487 980
Considering
a career in the Army?
In the Army you'll never rest on past successes. We'll push you to constantly better yourself. But you won't have to do it alone. You'll be part of a tight-knit team – people that you'll come to trust, no matter what. Whatever your role, you'll be given the best possible training, equipment and encouragement. Everything you need, in fact, to create a successful and valued career.
Find out more