Mahi whakaora
Humanitarian assistance & disaster relief
When disaster strikes, putting life, health and property at risk, people's lives are quickly turned upside-down. Communities, regions, or even whole countries can need help as quickly as possible.
Our Army is uniquely capable of responding quickly to unfolding events. We train to operate in tough conditions and a variety of environments. We are disciplined, well-coordinated and have personnel trained to operate in difficult situations, that can quickly deploy to a disaster site. The Army maintains experts who can assess the scale of the disaster situation and determine what to do with the people and equipment we have available.
These are some of our stories
Kaikōura
A community cut off
In 2016, a magnitude 7.8 quake strikes Kaikōura in the middle of the night. Nationally significant and locally vital road and rail links are buried under enormous landslides, or distorted beyond repair. Landline and mobile phone services are down across the region. Power and water infrastructure is disrupted. From 12:02 am Monday 14 November, Kaikōura is cut off.
14 November 2016
Massive slips caused by Monday's 7.8 magnitude earthquake cut off land access to Kaikōura. Access and relief to the community – which includes hundreds of stranded tourists – can only happen in the short term by air and sea. Navy and Air Force arrive in Kaikōura to begin evacuations and provide short-term relief, meanwhile the Joint Forces Headquarters looks at how additional support and supplies can be transported by land.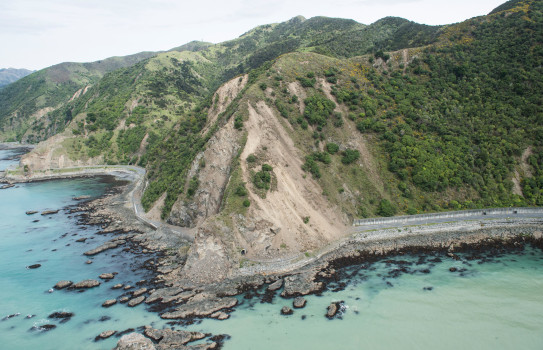 17-18 November 2016
A convoy of 27 Army trucks are given the green light to head to Kaikōura after Army engineers complete a reconnaissance of the 100km inland route. The four-hour route from Culverden to Kaikōura is by no means easy. At certain points boulders and rocks teeter above the road, forcing the convoy to spread out to minimise damage if a boulder falls. The Army arrives with 44 tonnes of vital supplies including 7,320 litres of diesel, 1,540 litres of petrol and 10,000 litres of potable water. Army units establish field kitchens, while other personnel join forces with sailors to lend a helping hand in the community. Around 160 army personnel are involved.
The Army arrives with 44 tonnes of supplies including 7,320 litres of diesel, 1,540 litres of petrol and 10,000 litres of potable water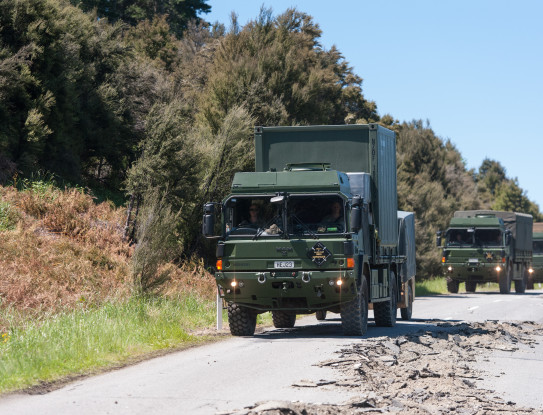 21 November 2016
With controlled access by road between Culverden and Kaikōura now established, NZDF transports further supplies using Army vehicles.
In total, Army aid convoys account for 155 tonnes of relief, equivalent to 38 per cent of total aid delivered up to 23 November.
When Cyclone Winston strikes Fiji on 20 February 2016, it pummels the country and leaves a trail of devastation. Thousands of homes are destroyed, and water, power and communication outages are expected to continue for several days.
21 February 2016
An RNZAF P3-K2 Orion reconnaissance aircraft conducts aerial surveys less than 24 hours after Winston hits to assess the damage. This vital information provides Fijian officials with a clearer picture of the damage, saving them days of on-site damage assessments and enabling them to immediately secure international aid for relief efforts.
It it is clear that Fiji faces a major clean-up and recovery operation. A RNZAF C-130 Hercules is ordered to depart for Suva. It carries almost 13 tonnes of emergency aid supplies and a Joint Reconnaissance Team made up of NZDF personnel, Fire Service and Ministry of Health staff to assist the Government of Fiji with damage assessments and help coordinate New Zealand's aid effort.
37

specialist Army engineers
arrive in Suva
24 February 2016
An advance group of 37 specialist Army engineers arrive in Suva to help with the rebuilding process. They work alongside the Fijian military to support communities who have been devastated by the cyclone.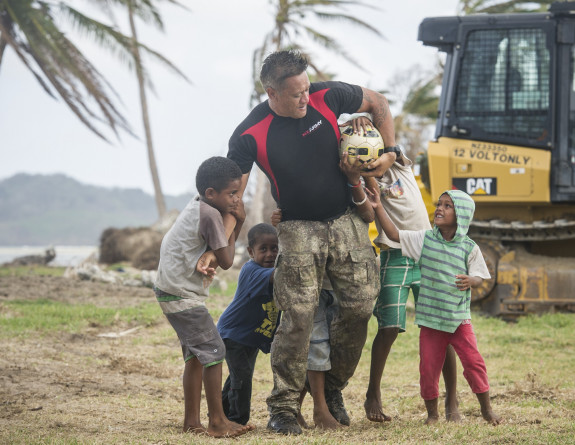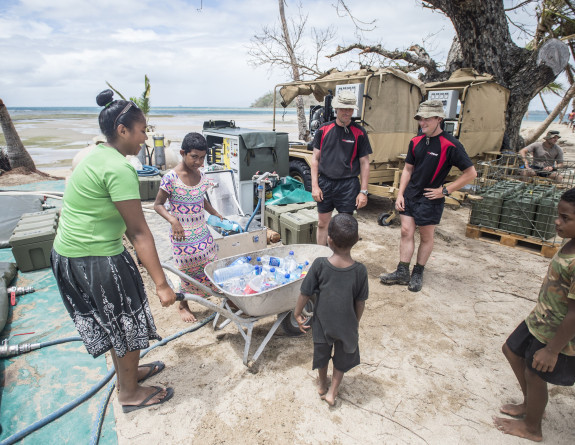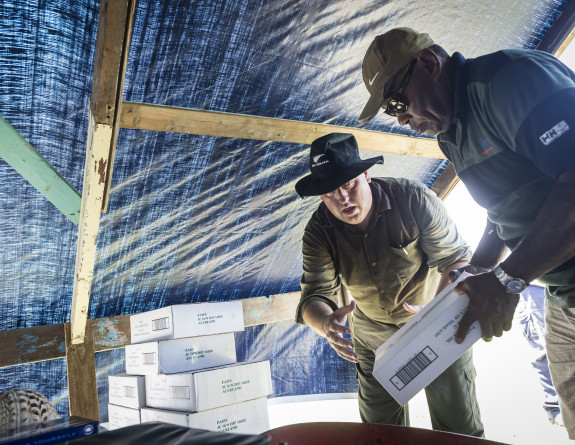 28 February 2016
A week after the cyclone, Offshore Patrol Vessel HMNZS Wellington arrives with 60 tonnes of aid supplies and 71 military personnel. Around 60 Army carpenters, electricians, plumbers, plant operators and combat engineers work alongside Republic of Fiji Military Forces soldiers to repair schools and clinics in Viti Levu and on Yacata and Vanuabalavu islands in northern Lau.
We were overwhelmed and our resources were stretched. And with inadequate capabilities, it's hard to imagine with demands for relief without New Zealand's assistance.
Army engineers set up a water desalination station that converts seawater into drinking water at Lomaloma village on Vanuabalavu Island. Up to 10,000 litres of potable drinking water is produced each day to support the New Zealand contingent and Lomaloma residents.
3 March 2016
Logistics and Supply vessel HMNZS Canterbury arrives from New Zealand with 106 tonnes of essential supplies, including building materials, water tanks and medical supplies. On board are 300 personnel, 2 Air Force NH90 helicopters, 1 Seasprite helicopter and 45 military vehicles. Army personnel undertake construction work including rebuild schools, evacuation centres and medical facilities on Vanua Balavu Island and elsewhere in Fiji.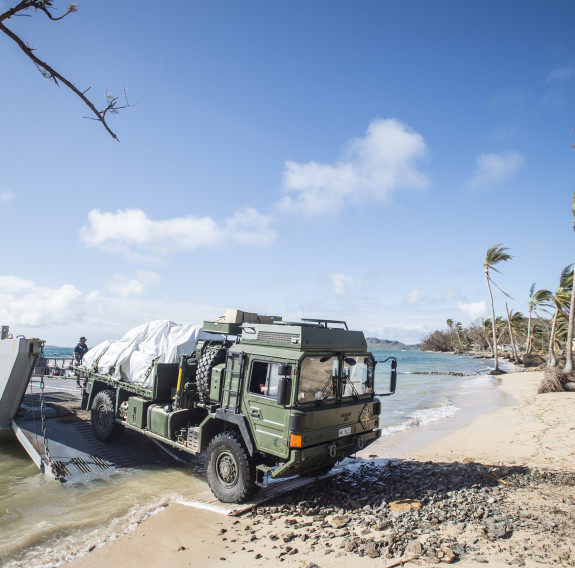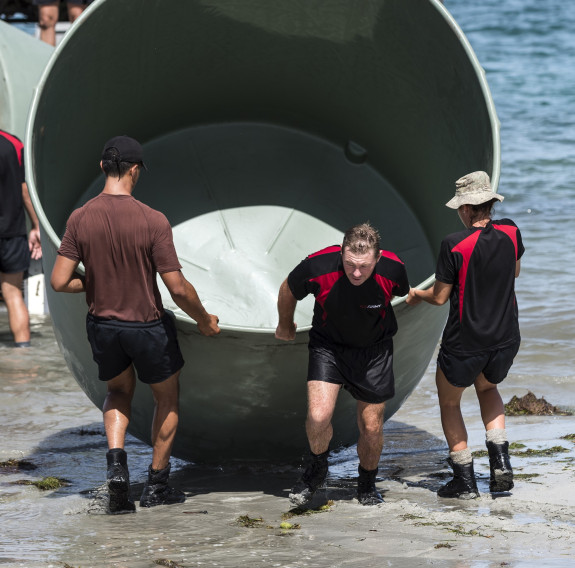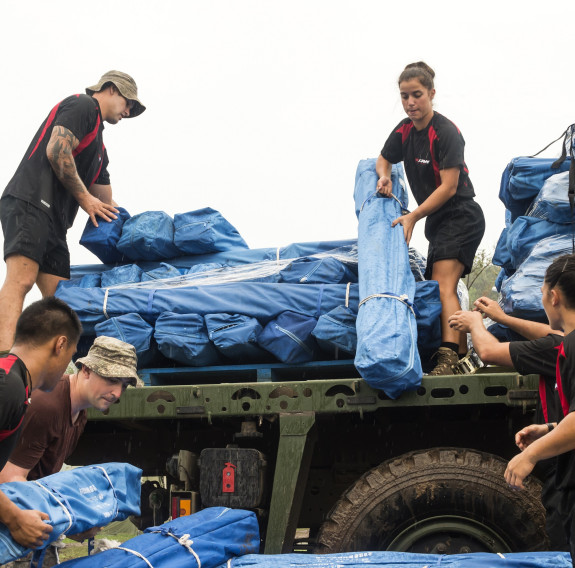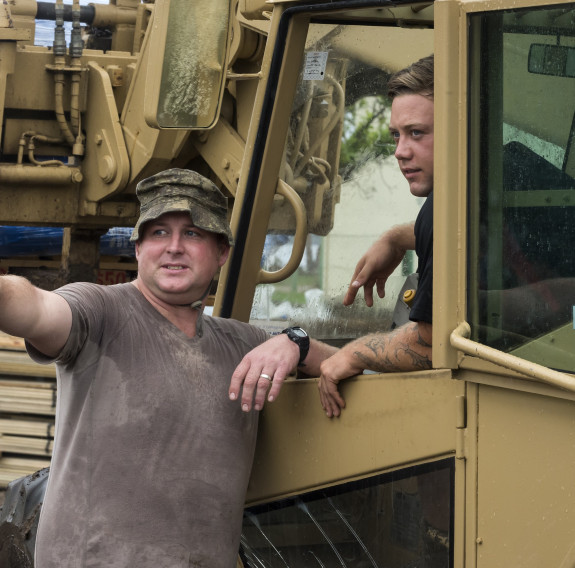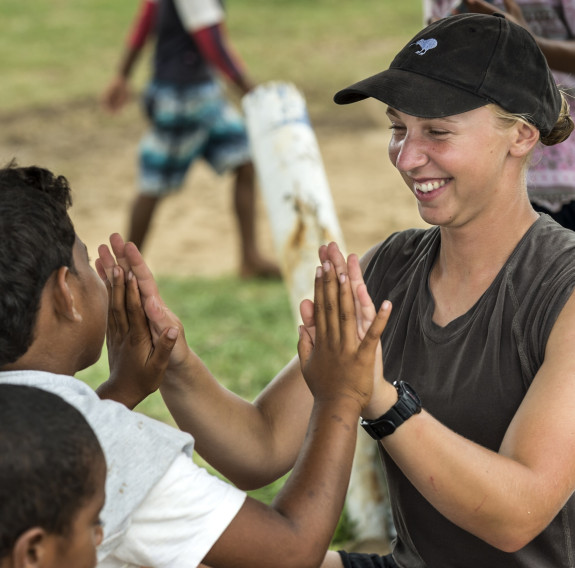 15 APRIL 2016
A ceremony is held at Queen Elizabeth Barracks, Suva, to mark the conclusion of NZDF support to the response to Tropical Cyclone Winston. In addition to the immediate relief provided to Fijian people and communities, the deployment demonstrates NZDF's commitment to supporting Pacific nations and in particular the benefits of being able to work in partnership with our friends in the Fijian military forces.
In all, close to 500 combat engineers, soldiers, and aircrew are deployed on the humanitarian aid operation in Fiji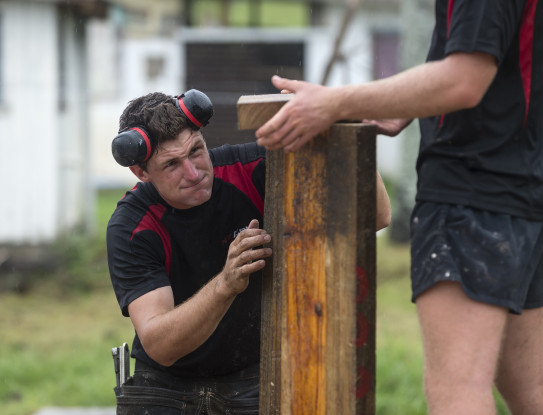 Christchurch
A devastating earthquake
On 22 February 2011 at 12:51pm, a magnitude 6.3 earthquake strikes Christchurch. Buildings collapse or are severely damaged and infrastructure including water, roads, sewerage, power and telecommunications are down. From the outset it is obvious that this is no ordinary event. 185 people lose their lives, and thousands are injured making this the second worst natural disaster in New Zealand's history, behind the Napier earthquake of 1931. NZDF responds by undertaking its largest-ever humanitarian assistance mission.

22 February 2011
The Army mobilises immediately, deploying soldiers into the city to help. Medical teams from Burnham Military Camp are dispatched to four different locations around Christchurch to work with local health officials while soldiers staff cordons around the city. Meanwhile, Army ambulances and personnel assist with various search and rescue tasks throughout the city.
160

personnel Immediately offloaded in lyttelton from HMNZS CANTERBURY
At the time, HMNZS Canterbury is in Lyttelton preparing for a military exercise. It immediately offloads 160 personnel to assist. They provide meals to the community, security for businesses, and a command and control hub. Meanwhile, personnel at Burnham Military Camp provide the tactical coordination for NZDF relief efforts. Burnham also becomes a secure base where police and coroners can work.
23 February 2011
NZDF personnel work through the night to help ensure the safety of the people of Christchurch with Army, Air Force, and Navy personnel deployed throughout the city. The Army's capability is visually evident around the central city, 77 Unimogs transport equipment and stores, and 47 Pinzgauer Light Operational vehicles are constantly on the move in the broken city. 28 Light Armoured Vehicles are also working in the area.
Almost all roads were covered in water, mud and liquefaction, large holes opened up with trapped cars swallowed inside. People were leaving so quickly that there were café tables sitting there still set with food, coats on chairs and empty streets.
Once the port opens, personnel on board HMNZS Canterbury work with the Army to transport essential goods from Wellington to Lyttelton, returning with supplies, excavators, trucks and trailers. Army catering teams and engineers provide food, water, shelter and sanitation to whomever is in need, from the rescue workers in Christchurch, to the citizens of Canterbury. Personnel visit houses to check on their occupants.
NZDF provides more than 300 service personnel to staff the cordon around the worst affected area of Christchurch's CBD.
2 March 2011
Eight days on from the earthquake, NZDF continues to stand by the people of Christchurch. At the peak of the operation, there are 1796 NZ Defence Force personnel from all services, including reserves, working in Christchurch, supported by 128 Singapore Armed Forces (SAF) personnel.
1796

defence personnel were on the ground in christchurch at the peak of the operation
15 June 2011
Army personnel continue to work around the clock in support of Christchurch earthquake recovery efforts. Territorial Forces from throughout the country will share the staffing of the cordon in the CBD for a substantial duration.
Considering
a career that helps others?
In the Army you'll never rest on past successes. We'll push you to constantly better yourself. But you won't have to do it alone. You'll be part of a tight-knit team – people that you'll come to trust, no matter what. Whatever your role, you'll be given the best possible training, equipment and encouragement. Everything you need, in fact, to create a successful and valued career.
Find out more