Whakahōnoretanga mahi
Honouring service
We take pride in honouring our veterans and their service. We contribute to research and the recording of our history, as part of the history of New Zealand and upholding Te Tiriti o Waitangi.
We conduct commemorative activities and maintain and advise on policy to support New Zealand to honour its Defence Force veterans in a way that respects their service, including with medallic recognition, and upholds Te Tiriti o Waitangi. We support state ceremonial activities and high-level official visits and undertake the researching and recording of the New Zealand Defence Force history as part of the wider history of New Zealand.
These are some of our stories
Te Rau Aroha
The Gift of Love
In addition to supporting annual official commemorations to mark the service and sacrifice of the New Zealand armed forces, our Defence Force also supports one-off events of national significance.
One of the most moving and spectacular events was Te Rau Aroha, The Gift of Love, a unique evening ceremony held on the Waitangi Treaty Grounds on 5 February 2020, on the 180th anniversary of Te Tiriti o Waitangi.
The occasion coincided with the opening of Te Rau Aroha Museum at Waitangi, which tells the story of Māori military service, with a special emphasis on A Company 28 (Maori) Battalion during the Second World War. Fittingly, during the ceremony pride of place was given to another Te Rau Aroha, the 28 (Maori) Battalion canteen truck which was given to the battalion by the children of the Native Schools of New Zealand.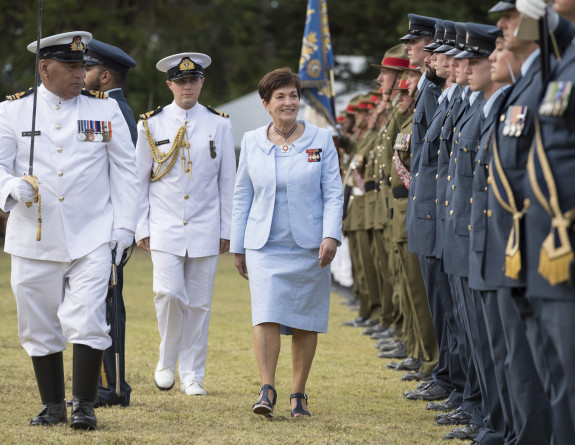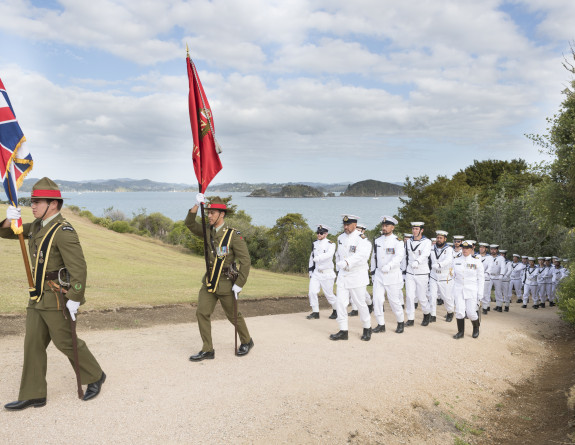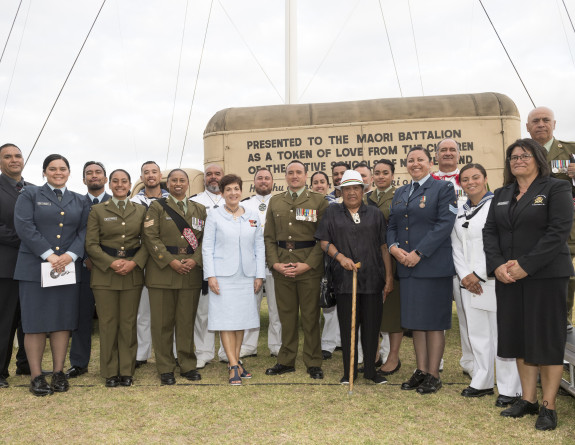 Performed before a large audience which included the Governor-General, the Prime Minister, Service chiefs and the Waitangi National Trust Board, the evening programme featured drill and ceremonial activity by a hundred-strong Navy, Army and Air Force Royal Guard. This was followed by a retelling of the story of Māori military service through words, poetry, music and waiata, supported by the screening of historic film and photographs.
Come to me, go from me, my letter of love to my parents…Goodbye to all at home…For the order has come that we are to move to the forefront of the battle, to enter the scorching flame of the firing line…Love to you…and to all the home people"
The central theme throughout was aroha, the spirit of love in all its forms, and how it was and is sustained, both at home and on the battlefield, for this lies at the heart of the service and sacrifice of Māori military service. It was also about the partnership forged by the Treaty, which finds expression in the blend of European and Māori kawa and tikanga in the modern Defence Force and is the source of our strength.
2,200 Māori served in the New Zealand Maori (Pioneer) Battalion in the First World War, and 3,600 in 28 (Maori) Battalion in the Second World War. During both wars many more served in other parts of the armed forces
#StandatDawn
Reflecting in Lockdown
When the 2020 Covid-19 pandemic caused the cancellation of traditional Anzac Day services for the first time in 104 years, we, alongside the Royal New Zealand Returned and Services' Association (RNZRSA), were forced to innovate.
New Zealand's Level 4 lockdown meant we couldn't bring throngs of Kiwis together for dawn services. What was born, #StandAtDawn, brought communities across the country and around the world together in remembrance safely from their bubbles.
When the call was made for services to be cancelled - a circumstance that had never occurred in the more than 100-year history of the event - it was time to innovate and find a new alternative.
The overarching objective for NZDF and RNZRSA was to find a way to bring people together to commemorate an important part of our heritage, at a time when people were separated and often isolated. We sought to give our serving personnel, our veterans, and their families the sense of recognition and comradery that Anzac Day has provided since 1916. The dream was to provide an opportunity for the New Zealanders that turn out every year for dawn services around the country – and around the world – to participate in the Anzac commemoration. But how? And what would it look like?
Apart, but together as one we commemorated Anzac Day like never before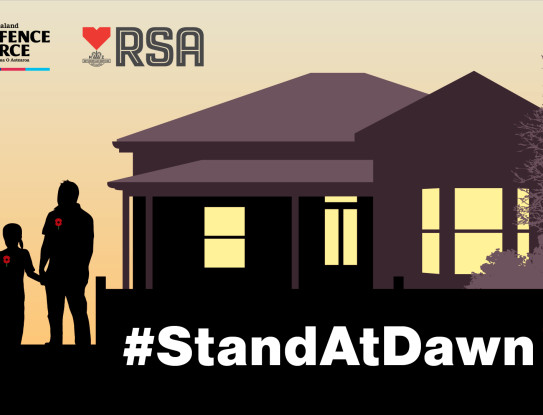 There was a need to ensure that we continued to share the Anzac story. Our ongoing connection to it is a big part of the NZDF Anzac experience. We also wanted to find a way to connect that story with new audiences and ensure the event was inclusive of all communities.
We also knew some members of our Defence and Veteran community were finding the social isolation of the Level 4 lockdown challenging, and that was mirrored across the wider New Zealand community. So, we set out to build an experience that could provide a sense of connection and interaction, while maintaining the safety of our bubbles.
More than anything, there was a deep desire to build something that could be bigger than just the NZDF and RNZRSA.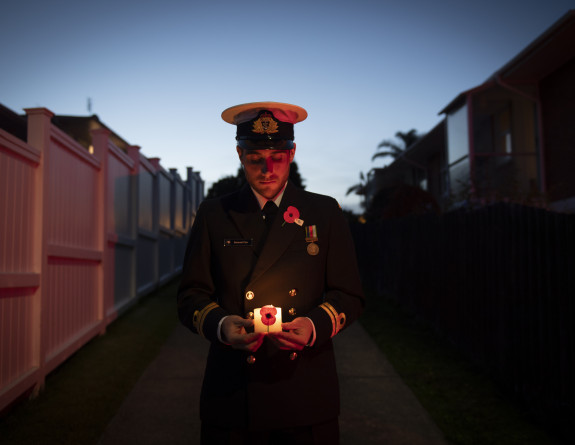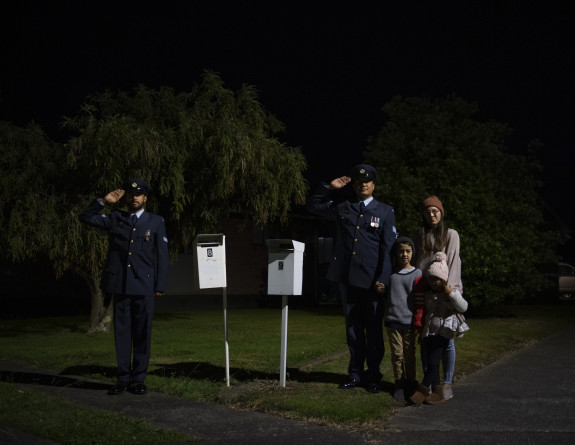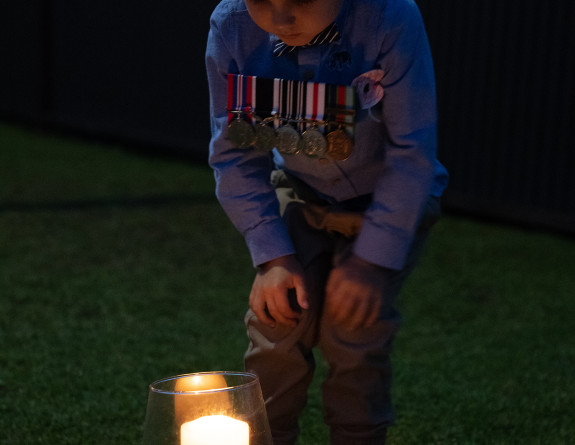 Initially Stand At Dawn was an online campaign, starting with the creation of a Facebook event that became the call-to-action to #StandAtDawn at 6am on 25 April 2020. More than 700,000 people responded to that online invitations, and anecdotally, many thousands more took part in the event.
We also encouraged people to get creative in the lead up to Anzac Day. This saw an explosion of hand-made poppies and other commemorative acts, including recreations of the #StandAtDawn logo and the use of memorial items to publicly display support for the campaign.
On April 23 2020, Prime Minister Jacinda Ardern announced during her 1pm media briefing on national television that she intended to take part in #StandAtDawn, encouraging others to do the same. This exposure caused a huge final surge in interest in the campaign.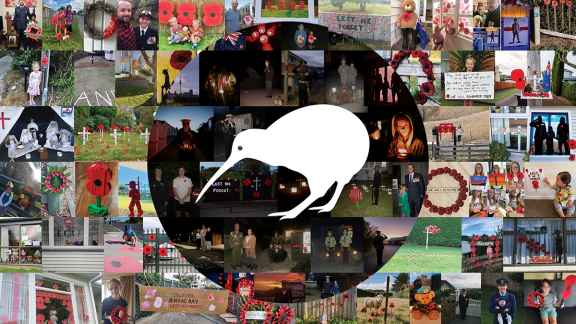 Then, at 6am on 25 April 2020, a pre-recorded 'Dawn Service' that allowed communities to stream a ceremony via Radio New Zealand played as hundreds of thousands of Kiwis stood at dawn at their letterboxes, driveways and lounges across the country and around the world.
It was an Anzac Day that many will remember for decades to come; an incredible sign of unity and respect in a time of great uncertainty and fear. A display of the true Anzac spirit - apart, but together as one.
Gallipoli
The scale of our commitment
In 2015, the centenary of the ANZAC landings spurred renewed interest in the history of the Gallipoli campaign, generating a flood of new books, commemorative events and museum exhibitions. One of the many ways we contributed was to conduct historical research to establish how many New Zealanders served at Gallipoli.
Few historians suspected that the official figure that only 8556 New Zealand service personnel served at Gallipoli was incorrect. When we sent two of our historians into Archives New Zealand to take another look, they came back with startling new findings.
One of the key discoveries was a collection of notebooks containing daily reports about the number of New Zealand troops landing at Gallipoli over six of the eight months of the campaign, which were compiled by a senior staff officer at Anzac Cove. These proved that around 16,000 New Zealanders had landed, but it was clear that there was more to the story.
Few historians suspected that the official figure of only 8556 NZ service personnel served at Gallipoli was incorrect.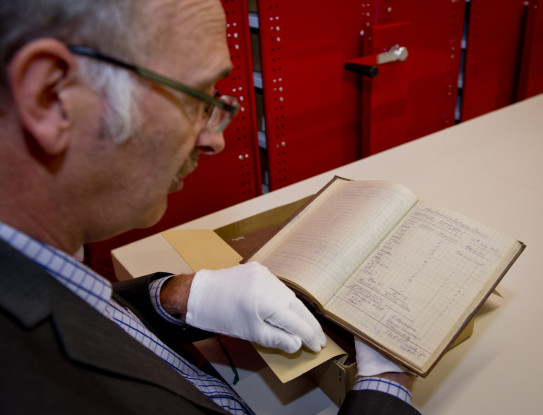 The discovery of a second set of records completed the picture. These were financial and other records which showed exactly how many New Zealanders had arrived in the theatre of operations and what became of them. These showed that up to 17,000 New Zealanders had landed, and that well over half of them had been either killed, wounded or evacuated sick.
17,000

New Zealanders landed in gallipoli. Over half were killed, wounded or evacuated sick.
This was a shocking rate of attrition, amounting to over 170% of the mandated strength of New Zealand infantry battalions, and 110% of our mounted rifles regiments. What was more, it was clear that the Australian units serving alongside the New Zealanders in the New Zealand and Australian Division had suffered just as badly.
Gallipoli wounded disembarking from the Willochra at Glasgow Wharf, Wellington, on 15 July 1915.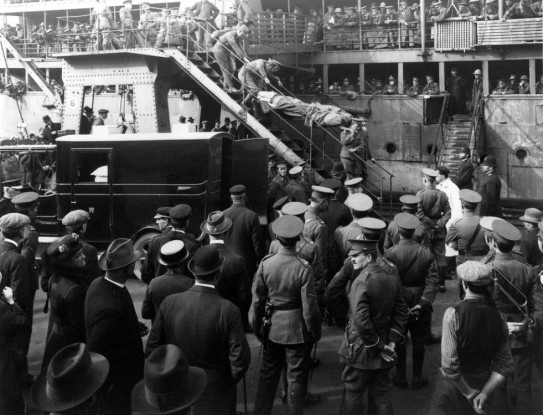 To make this research more widely available, in 2020 our two historians, John Crawford and Matthew Buck, published their findings as a book, Phenomenal and Wicked. Attrition and Reinforcement in the New Zealand Expeditionary Force at Gallipoli. It's free to download here.
This book has radically changed our understanding of the scale of our commitment and sacrifice at Gallipoli.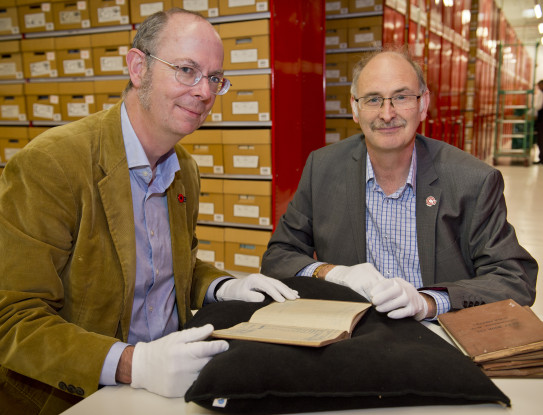 Service Medals
Recognising Service
Military service has unique requirements – a commitment to serving the Crown, being liable for operational service, and being subject to military discipline and the demands and constraints of the military lifestyle. The New Zealand Defence Service Medal was instituted in 2011. It closed a long-standing gap in medallic recognition of that service.
The NZDF provided medallic policy experts and secretariat support to an independent Medallic Recognition Joint Working Group to undertake consultation and make recommendations for the criteria for such an award. Her Majesty Queen Elizabeth II approved the Government's subsequent recommendations and issued a Royal Warrant for the new medal.
Together with Parliamentary Counsel Office and the Honours Unit in Cabinet Office, the NZDF medals policy team also drafted a set of Regulations which specified the exact eligibility criteria, covering service from 3 September 1945 until today.
170k

People are eligible for
the NZ Defence Service medal
It is estimated that more than 170,000 people are eligible for the New Zealand Defence Service Medal. Of those people, a large number were not previously entitled to any medallic recognition. They served their country loyally and well in a wide range of roles and contexts, but not on operations, and they do not therefore qualify for campaign medals.
The NZDSM is a bronze medal with an antique finish suspended from a dark blue, red, light blue and light green ribbon.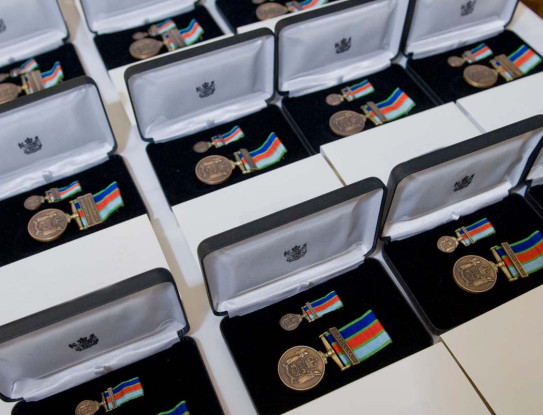 As at 30 June 2021, more than 120,000 New Zealand Defence Service Medals have been issued. We continue to award this medal to current serving personnel as well as to veterans and their families.
The New Zealand Herald of Arms, Mr Phillip O'Shea, CNZM, LVO, designed the NZDSM and its ribbon. Mr O'Shea has designed most New Zealand awards instituted since 1973. The medal ribbon reflects the colours of the Navy, Army and Air Force as dark blue, red and light blue respectively. Light green stripes have been added between these colour stripes to reflect the volunteer and territorial elements of the Services.
This has been the largest medal issue project New Zealand has undertaken since the 1950s when the majority of the Second World War medals were issued. It has been overseen by the NZDF medals policy team and managed by the NZDF Personnel Archives and Medals team.
Other honouring service stories
Considering
a career in Defence?
A career in the Defence Force is unlike anything out there. You'll work as part of a tight-knit team, following in the footsteps of those who have gone before you. You'll protect your country from harm and represent the New Zealand way of life wherever you go. It's an incredibly rewarding job that gives you a real sense of purpose.
Find out more