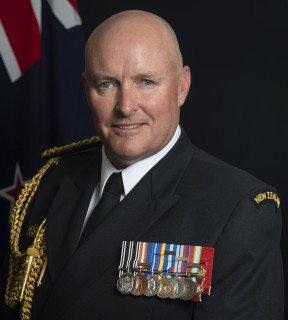 Rear Admiral James Gilmour
Commander Joint Forces New Zealand
Commander Joint Forces is responsible to the Chief of Defence Force for operational-level planning, command and control of all joint and/or combined (international) operations and exercises involving the NZDF.

A career spanning sea and sky
Rear Admiral (RADM) James Gilmour is the New Zealand Defence Force Commander Headquarters Joint Forces. He joined the Royal New Zealand Navy (RNZN) as an Ordinary Communications trainee.
His 36-year career includes:
Deputy Maritime Component Commander

Director of New Zealand Defence Force capability delivery

Maritime Component Commander

Commander Combined Task Force 151

Chief of Defence Strategy Management

Navigating Officer of Her Majesty's New Zealand Ship Waikato (FFH55)

Flight Commander of HMNZ Ships Waikato and Wellington (FFH69)

Director of Naval Capability Requirements

Director Naval Aviation

Commander Amphibious Task Force.
"Nothing is impossible if you apply yourself"
Gilmour was a big part of Project Protector which introduced seven new ships in the RNZN.
He completed his tertiary studies at the Australian Defence Force Centre for Defence and Strategic Studies. He then became Director of Programme Delivery overseeing new Defence Force capabilities.
Gilmour served in several HADR operations during his career. This includes:
the Samoan Tsunami Relief

the response operation to the Canterbury (Christchurch) earthquake in 2011.