Tohu Awards celebrate excellent employers
The Minister of Defence's Tohu Awards celebrate employers of Reserve Force personnel and Cadet Force officers, as well as excellence among reservists, with the presentation of their annual Tohu Awards this month.
10 November, 2023
The awards, run by the Defence Employer Support Council (DESC), thank those who support their employees in their attendance, training and deployment in Reserve Force duties or in leadership roles with Cadet Force units around New Zealand. The awards also recognise employers who support the Limited Service Volunteer programme.
The Reservists of the Year are Sergeant Caroline (Daisy) Williams, for raising the profile of the Army Reserve Forces through her role as photographer and storyteller; and Lance Corporal Rhys Dillon, who identified a communication gap within the Reserve unit and introducing a new, local software platform that enabled effective information sharing among team members.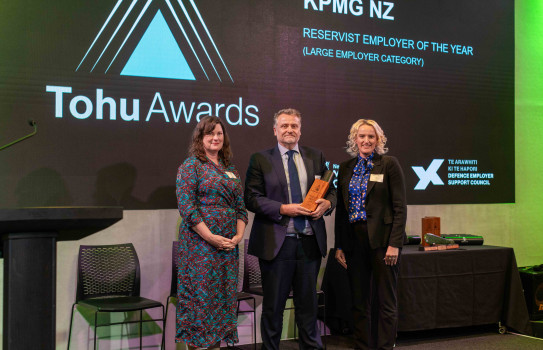 The Reserve Employer of the Year (Large Employer Category) is KPMG, who support reservists' duties alongside their civilian career in KPMG NZ. They enable cover of civilian engagements and consider emergency response leave for Reservists when they are required to respond to domestic emergency events at short or even no notice. Their HR policy includes 10 days of Reservist leave.
The Reserve Employer of the Year (Small Employer Category) is Reswax (Resin and Wax Holdings Ltd). Their employment contracts allow for flexible working arrangements enabling time to be spent on both reserve and civilian tasks.
Glenn Dawson, NZ Police is recognised for an Outstanding Contribution to the Limited Service Volunteer Programme. It recognises his enduring support and actions as an LSV Course Police Mentor, specifically his devotion and participation in course activities where he engaged with trainees and staff with consistent professionalism, enthusiasm and passion.
Employer Taylor Preston has received the Employer Contribution to the Limited Service Volunteer Programme award. The company is an enduring supporter and its Recruitment Manager, Barry Walsh, is a long-time active benefactor of the LSV programme. Taylor Preston have employed over 30 graduates and these graduates are given time off to talk to current trainees about their LSV experience and work journey.
The New Zealand Cadet Force Officer Employer of the Year is awarded to Toi Ohomai – Te Pūkenga, Tauranga, nominated by Cadet Force Officer, MAJ E. Crawshaw.
Toi Ohomai is a strong supporter of the New Zealand Cadet Forces (NZCF), notably to Cade Force Officer Major E Crawshaw and the Cadet Units in Western Bay of Plenty. The organisation have HR policies is place that recognise the value of skills obtained through the NZCF training programme.