HMNZS Te Kaha joins military partners on transit of South China Sea
Royal New Zealand Navy frigate HMNZS Te Kaha is joining military partners as it transits the South China Sea en route to a major international defence exercise.
06 October, 2021
The New Zealand Defence Force last month announced its participation in Exercise Bersama Gold 21, and that it would interact with the United Kingdom's Carrier Strike Group (CSG) as it conducts engagement activities in the Indo-Pacific region.
While with the CSG in recent days, there have also been exercises and training with ships from Japan, the Netherlands, Canada, and the United States, including the US aircraft carriers USS Carl Vinson and USS Ronald Reagan.
HMNZS Te Kaha and the Navy's replenishment tanker HMNZS Aotearoa, with a Seasprite helicopter on board, departed Auckland in September.
View from HMNZS Te Kaha as it exercises alongside ships from partner navies in the Philippines Sea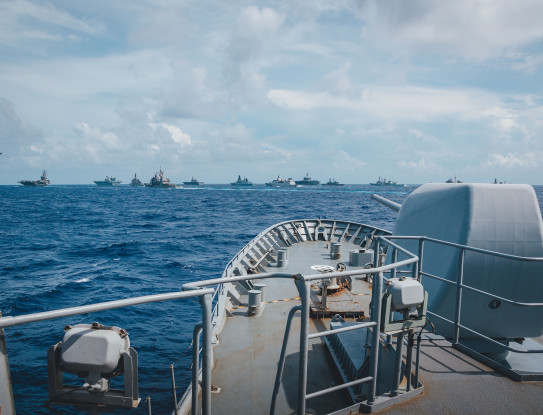 HMNZS Aotearoa recently met up with HMS Queen Elizabeth, the Royal Navy's flagship vessel in the CSG, as both ships conducted exercises off the coast of Guam.
Now it is HMNZS Te Kaha's turn as the frigate enters the South China Sea and transits in company with the CSG and ships of other partner nations.
The NZDF has operated in the South East Asia region for decades as part of bilateral and regional defence engagement, and demonstrates its commitment to regional security through its presence in the region.
NZDF deployments exercise freedom of navigation and overflight. The NZDF undertakes all activities in accordance with international law, and for ships in particular the United Nations Convention on the Law of the Sea.
The South China Sea is one of the world's major sea lanes and is routinely transited by merchant and naval vessels and aircraft.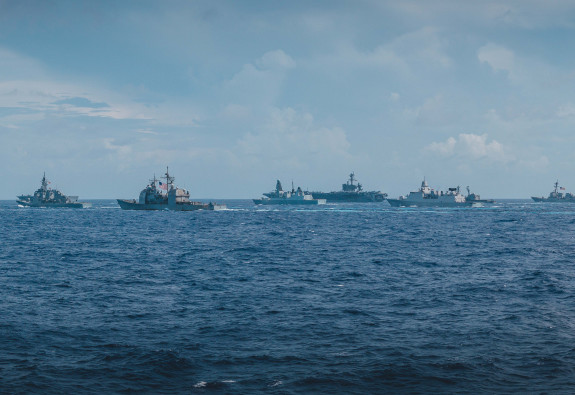 HMNZS Aotearoa is en route to Singapore for Bersama Gold 21, a major exercise marking the 50th anniversary of the Five Power Defence Arrangements (FPDA), which is being held off the coast of Singapore and the Malaysian Peninsula.
The nations of the FPDA are Australia, United Kingdom, Singapore, Malaysia and New Zealand.
A Royal New Zealand Air Force P-3K2 Orion will join the exercise, and will also interact with the CSG.
After about a week with the CSG, HMNZS Te Kaha will head to Singapore to participate in Bersama Gold 21.
Exercises with international militaries are designed to enhance interoperability and strengthen relationships.