Tautoko tāngata, tautoko hapori
Supporting people & communities
We stand ready and are here to help.
The Army has approximately 4,500 full-time personnel. We have disciplined forces and one of the largest fleets of vehicles in New Zealand. Our resources are on a scale that not many civilian authorities can match, and we're available at short notice when a crisis happens. It could be in New Zealand, or it could be for our Pacific neighbours.
Government agencies, such as the National Maritime Coordination Centre or National Emergency Management Agency, will look at a situation, like a flood, or a fire and ask themselves: what is the best way to solve this situation? When it's on a large scale, or if it is remote and inaccessible, it could be that the Army has the skills and equipment to respond to the situation.
A good example is fighting forest fires. We've joined forces with Fire and Emergency New Zealand to tackle large-scale forest fires, such as the Port Hills and Nelson fires. When a community is flooded, our personnel rescue people, survey damage, and deliver Government assessment teams into affected areas. In Westland, our Army engineers constructed a 170-metre Bailey Bridge over the Waiho River after floods ripped away the existing bridge.
Community support is not just about emergencies – it's about being a good community partner. The Army has worked with district health boards and undertaken free outreach dental care in rural New Zealand communities, targeting areas with limited health care.
The Army helps to ensure our fighting heritage – and the men and women who served during the two World Wars and other contemporary conflicts - are not forgotten. Our veterans and what they have done for New Zealand is important to the Army. We support the Royal New Zealand Returned and Services' Association (RNZRSA) with commemorative events in New Zealand, as well as major commemorations overseas, such as Gallipoli. The four years of commemoration of the centenary of World War I, called WW100, was a major undertaking for the Army across New Zealand, Turkey and Europe.
While we remember and acknowledge the past, we also look to the future. As a major New Zealand employer, we provide New Zealanders with satisfying careers that supports not only those individuals, but the communities they live in. A large military camp, such as Linton or Burnham, has hundreds of personnel living and working on base, and this boosts local economies.
The Army works to support New Zealand's youth because we are a progressive employer and are keen to showcase we can offer. The market for skilled youth is competitive, and we'd like New Zealand's future leaders to see the Army as a promising and fulfilling career. The Army collaborates in programmes such as the New Zealand Cadet Forces and the Limited Service Volunteers. These programmes, which include motivational training and valuable life skills, make a difference to the lives of youth and in their communities.
These are some of our stories
Waiho Bridge
A community reconnected
The massive floods that surged through South Westland in 2019 destroyed a vital link for the local populace— the Waiho Bridge. The bridge was a key piece of infrastructure, an important link in the South Island, and crucial for businesses in South Westland who needed it to get goods both in and out of the area.
The New Zealand Transport Agency's (NZTA) contracted Bailey bridge installation expert Downer requested the NZDF's support for the reconstruction of the seven-span Bailey bridge that crosses Waiho River. This portable, pre-fabricated truss bridge was developed by the British for military use during the Second World War.
Lieutenant Colonel Terry McDonald, who was the Commanding Officer of the 2nd Engineer Regiment at the time, said 18 personnel from the unit worked with the NZTA and Downer New Zealand to replace the bridge.
It is great to contribute our professional expertise to support government agencies responding to communities that need our assistance."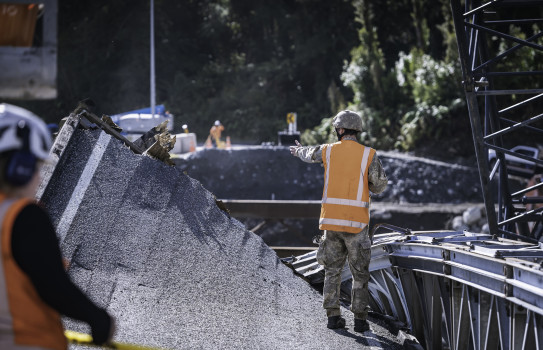 The new 170-metre Waiho Bridge is one of the longest Bailey bridges Army engineers have been involved in building since the Second World War.
Transport Agency System Manager Pete Connors said getting the NZDF's help to assemble the spans on the bridge ensured it was able to be launched from the south side of the Waiho River quickly.
We know how important a link it is in the South Island and for the businesses in South Westland and the Army engineers played a vital part in the restoration of a key piece of infrastructure.
Westland authorities said the Waiho Bridge provided vital access to the region and its loss had adversely affected tourism on the West Coast and in South Westland.
Ex Wisdom Tooth
Keeping communities smiling
New Zealand Army and other Defence Force personnel team up with District Health Boards to provide essential dental care to adults with significant oral health needs, in regions where affordability for dental treatment is challenging.
We have run these outreach programmes for a number of years in the Bay of Plenty, Hawkes Bay, Northland, Vanuatu and Samoa.
The free service, run as a training exercise known as Exercise Wisdom Tooth, is aimed at those who hold a community service card. Treatment includes a clean and scale, fillings, x-rays and extractions.
The team also run sessions at local schools to help highlight the importance of good oral health and healthy lifestyle choices, and provide defence career information.
In 2019, a combined team of military and civilian dentists went to the Cook Islands Community Centre in Flaxmere to provide oral health care information and dental care and treatment.
750

patients seen with more than 2000 treatments
The numbers from Exercise Wisdom Tooth in Kaitaia, Northland gives a sense of the scale of the exercise. In just two weeks, 750 patients were seen with more than 2000 treatments conducted.
The service is appreciated by many people who often go to extraordinary lengths to ensure they can take advantage of the skills of our dentists. In 2018, Exercise Wisdom Tooth headed to Epi Island, Vanuatu where Army dentists saw more than 300 people and carried out more than 400 teeth extractions in five days.
"When we heard the New Zealand dentists were coming, the village head asked us all, who is having dental problems? I had to work on the land for one day, to get the money to come by truck," said Lepet Fakumaly, Nuvi Village, Epi Island, Vanuatu.
"Apart from supporting communities, these outreach activities also provide an opportunity for our personnel to practise their skills in a field environment, as part of their ongoing training"

Lieutenant Colonel Lee Turner, Officer Commanding of the NZDF's Dental Services
The contingents are a mix of Regular Force personnel and Reservists and includes dentists, dental hygienists, dental assistants, medics, career advisors and physical training instructors.
COVID-19
Army on the frontline
On 19 March 2020, New Zealand closed its borders. On 9 April, the Prime Minister announced that a network of Managed Isolation and Quarantine Facilities (MIQFs) would be established, to bring citizens and residents home. The Army, Navy and Air Force have been tasked with supporting the MIQFs, as part of a multi-agency effort run by the Ministry of Business, Innovation and Employment.
Even before the creation of the MIQFs, around 120 NZDF planning and logistics staff were attached to the Government's COVID-19 response teams. At our training facility on Whangaparaoa Peninsula, we used 64 campervans to create New Zealand's first quarantine facility in modern times, and we welcomed 157 returnees, ranging from children to the elderly, from Wuhan, China.
This soon evolves to the concept of hotels being used as isolation centres where returnees are isolated for two weeks.
Operation Protect became the name of the NZDF contribution, and it touches at the heart of what we train to do.
Our Army personnel are on the front line, helping to protect our country and the well-being of our population, and we are doing it in a professional and caring way that is noticed and has a powerful effect on the thousands of people returning to New Zealand.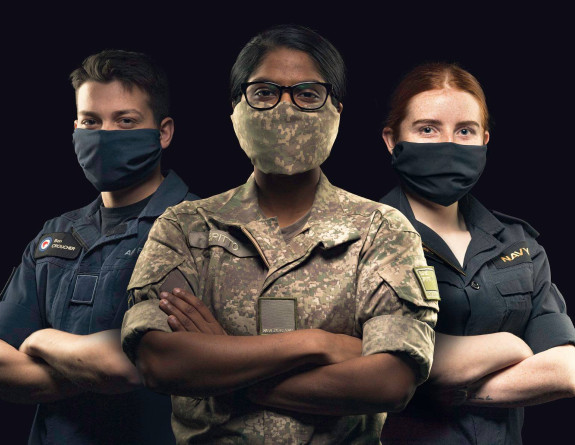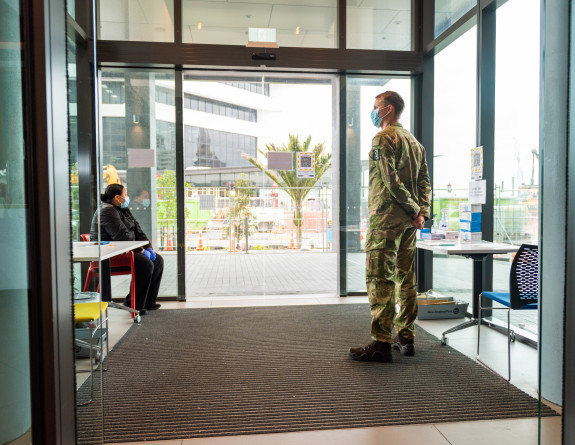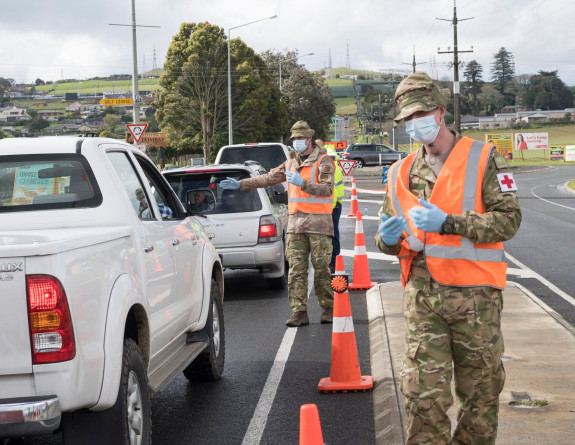 October 2020
By October 2020, more than 1,000 of our personnel are rotating through the MIQFs, taking their turn and typically work seven days on, six days off.
"When we took a bus ride to a managed exercise area, they kept their distance, but one of the soldiers provided some entertainment for my daughter for half an hour, telling her riddles. Another time, someone did a lot of chalk mind-teasers on the carpark tarmac below our window. It's that kindness and thoughtfulness that makes people's stay that little bit better," said returnee Mike LaFranchie, Taranaki.
Elsewhere, the Army supports the New Zealand Police with checkpoint duties around Auckland when alert levels change.
"As the COVID-19 response has progressed and evolved, the New Zealand Defence Force has played a critical role across a variety of fronts to protect New Zealand's borders. The NZDF personnel's abilities to deploy quickly, remain focused while away from their homes and whānau, and quickly establish procedures, instructions and routines have been a vital tool in the All-of-Government response to COVID-19."

John Ombler, Deputy Chief Executive of the Department of Prime Minister and Cabinet's COVID-19 Response Group
July 2021
As of July 2021, more than 150,000 returnees have been through a MIQF in New Zealand - with the Army contribution being central, and made whilst also maintaining many other outputs.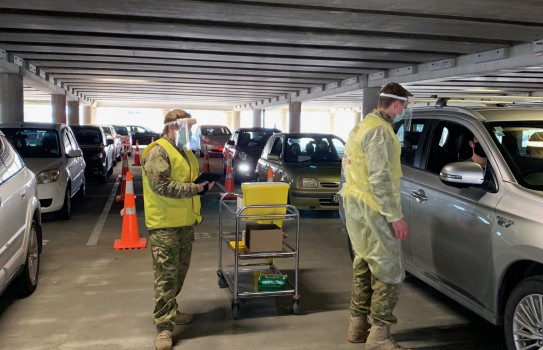 September 2021
As well as providing support to the MIQFs, ten of our medical personnel put their training into action at the Sky Stadium drive-through vaccination centre as part of Op Protect. With an aim to vaccinate 1,000 Wellington residents per day, our personnel and staff came together with Capital and Coast District Health Board, Tū Ora Primary Health Organisation, Whitireia Polytech nursing students and Wellington Free Ambulance to help vaccinate Wellingtonians.
Responding to COVID-19 is the New Zealand government's highest priority and we take pride in being able to use our skills as a highly-trained, adaptable Army to fulfil our commitments.
March 2022
The Government announced in March 2022 that with the re-opening of New Zealand's border, the decision was made to reduce the 32 MIQ facilities to four by the end of June 2022. The reduction in facilities meant the MIQ workforce in them would change too, with our NZDF personnel beginning to return to their usual duties.
By 31 March 2022, around 90% of NZDF personnel had returned to their respective camps and bases around the country. A small number of NZDF personnel remained in MIQ national office and regional operations to assist with the transition of roles to the Ministry of Business, Innovation, and Employment (MBIE).
MBIE Deputy Secretary and Head of MIQ, Chris Bunny, said the contribution of the NZDF had been instrumental over the past 2 years.
"The skill, professionalism and mahi of the NZDF contribution has been a defining factor in shaping the success of MIQ."

MBIE Deputy Secretary and Head of MIQ, Chris Bunny
"Along the way bonds have been formed, different perspectives shared and a common approach achieved. The involvement of the NZDF has been an intrinsic part of the fabric of MIQ."
May 2022
Friday 13 May 2022 marked the official withdrawal of NZDF personnel from MIQ duties as part of Operation Protect. A ceremony was held at Devonport Naval Base which officially concluded our service on Operation Protect and allowed NZDF leaders and personnel to recognise the significant contribution our people made to keep New Zealanders safe during the pandemic.
"We acknowledge the work of a very large number of NZDF staff, who, for over two years have come together to protect New Zealand, and New Zealanders from a global threat not seen since 1918, when NZ last faced a pandemic of this scale" said Group Captain Glenn Gowthorpe, Commander Joint Task Force.
Operation Protect has been one of the single largest commitments of NZDF personnel made to a response in more than 50 years. Around 6,200 of our people were involved, with some on regular rotations throughout the duration of the operation.
Group Captain Glenn Gowthorpe, Commander Joint Task Force thanked all those who spent time deployed on the Operation.
"I want to thank all of you, the various groups who came together to form the platform for the NZDF to provide the planning, organisation, execution skills and processes that kept New Zealand safe for such a long period. Thank you for your efforts, sacrifices and professionalism."

Group Captain Glenn Gowthorpe, Commander Joint Task Force
The commitment to Operation Protect created challenges and opportunities for both the NZDF as an organisation and for our people as individuals.
From leadership development, to working with other agencies, managing risk, developing and delivering in a more empathetic way, and utilising soft skills. The presence, leadership, and mahi of our NZDF people did not go un-noticed and has significantly enhanced the awareness and reputation of the NZDF.
We must too acknowledge the challenges this Operation has presented us, including impacts of career disruptions, BAU training and capability development, and personal or family sacrifices.
As our personnel return to their usual duties at our camps and bases, we have begun regrouping, refreshing our training, and regenerating the capabilities that have been impacted by this enormous commitment.
Considering
a career in the Army?
In the Army you'll never rest on past successes. We'll push you to constantly better yourself. But you won't have to do it alone. You'll be part of a tight-knit team – people that you'll come to trust, no matter what. Whatever your role, you'll be given the best possible training, equipment and encouragement. Everything you need, in fact, to create a successful and valued career.
Find out more