Te rangamaro
Combat ready
Combat readiness is our underlying purpose. It's what we train for.
To keep New Zealand safe and secure, and also help with the safety and security of those who depend on us, the Army has to have the equipment, people and skills necessary to go into combat when called on.
Military operations come in many forms. We could be defending New Zealand's territory - our highest priority. We could be delivering a combat capability in our Exclusive Economic Zone, or in our neighbourhood - anywhere from the South Pole to the Equator. We could be part of a combined operation in New Zealand, or another part of the world.
Our security relies on being in partnership with other countries, working together to promote security and peace. That means from time to time we need to share the military duties that help create stability, not only in New Zealand's territory, but across the globe. While we don't have the same military resources as larger countries, our Army has to be combat-capable in order to do our share. If we go somewhere with our partner countries, we support them and they support us. That means we need to be as good as they are, and bring the right skills to the job.
The Defence Force is subject to civilian control, through the Minister of Defence and the Prime Minister's Cabinet, and is open and honest with the New Zealand public about our activities, within the security constraints essential to our role. We represent New Zealand's foreign policy and are bound by international laws, such as the law of armed conflict and international human rights law.
This means that when the New Zealand Army embarks on operations, we're not only a good international citizen, we're ready to stand alongside partner countries and be counted on to be effective.
These are some of our stories
Southern Katipo
A task force restores order
What would happen if an island nation in our region suffered civil unrest and a humanitarian crisis? That's the premise of New Zealand's largest military exercise, Southern Katipo. We train alongside other nations to become a coalition combat force, helping to restore law and order in the fictional nation of 'Becara'.
The five-week exercise, hosted by New Zealand, can involve up to 13 Pacific countries coming together as a Combined Joint Task Force. The scenario they face is civil unrest among ethnic rivalries, which has degenerated into violence.
In 2017, we trained across seven South Island districts and regions from Greymouth to Kaikoura. The nation of 'Becara' became the training ground for soldiers from Fiji, Chile, Brunei, Malaysia, Timor Leste, Tonga, Papua New Guinea, as well as small groups from Australia, Canada, the United States, France and Britain.
With the Government of 'Becara' unable to cope, the Combined Joint Task Force has to evacuate non-combatants in the Marlborough region, counter the militia and intercept shipments of drugs and arms, before retaking towns on the West Coast that had fallen under militia control.
For this exercise, local volunteers often step forward to play the roles of refugees in need of transport from areas of fighting. Aid agencies, non-governmental organisations, New Zealand Police and Government departments process the displaced persons, adding to the realism of the exercise.
The long duration of the exercise tests the NZDF's resilience in every area from communications to logistics, giving confidence the NZDF could lead a joint task force into a similar situation in the South West Pacific if it were to arise.
The exercise also has the long-term benefit of creating and strengthening of relationships with defence forces from other countries. In 2017 Timor Leste and Chile participated for the first time.
There is also substantial participation from agencies such as the Ministry of Foreign Affairs and Trade and the Ministry of Health joining Customs, the Ministry for Primary Industries, the NZ Transport Authority, Immigration New Zealand, district health boards, Red Cross and St John New Zealand.
Battle Training
Training our Special Ops Forces
Security threats have become more complex, so it's vital the New Zealand Defence Force has modern facilities to train Special Operations personnel who are required to operate in high-risk and complex environments.
The Battle Training Facility (BTF) prepares Special Operations personnel for operating in complex warfare situations.
The facility has elements for all-weather training, live firing, use of helicopters, and scenario training based on specific environments and structures such as aircraft fuselages, ship bridges, public transport and advanced full-mission profile scenarios.
The $46-million purpose-built facility in Ardmore, Auckland, took two years to build and replaced obsolete training facilities used by Special Operations personnel in Papakura.
Security threats throughout the world have become more complex, so it's vital the NZDF has modern facilities to train Special Operations personnel. The training is as realistic as possible, so when the Special Forces deploy they are fully prepared for the challenging situations they are placed in.
The BTF is primarily used by the NZSAS Regiment, but it is also an important resource for the whole of NZDF. It is also used by other government agencies with a security role, including the NZ Police Special Tactics Group.
Iraq
Training our partners
Our readiness for combat provides us the ability to train others for combat – building the capacity of partner forces. From 2015-2020 we worked with the Iraqi Security Forces, supporting them to train for operations against ISIS.
2014
The Islamic State of Iraq and Syria, known as ISIS, takes control of territory within Iraq, including the major city of Mosul. They demonstrate an ability to fuel extremist causes and export terror around the globe.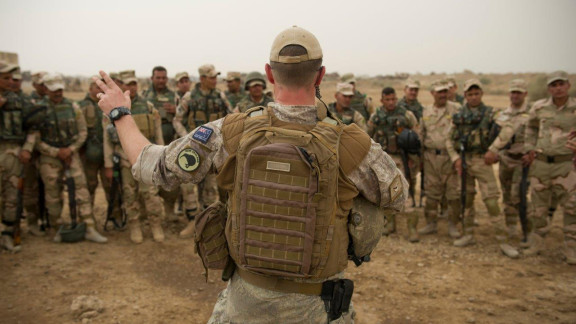 2015-2020
NZDF deploys a training mission to Iraq at the request of the Iraq Government as part of the Defeat-ISIS Coalition. New Zealand Army personnel use their expertise in combat operations to train Iraqi Security Forces to defeat and prevent the resurgence of ISIS. As the operation proceeds, it moves from one of training soldiers to mentoring trainers as the Iraqi Security Forces take over responsibility for their own training and move to a self-sustaining approach.
Considering
a career in the Army
In the Army you'll never rest on past successes. We'll push you to constantly better yourself. But you won't have to do it alone. You'll be part of a tight-knit team – people that you'll come to trust, no matter what. Whatever your role, you'll be given the best possible training, equipment and encouragement. Everything you need, in fact, to create a successful and valued career.
Find out more