Christchurch
A devastating earthquake
At 12.51pm on 22 February 2011, a magnitude 6.3 earthquake struck the city of Christchurch. 185 people died, and thousands were injured in the quake, making it the second worst natural disaster in New Zealand's history, behind the Napier earthquake of 1931. Buildings collapsed or were severely damaged and critical infrastructure including water, roads, sewerage, power and telecommunications went down. The New Zealand Defence Force responded by undertaking its largest ever humanitarian assistance mission.
At the time of the earthquake, the NZDF were in the South Island preparing for the multinational training exercise Southern Katipo and as a result were able to respond within minutes. Medics helped pull people out of the rubble, soldiers cordoned off the central city, hospitals and rest homes were evacuated, and urban search and rescue began.
A multi-agency joint headquarters was quickly established bringing together our skills in long-term planning, logistics, and multi-layered coordination to the situation. Responding to the Government's request for assistance our Air Force, Navy, and Army, including Reserves, rapidly deployed our capabilities on the ground, in the air, and at sea.
Almost all the roads were covered in water, mud and liquefaction, large holes opened up with trapped cars swallowed inside.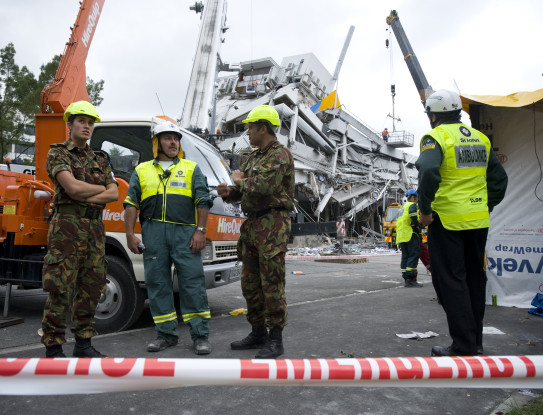 Our Army quickly deployed two 2/1 RNZIR companies into the city to establish the Red Zone cordon. Joined by several 2nd Canterbury Regiment reserve soldiers they began cordoning and shutting down the central city. The cordon was then supported by other Regular Force, Territorial Force, Navy and Air Force personnel.
A repatriation flight for foreign dignitaries at a conference in Christchurch is our first evacuation flight out of the city. A P-3K2 Orion conducts an immediate aerial survey of the affected areas, to inform Civil Defence emergency planning what was needed in the response.
The C-130H(NZ) Hercules arrives in Christchurch with consignments of supplies and equipment and leaves with passengers. The Boeing 757s and C-130H(NZ) Hercules then run continuous return flights as a 24-hour operation bringing in supplies and evacuating people from the city.
HMNZS Canterbury was in Lyttleton Port preparing for Exercise Southern Katipo and loaded with vehicles, supplies and personnel needed to respond to a humanitarian and disaster event. 160 personnel were immediately offloaded to provide meals to the community, security patrols for businesses, and a command-and-control hub.
Further out, HMNZS Resolution completes a survey of the main shipping route into Lyttleton. Once the port is opened, HMNZS Canterbury begins transporting consignments of essential goods from Wellington to Lyttleton, returning with supplies, excavators, trucks, and trailers.
I vividly recall seeing the city and how it resembled a warzone. I don't think any of us were prepared for what we saw.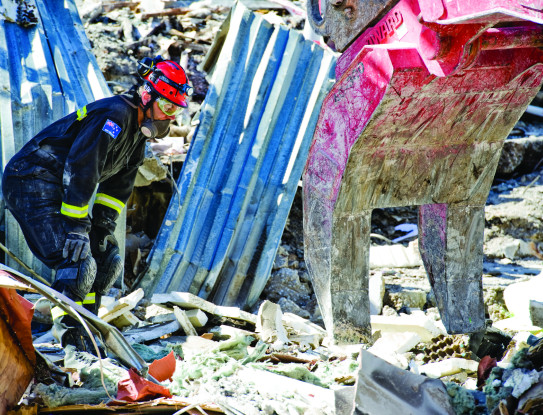 NZ Army medical teams from Burnham Military Camp are dispatched to four different locations around Christchurch. Soldiers go from house to house, checking on residents. Catering teams and engineers started providing meals, freshwater facilities, shelter, and sanitation to whomever is in need, from the rescue workers in Christchurch to the citizens of Canterbury. Burnham Military Camp suffered little damage and becomes a temporary morgue and base that allows police and coroners to do their work.
Our Army provide a significant visual presence around the central city Red-Zone with 77 Unimog's transporting equipment and stores, and 47 Pinzgauer Light Operational Vehicles constantly on the move in the broken city. 28 Light Armoured Vehicles also work in the area. More than 300 service personnel staff the cordon around the worst affected area of Christchurch's CBD operating three eight-hour shifts per day. Our Army patrol the cordon using night vision goggles to prevent looting. 129 Singaporean Armed Forces personnel, who are there for Exercise Southern Katipo, also work alongside us.
We are good at responding quickly in planning and are also highly disciplined and will stand on a cordon for eight hours in all weather or go from house to house checking on how residents are faring.
HMNZS Canterbury is joined by HMNZS Otago and HMNZS Pukaki, and the fleet become a core asset for disaster-relief operations transporting nearly 2000 tonnes of equipment, and 375 personnel in and out of Lyttelton.
In the days after the earthquake Iroquois helicopters survey the damage in and around Christchurch providing transport to inaccessible areas installing seismic sensors and assessing water reservoirs. In all our Air Force move 4278 passengers and huge consignments of equipment to and from the city including the transportation of Urban Search and Rescue staff and St John staff.
Our support ranged from medical, logistical, and planning, to engineering tasks, cordon maintenance, and forensic dentistry.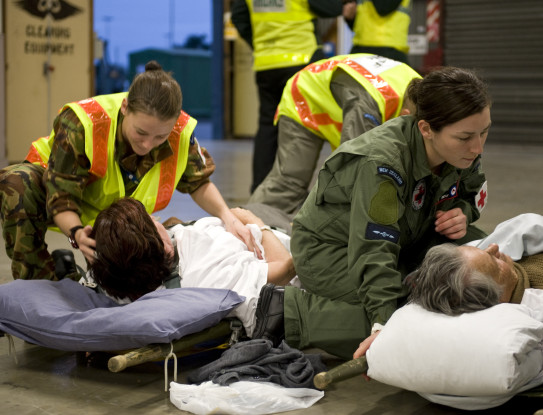 Mobilising a joint operation to this scale requires the enabling of multiple functions within NZDF and is a complex logistical exercise. Behind these people are many more working from camps and bases around the country in a combined Service and civilian effort. Support ranges from medical, logistical, and planning, to engineering tasks, cordon maintenance, and forensic dentistry. Although the cordon is eventually scaled down, NZDF personnel remain for close to two and a half years as the city begins to rebuild.
A key lesson learned from this humanitarian disaster response was the need to have a deployable headquarters that can rapidly get to the disaster zone and coordinate the operation. NZDF subsequently establish a Deployable Joint Inter-Agency Task Force (DJIATF) headquarters commanded by Headquarters Joint Forces New Zealand. Today, they are staffed and equipped to go anywhere rapidly at short notice.
Key stats
1,768 New Zealand Defence Force personnel made up of 239 Navy, 1,379 Army and 150 Air Force regular and reserve personnel were directly involved in the joint force response to Christchurch in 2011.10 RNZAF aircraft, 77 Unimogs, 47 Pinzgauer Light Operational Vehicles, 28 Light Armoured Vehicles, 4 RNZN ships, 129 personnel from the Singapore Armed Forces.