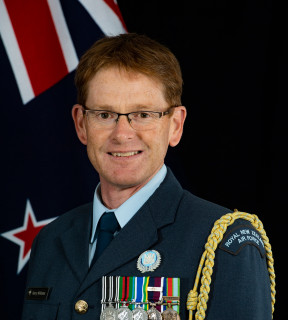 Warrant Officer Kerry Williams
Warrant Officer of the Air Force
The Warrant Officer of the Air Force (WOAF) is the most senior enlisted airman that reports directly to the Chief of Air Force (CAF). WOAF is an advisor to CAF on matters related to morale, health and well-being for the women and men of the Royal New Zealand Air Force.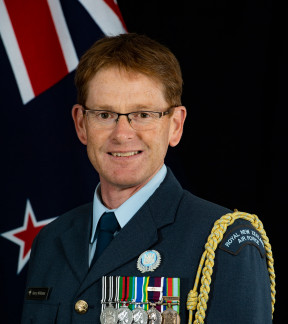 Warrant Officer Kerry Williams enlisted in the Royal New Zealand Air Force in January 1988 and completed trade training at RNZAF Woodbourne as an Aircraft Technician.
W/O Williams has served at RNZAF Bases Woodbourne, Wigram, Auckland and NZDF Headquarters in Wellington. Early in his career he completed tours with Pilot Training Squadron and No 1 Repair Depot carrying out aircraft maintenance duties, and delivered trade training as an instructor at the Aircraft Trade Training School.
Since posting to RNZAF Base Auckland in 2006, W/O Williams has carried out maintenance coordinator duties for the C-130H Hercules and Boeing 757 aircraft at No 40 Squadron, along with leadership positions at the Directorate of Continued Airworthiness Management and No 5 Squadron, Airborne Surveillance and Response Force, with the P-3K2 Orion aircraft.
W/O Williams completed the USAF SNCO Academy Course in Montgomery, Alabama in 2010.
In the 5 Squadron role, W/O Williams held Delegated Engineering Authority for the aircraft and worked closely with the Commanding Officer in the culture and standard setting space.
During these Base Auckland postings he deployed twice to Operation TEAL in the United Arab Emirates and to numerous other exercises with highlights being: Maple Flag in Canada, JRTC and AATTC in the USA with the C-130, along with Operation TAKAPU as the P-3K2 Engineering Team Leader supporting the Combined Task Force in the Middle East.
With his appointment to a key leadership position as the Command Warrant Officer at RNZAF Base Auckland, W/O Williams worked closely with the Base Commander and Chief of Staff to ensure the needs of the NZDF community at Whenuapai were met.
Prior to his appointment as WOAF, W/O Williams was the Military Lead for NZDF's Operation RESPECT, allowing him to link his solid foundation of core values with influencing a cultural and behavioural change across the force to develop a more safe, respectful and inclusive organisation.
W/O Williams commenced duties at the RNZAF Warrant Officer of the Air Force in January 2022.