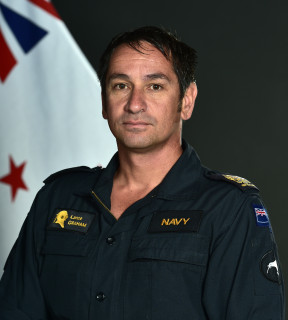 Warrant Officer Diver Lance Graham
Warrant Officer of the Navy
The Warrant Officer of the Navy is the most senior Warrant Officer in the Royal New Zealand Navy. They report to the Chief of Navy and provide advice to Navy senior leadership about issues affecting sailors.
A passion service overseas
Lance Graham joined the Royal New Zealand Navy in 1989 as a Radio Operator. He served on several warships during the first few years of service.
He also participated in the following operations:
United Nations Special Commission (UNSCOM) to the Baghdad Monitoring and Verification Centre, Iraq

Royal Navy Fleet Diving Unit One (Maritime Counter Terrorism Team)

Royal Navy Fleet Diving Unit Two (World Operations Team)

Humanitarian operations in East Timor.

Arabian Gulf as an element of Operation Enduring Freedom

EOD Team Leader under the UN Mine Action Co-ordination Centre (UNMACC) in Lebanon
Credit where credit is due
In 2006, Graham studied at the Naval School of Explosive Ordnance Disposal (NAVSCOLEOD) Eglin Air Force Base, Florida. He qualified as a NATO Explosive Ordnance Technician.
Soon after, he was promoted to Chief Petty Officer. He then posted to the Joint Service EOD School where he was a founding instructor. Five years later, Graham posted to the RNZN Diving School as Head of the Diving Trade.
During his 32 years of service, WODR Graham has received many medals including:
the NZ Operational Service Medal

the NZ General Service Medal

the East Timor Medal

the NZ General Service Medal Afghanistan

the NZ General Service Medal Iraq

the RNZN Long Service and Good Conduct Medal

the UN Medal Iraq.