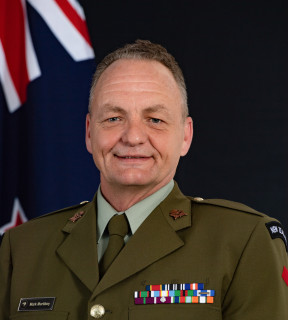 Warrant Officer Class One Mark Mortiboy
Warrant Officer of the Defence Force
The Warrant Officer of the Defence Force reports to the Chief of Defence Force. They are responsible for welfare and development across the Defence Force.

A long lasting military career
Mortiboy enlisted in the New Zealand Army Regular Force in February 1982. He started out as a Rifleman, Royal New Zealand Infantry Regiment (RNZIR), but in 1985, he changed to Combat Driver.
Since then, he's held NCO appointments within Transport and Infantry. Mortiboy has also worked in instructor roles at All Arms and Trade training establishments.
At Warrant Officer rank, Mortiboy has served in the following roles:
Company Sergeant Major, Senior Instructor, and Mobility Advisor

Regimental Sergeant Major, 2nd Logistic Battalion

Command Sergeant Major, Training and Doctrine Command (NZ)

Land Command Sergeant Major at Headquarters, Joint Forces New Zealand

4th Warrant Officer of the Defence Force.
#beallyoucanbe
A firm believer in continuing education, Mortiboy holds a Master of Science from Portsmouth University (UK). He also has Diplomas in Adult Education and Business Management.
As part of his long military career, Mortiboy served in Sinai, East Timor, and Afghanistan as a trainer. But as a former Combat Driver, driver training was always close to his heart.
Following the tragic deaths of several young Army drivers, he helped update driver training procedures. In 2008, he received a Distinguished Service Decoration for his commitment to this work.
Coming from a long line of military men in his family, Mortiboy is an advocate for mental health and wellbeing. His work is often centred around how the army could do better at readying soldiers for civilian life. Because of this, he's a champion and advocate for mental health and wellbeing for military families.