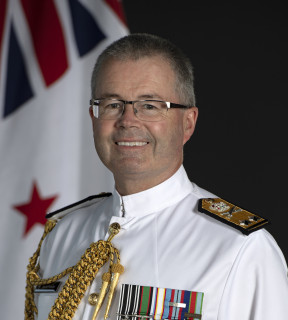 Rear Admiral David Proctor
Chief of Navy
The Chief of Navy is our professional head of the our Navy and Chairman of the Navy Leadership Board. He is responsible to the Chief of Defence Force (CDF) for the effectiveness, efficiency and morale of our Navy.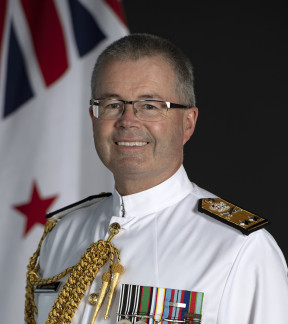 Rear Admiral (RADM) David Proctor was born in Napier, New Zealand and joined the Royal New Zealand Navy (RNZN) as a Midshipman in January 1987.
RADM Proctor assumed the role of Chief of Navy on 29 November 2018 following numerous senior positions within the New Zealand Defence Force, including Deputy Commander Joint Forces New Zealand and Acting Vice Chief of Defence Force from July to September 2018.
RADM Proctor has held a number of senior logistics posts during his career, including operational logistics appointments at sea and overseas. His operational service includes a deployment to the Solomon Islands and being appointed Chief of Logistics, United Nations Mission and the New Zealand Senior National Officer in Support of East Timor.
Whilst RADM Proctor's early shore-based appointments were primarily in the Human Resources arena, he also has staff experience in capability development and delivery. Most notable was his appointment as Deputy Assistant Chief of Capability and Director Capability Portfolio Planning in 2013 and 2014.
Following on from his promotion to Commodore and appointment to Commander Logistics in December 2015, RADM Proctor was posted at short-notice in March 2017 to the position of Chief of Defence Strategy and Governance.
This appointment saw him as a member of the New Zealand Defence Force Executive and as a permanent advisor to the NZDF Board. RADM Proctor has a Masters in Management (Defence Studies), a Masters in Politics and Policy, and is a graduate and fellow of the Centre for Defence Strategic Studies (Canberra).
He is a member of the New Zealand Institute of Directors and has also been awarded a Deputy Chief of Navy Commendation.