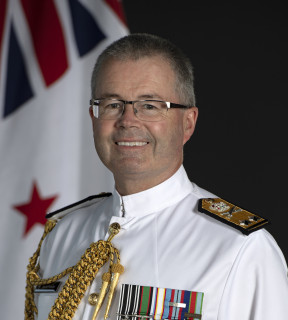 Rear Admiral David Proctor
Chief of Navy
The Chief of Navy is our professional head of our Navy and Chairman of the Navy Leadership Board. He's responsible to the Chief of Defence Force (CDF) for the effectiveness, efficiency and morale of our Navy.
Thirty-six years and counting
Rear Admiral (RADM) David Proctor joined the Royal New Zealand Navy (RNZN) in January 1987. Starting out as a Midshipman, he made his way up the ranks to Chief of Navy in 2018.
He's held many senior positions within the New Zealand Defence Force, including:
Deputy Commander Joint Forces New Zealand

Acting Vice Chief of Defence Force

Chief of Logistics, United Nations Mission

New Zealand Senior National Officer in Support of East Timor

Deputy Assistant Chief of Capability

Director Capability Portfolio Planning

Chief of Defence Strategy and Governance
Proctor is also a member of the New Zealand Institute of Directors. He's a recipient of the Deputy Chief of Navy Commendation.
A military life steeped in education
Proctor is a big believer in education, and brings a depth of experience and understanding to his roles. He has a
Masters in Management (Defence Studies), and a Masters in Politics and Policy. He is also a graduate and fellow of the Centre for Defence Strategic Studies (Canberra).