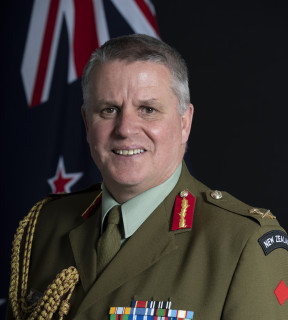 Major General John Boswell
Chief Of Army
The Chief of Army commands our Army providing leadership and management to all Regular and Territorial Force personnel and our civilian staff. The Chief of Army is responsible for ensuring we meet the goals set by the Chief of Defence Force and the New Zealand Government, and he is the principal advisor to the Chief of Defence Force on NZ Army matters.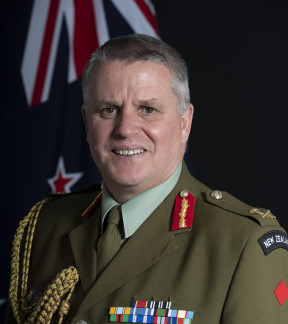 Major General John Boswell, DSD enlisted into the New Zealand Army in January 1984. He graduated from the Officer Cadet School of New Zealand in December 1985 into the Royal New Zealand Infantry Regiment in the rank of Second Lieutenant.
As an infantry officer, he has served with the 1st Battalion, Royal New Zealand Infantry Regiment in both Singapore and New Zealand, and has completed two postings to the 2nd/1st Infantry Battalion, including as the Commanding Officer.
Throughout his career, Major General Boswell has undertaken a range of regimental, staff and training appointments including postings as the Chief Instructor of Combat School, Director Army Training, and as Military Assistant at the New Zealand High Commission in London.
As a senior officer, Major General Boswell has held a variety of appointments including Head of Strategy Management (Army), Acting Deputy Chief of Army, and the Chief Staff Officer - Joint Plans at Headquarters Joint Forces New Zealand.
In 2016, he was posted to Defence Headquarters as the Assistant Chief Strategic Commitments and Engagements and, in early 2018, was posted back to Army as the Land Component Commander.
Major General Boswell has deployed on operations with the United Nations in Angola, East Timor and to the Middle East.
He deployed to Afghanistan in April 2010 as the Senior National Officer and Commanding Officer of the New Zealand Provincial Reconstruction Team.
Major General Boswell was subsequently awarded the Distinguished Service Decoration (DSD) in recognition of his service in Afghanistan.
Major General Boswell was appointed Chief of the New Zealand Army on 10 September 2018.
Major General Boswell is a graduate of the Australian Command and Staff College and the National Defence College of India. He holds a Masters in Defence Studies from the University of Canberra, a Masters of Philosophy (Defence and Strategic Studies) from the University of Madras, and a Masters of Management, Bachelors of Arts (History) and a Post Graduate Diploma in Business Administration from Massey University.