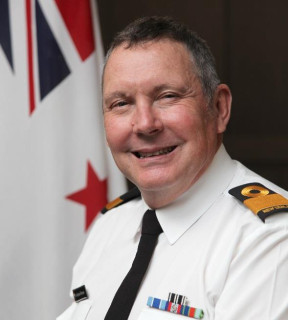 Commodore Andrew Brown
Deputy Chief of Navy
The Deputy Chief of Navy (DCN) is responsible for the operation of the Naval Support Command, including Devonport Naval Base in Auckland and Naval Staff in Wellington.
Decades of dedication
Commodore Andrew Brown became Deputy Chief of Navy in November 2022. Brown joined Te Taua Moana / Royal New Zealand Navy in January 1980 as an Apprentice Weapon Fitter.
In April 1991, he was chosen to become an officer and transferred to a group called the General List of Officers. He specialized in Weapon Engineering.
A long career on land and at sea
As a Weapon Engineering Officer, Brown served on land and at sea in different roles. He worked as the Fleet Weapon Engineer Officer and Director of Weapon Engineering. He took part in different operational and representational duties, such as serving as part of the Chief Military Liaison Officer's staff for the United Nation Mission in Kosovo (UNMIK) in 2005. He also worked as the Naval Attaché to the United States of America from 2010 to 2012.
A love for lifelong learning
Brown has accomplished a lot in his education. He has a Postgraduate Diploma in Business (Information Systems), a Masters in Strategic Studies, and several engineering qualifications. He also finished the Higher Command and Staff Course at the Joint Services Command and Staff College in the Defence Academy of the United Kingdom in 2018.