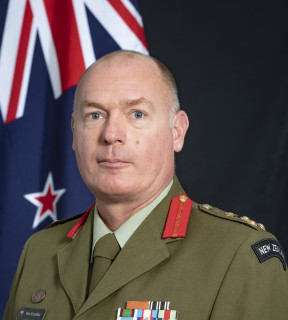 Brigadier Rob Krushka
Chief Joint Defence Services
The Joint Defence Services (JDS) portfolio exists to integrate the enabling functions of the Defence Force. It covers logistics, security, commercial services, computers and information systems and industry related functions.
34 years of pure dedication
Brigadier Krushka enlisted into the New Zealand Army in 1989 and underwent officer training at the Officer Cadet School. He graduated into the Royal New Zealand Corps of Transport, and over the next twelve years undertook a number of regimental appointments. He also completed a tour of duty in Antarctica as a Detachment Commander and a deployment to East Timor as the Officer Commanding Combat Services Support Company.
In 2014, he was appointed Logistic Commander (Land), and in 2017, he was promoted to Brigadier and appointed Commander Logistics, Defence Logistics Command. He assumed his current appointment as Chief Joint Defence Services in November 2019.
Education and achievements
Brigadier Krushka holds a Post Graduate Diploma in Arts (Distinction), Master of Business Administration and a Master of Science in National Resource Strategy (Distinguished Graduate).
He received an Australian Defence Force Deputy Chief of Joint Operations Commendation for his support to the 2004 Boxing Day Tsunami. He became a Member of the New Zealand Order of Merit in June 2006.